Raytheon, Saab Demonstrating New Guided Carl-Gustaf Munition for US Army
October 5, 2018 | PRNewswire
Estimated reading time: 1 minute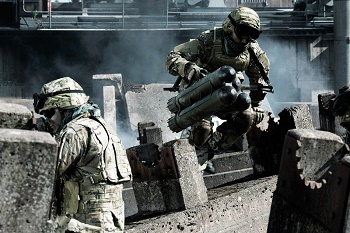 Raytheon Company and Swedish aerospace and defense firm Saab are demonstrating a new guided munition for the Carl-Gustaf man-portable, shoulder-launched weapon system under a U.S. Army contract. There will be three all-up-round test firings against threat-representative targets. This new munition answers a U.S. Special Operations Command requirement to increase the capability of the multirole Carl-Gustaf weapon system built by Saab.
The Carl-Gustaf weapon system is used by the U.S. Army and ground forces of more than 40 other countries and has been modernized to meet the changing needs of soldiers operating in the world's most demanding combat environments.
"The Carl-Gustaf system paired with this new guided munition gives U.S. and coalition dismounted forces a tremendous advantage on the battlefield," said Kim Ernzen, Raytheon Land Warfare Systems vice president. "The munition is intended to enable ground troops to engage multiple targets precisely at distances up to 2,000 meters, including moving targets."
The munition's advanced warhead penetrates light armor, bunkers and concrete structures while minimizing collateral damage. With increased range, the new munition offers greater protection for ground troops by enabling them to fire at targets from inside structures.
In 2017, Raytheon announced its partnership with Saab to develop new weapons for infantry forces.
"Collaborating with Raytheon, utilizing their technical and product excellence in combination with our innovative technology solutions, will enhance the already world-leading Carl-Gustaf and AT4 weapon systems with additional capabilities that will further increase the operational benefit for the end user," said Görgen Johansson, who leads Saab's Dynamics business.
Raytheon and Saab will oversee test firing of the guided Carl-Gustaf munition planned for 2020 in Sweden. 
About Saab
Saab serves the global market with world-leading products, services and solutions within military defense and civil security. Saab has operations and employees on all continents around the world. Through innovative, collaborative and pragmatic thinking, Saab develops, adopts and improves new technology to meet customers' changing needs. 
About Raytheon
Raytheon Company, with 2017 sales of $25 billion and 64,000 employees, is a technology and innovation leader specializing in defense, civil government and cybersecurity solutions. With a history of innovation spanning 96 years, Raytheon provides state-of-the-art electronics, mission systems integration, C5I™ products and services, sensing, effects, and mission support for customers in more than 80 countries.
---
Suggested Items
09/26/2023 | GlobalFoundries
GlobalFoundries (GF) announced it has applied for U.S. CHIPS and Science Act Funding, with two full applications submitted to the CHIPS Program Office of the U.S. Department of Commerce.
09/25/2023 | HyRel
HyRel Technologies, a global provider of quick turn semiconductor modification solutions, proudly announces that it earned the prestigious AS9100 certification.
09/18/2023 | RTX
RTX business Collins Aerospace has been selected by BAE Systems as the provider for Large Area Display technology to be integrated into the cockpits of future Eurofighter Typhoon aircraft.
09/18/2023 | IPC
IPC Day France: Aerospace Electronics is an aerospace-focused networking event featuring key industry experts from NASA and Airbus and will take place on October 2, 2023 . 
09/14/2023 | CONFIDEE
CONFIDEE, a leading PCB partner, proudly announces its recent achievement of AS9120 certification. This prestigious certification highlights the company's commitment to excellence, quality, and customer satisfaction, making it a preferred choice for all defence and aerospace needs.