I-Connect007 Publishes Automation eBook by Happy Holden
October 9, 2018 | I-Connect007
Estimated reading time: Less than a minute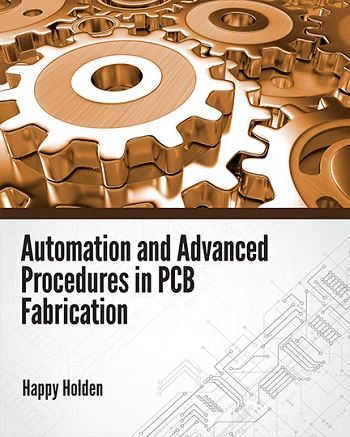 I-Connect007 is excited to announce the release of the latest title in our eBook library: Automation and Advanced Procedures in PCB Fabrication.
Written by Happy Holden, I-Connect007 consulting technical editor with over 47 years of industry experience, this book provides an in-depth look at automation, computer-integrated and computer-aided manufacturing, mechanization, and chemical monitoring and control. Happy provides examples and descriptions of numerous devices, processes, and systems that can be easily implemented into the supply chain.   
"Happy provides step-by-step points for the DIYer, especially for making your own chemistry controllers, while providing examples from his past experiences," says Alex Stepinski, VP of GreenSource Fabrication.
Download your free copy today! You can also view other titles co-authored and peer-reviewed by Happy in our full library.
We hope you enjoy Automation and Advanced Procedures in PCB Fabrication.
For more information, contact:
Barb Hockaday
I-Connect007 eBooks
barb@iconnect007.com+1-916-365-1727 (GMT-8)
---
Suggested Items
11/14/2023 | Barry Matties, I-Connect007
The November rain didn't stop the long line of attendees waiting at the door for productronica 2023 to open Tuesday, November 14 in Munich, Germany. Exhibitors and attendees came from all over the world to be part of this biannual event, and the crowds were strong. The most recent productronica, held in 2021, drew over 19,000 visitors from 68 countries.
11/08/2023 | Adeon Technologies BV
It is with enormous pride that Adeon Technologies can announce it has received multiple purchase orders from Teltonika from Vilnius, Lithuania for supplying numerous types of equipment to their new Printed Circuit Board manufacturing Plant.
11/08/2023 | Taiyo Circuit Automation
Taiyo Circuit Automation is proud to have partnered with eXception PCB, a leading printed circuit board manufacturer based out of Tewkesbury, UK to install the first Taiyo Circuit Automation DP3500 coater into the UK.
11/02/2023 | Koh Young Technology
Koh Young has released their latest case study exploring their global partnership with IMI and specifically the success the collaboration has achieved at IMI's facility in Guadalajara, Mexico.
10/23/2023 | BUSINESS WIRE
Deluxe, a Trusted Payments and Data company, and IBM Consulting, a global leader in technology and business consulting, are proud to announce a strategic collaboration aimed at transforming the receivables and cash application processing landscape for corporations.