UVA Faculty Work to Advance the Internet of Things
October 12, 2018 | University of Virginia
Estimated reading time: 8 minutes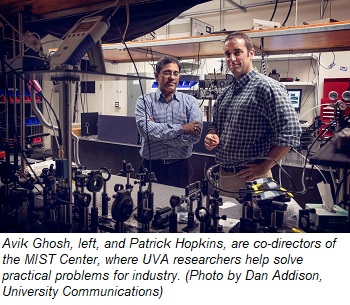 The "Internet of Things" needs energy-efficient hardware, some of which may come from research developed at the University of Virginia School of Engineering and Applied Science's affiliate of the MIST Center.
MIST – short for "multifunctional integrated systems technology" – is a center at the University of Florida that connects faculty members and students with industry in an effort to solve practical problems. UVA is one of three sites, with the University of Florida and the University of Central Florida, together forming a National Science Foundation-supported Industry-University Cooperative Research Center.
The sites engage in work that goes beyond fundamental research, but which is not quite ready to roll out as a product, said Avik Ghosh, an electrical and computer engineering professor with a joint appointment in physics, who directs the MIST Center's UVA site. Companies and research labs pay to be members of the center and work with MIST researchers.
"Today you have the Internet of Things, portable devices that go around the block communicating Video processing for IoT applicationsVideo processing for IoT applications with each other through the cloud – your cellphone communicating with your thermostat, for example," Ghosh said. "More and more companies are investing in the IoT, such as sensors that communicate through the cloud.
"One area MIST focuses on is bringing these sensors closer to hardware, away from the cloud and onto the actual chip. In other words, we wish to explore ways of bringing hardware and software closer together, the sensor nearer the processor – to allow on-chip computing that is energy-efficient, instant, compact, lightweight and not limited by access to Wi-Fi with its associated cybersecurity issues."
Such a sensor hardware interface will involve algorithm-driven applications that learn to predict outcomes in real time and act on these predictions.
"An example of an end-user application would be a smart camera that knows where to focus, such as in an autonomous unidentified vehicle, or perhaps a wearable device that can learn in real time and make instant decisions on when to inject glucose into a diabetic patient without the need to communicate with the cloud," Ghosh said. "That is the kind of end-user products that can be enabled by developing energy-efficient hardware for the IoT, the overall goal of our MIST Center."
Ghosh's computational group develops quantum transport models that connect emerging materials to devices in order to address industrial needs.
Patrick Hopkins, a professor of mechanical and aerospace engineering with appointments in materials engineering and physics, also co-directs UVA's MIST site. Hopkins, whose research centers on heat transfer in nanomaterials and across interfaces, is fascinated by the interaction of academic research and industrial requirements.
"It is not an opportunity that we get often," Hopkins said of working with industry. "A traditional route to supporting research at UVA and at most academic institutions is applying for government grants and doing sponsored research. The pace of industry is much faster; the research is much more targeted."
"This center is a good fit for UVA Engineering because of the school's focus around three primary areas of research strength: engineering for health, engineering for the cyber future and engineering technologies for a sustainable and connected world," said Susan L.R. Barker, the school's associate dean of research. "Our researchers seek opportunities to produce tangible value for society, and that is an important benefit for companies that need cutting-edge technologies to remain competitive."
Hopkins' students share his enthusiasm, since they can see concrete benefits.
"My students absolutely love working with industry because they actually say, 'If I do this, that could go into the iPhone,' or 'That would make a better battery that would go into your computer,'" Hopkins said. "They can see a direct link. They see that end product, which is enabled by working with industry."
While specific researchers work with specific companies, all the companies in the consortium share in the research and all the companies vote on selecting the next round of projects.
There are four outside partners working with the researchers at the UVA site: the U.S. Army Research Lab, Night Vision Labs, L3 Technologies and DRS Technologies.
Page 1 of 2
---
Suggested Items
09/26/2023 | GlobalFoundries
GlobalFoundries (GF) announced it has applied for U.S. CHIPS and Science Act Funding, with two full applications submitted to the CHIPS Program Office of the U.S. Department of Commerce.
09/25/2023 | HyRel
HyRel Technologies, a global provider of quick turn semiconductor modification solutions, proudly announces that it earned the prestigious AS9100 certification.
09/18/2023 | RTX
RTX business Collins Aerospace has been selected by BAE Systems as the provider for Large Area Display technology to be integrated into the cockpits of future Eurofighter Typhoon aircraft.
09/18/2023 | IPC
IPC Day France: Aerospace Electronics is an aerospace-focused networking event featuring key industry experts from NASA and Airbus and will take place on October 2, 2023 . 
09/14/2023 | CONFIDEE
CONFIDEE, a leading PCB partner, proudly announces its recent achievement of AS9120 certification. This prestigious certification highlights the company's commitment to excellence, quality, and customer satisfaction, making it a preferred choice for all defence and aerospace needs.