Books

Featured Books

smt007 Magazine

Latest Issues

Current Issue

Chips Don't Float

In Europe and the U.S., legislation is under way to revitalize PCB fabrication and packaging. What is the status of this work, and how specifically does this change the industry landscape for EMS companies? What will help keep us afloat?

Flying High With Digital Twin

The opportunity to use manufacturing simulation as a test bed for job planning and process optimization brings continuous improvement into the modern age. This may be an all-or-nothing type of project, but it's worth the investment.

Artificial Intelligence

In this issue, we (and AI) explored how and when artificial intelligence plays a role in manufacturing today. Whether on the factory floor, or in the front office, AI applications are emerging and changing how we approach planning, processes and problem solving.

Columns

Latest Columns

||| MENU
A Look at Medical Electronics Design and Assembly Challenges
December 26, 2018 | I-Connect007 Editorial Team
Estimated reading time: 9 minutes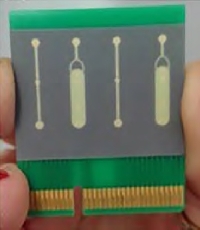 We recently spoke with Dr. Despina Moschou, lecturer at the University of Bath, as well as Kaspars Fricbergs, VP of global quality, and Tom Reilly, director of marketing and sales operations, of EMS firm Vexos Corp., to learn more about the challenges and opportunities in medical electronics design and assembly, as well as the relevant regulatory and supply chain issues.
Stephen Las Marias: Tell us more about yourself, Despina, and your lab-on-a-chip project.
Dr. Despina Moschou: I always start by introducing people to what lab-on-a-chip is in general. Lab-on-a-chip is not my invention—I have to be very clear on that. Professor George Whitesides from Harvard and Professor Andreas Manz first suggested it. They came up with this idea in the mid-1990s. The concept was miniaturizing a complete biomedical laboratory in a microchip. This vision is what we, the scientific community all over the world, have been trying to do for the past 20–30 years.
Before I became involved in this field, my original background was purely electronics. I'm an electronics engineer, I graduated from Athens, and I have a Ph.D. in microelectronics. During my first post-doctoral research, I ran into the field of lab-on-a-chip—in particular, microfluidic devices. Since then, I have been involved in that because the impact of this technology is enormous once it reaches everyday life.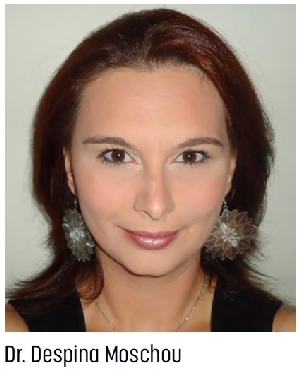 What does this technology do? Imagine if you could have the whole biochemical laboratory on your hand. Wouldn't that be cool? And apart from being cool, let's assume we have a biomedical laboratory such as a health-care facility. What do you do when you want to identify a diagnosis? Either you or your doctor will take a sample—such as blood, urine, or any other kind of biological sample—and will take a bottle of it and ship it to a laboratory. The laboratory will do an analysis. It will take a few hours, days, or even weeks, and then you will receive the results. This is the current routine in health-care practice for all kinds of diseases, whether infectious, routine checking, or monitoring your pregnancy or cancer treatment. Wouldn't it be great if we could avoid all the delays? How different would it be if instead of taking things to the laboratory, we could bring the laboratory to the people who need it.
And because you don't have to delay, treatment can start immediately. You wouldn't have to wait. Starting treatment is extremely important for overcoming any kind of disease. It will also have a huge impact in environments and countries where you don't have access to health-care facilities whatsoever, such as remote islands or low- and middle-income countries where you don't have access to health-care facilities with laboratories. In all of these cases, having a miniaturized laboratory can make a huge difference. This is roughly the vision of what we are trying to realize with our Research at the University of Bath.
Barry Matties: The technology itself is really interesting because they're using these miniature micro-pumps to move fluid around, and the idea was to actually incorporate it into the build of the circuit board. And it's really a game-changer. What's interesting about this also is it's one and done, meaning you use it, you throw it away and you buy more. So, from a consumption point of view, millions and millions of units will be sold. And you've already had success in creating the lab onboard and doing diagnostics, correct?
Moschou: Yes, we have.
Matties: This really goes with the continued desire for smaller, faster electronics, more affordable, and it's going to revolutionize the way that medical diagnostics is done.
Moschou: Exactly. What I have been driving for the past few years is trying to implement Lab-on-Chip technology on PCBs. At the moment, and ever since the invention of lab-on-a-chip, every research laboratory in the world has been using their own in-house technique to fabricate those devices. We don't have lab-on-a-chip technology with one way to manufacture things. In electronics, we have PCBs. We have the standard card that we all use to simulate and design boards, and manufacturers globally that have standardized procedures because this is an industry that's been around for many years.
In lab-on-a-chip, this is not the case. We are still at the research stage and are gradually transitioning into actual commercialization of devices the past few years. One of the problems delaying this process is that we don't have factories. We don't have a lab-on-a-chip factory where I can make something in my lab, design it, and then I can go and get millions of them. This is why I have been trying and persisting on the lab-on-PCB approach because we can actually use the factories that are out there right now fabricating electronic boards and transition into something more advanced—something smaller and more intelligent that can add further functionality to the electronic boards. This time, we can incorporate miniaturized channels to transport the liquids and the fluids that we want to analyze, which are called microfluidic tunnels. We can have analytical biomedical devices on a PCB.
This is not conceptual. I have been presenting for the past few years on the projects and prototypes we have made. We started making things in the lab with PCB technology, but lately, I've been working with several manufacturers around the world. I have shown several prototypes for many applications—mainly medical applications—involving DNA and protein detection for different cancer diagnoses. Currently, we are working in the lab on several of the prototypes for diagnosis. It's a proven concept. It can be done.
Page 1 of 2
---
Suggested Items
09/21/2023 | KIC
KIC, a renowned pioneer in thermal process and temperature measurement solutions for electronics manufacturing, is thrilled to announce its participation in the upcoming SMTA Guadalajara Expo & Tech Forum.
09/21/2023 | Dymax
Dymax, a leading manufacturer of light-curing materials and equipment, will exhibit in booth 1526 at SMTA International 2023 in Minneapolis, MN, from October 10-11.
09/21/2023 | Altus Group
Altus Group, a leading supplier of capital equipment and services to the electronics manufacturing industry, has signed an agreement with SMT Thermal Discoveries to distribute its advanced reflow soldering and thermal technology solutions in Ireland.
09/21/2023 |
Intraratio, a provider of enterprise software solutions, is pleased to announce that Ryan Gamble, CEO and Founder of Intraratio, will deliver an informative keynote presentation at SMTA International 2023. T
09/20/2023 | PRNewswire
ICZOOM Group Inc., a B2B electronic component products e-commerce platform, provided details on the Company's accelerated growth and steady market expansion strategy, as the Company leverages its strengthened balance sheet and fortified global brand following its successful listing on Nasdaq earlier this year.