U.S. Army Awards $1.13 Billion Contract to Lockheed Martin for GMLRS Production, Support Equipment
April 3, 2019 | Lockheed Martin
Estimated reading time: 1 minute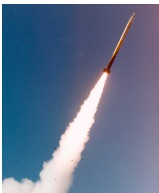 Lockheed Martin received a $1.13 billion contract from the U.S. Army for Lot 14 production of Guided Multiple Launch Rocket System (GMLRS) rockets and associated equipment. 
The contract calls for the production of more than 9,500 GMLRS Unitary and Alternative-Warhead (AW) rockets, more than 300 Low-Cost Reduced-Range Practice Rockets (RRPRs) and integrated logistics support for the U.S. Army and international customers. Work will be performed at the Lockheed Martin facilities in Camden, Ark.; Dallas and Lufkin, Texas; and Ocala, Fla., and will be completed by July 2021.
"The demand for GMLRS rounds, both domestically and internationally, continues to remain strong based on the excellent performance of the munition," said Gaylia Campbell, vice president of Precision Fires and Combat Maneuver Systems at Lockheed Martin Missiles and Fire Control. "Our primary focus with GMLRS is to continue producing these combat-proven munitions at a rate that meets the demands of our customers."
GMLRS is an all-weather rocket designed for fast deployment that delivers precision strike beyond the reach of most conventional weapons. The GMLRS AW was the first munition developed to service area targets without the effects of unexploded ordinance. GMLRS unitary rockets exceed the required combat reliability rate and are cost-effective. The RRPR allows users to train with realistic, full-motored rockets with limited flight range, making them ideal for smaller testing ranges.
In combat operations, each GMLRS rocket is packaged in an MLRS launch pod and is fired from the Lockheed Martin-produced HIMARS or M270 family of launchers. GMLRS was established as an international cooperative program.
For more than 40 years, Lockheed Martin has been the leading designer and manufacturer of long-range, surface-to-surface precision strike solutions, providing highly reliable, combat-proven systems like MLRS, HIMARS, ATACMS and GMLRS to domestic and international customers.
About Lockheed Martin
Headquartered in Bethesda, Maryland, Lockheed Martin is a global security and aerospace company that employs approximately 105,000 people worldwide and is principally engaged in the research, design, development, manufacture, integration and sustainment of advanced technology systems, products and services.
---
Suggested Items
09/20/2023 | I-Connect007 Editorial Team
Panasonic's Darren Hitchcock spoke with the I-Connect007 Editorial Team on the complexities of moving toward ultra HDI manufacturing. As we learn in this conversation, the number of shifting constraints relative to traditional PCB fabrication is quite large and can sometimes conflict with each other.
09/19/2023 | Anaya Vardya -- Column: Standard of Excellence
In my last column, I discussed cutting-edge innovations in printed circuit board technology, focusing on innovative trends in ultra HDI, embedded passives and components, green PCBs, and advanced substrate materials. This month, I'm following up with the products these new PCB technologies are destined for. Why do we need all these new technologies?
09/18/2023 | ViTrox
ViTrox, which aims to be the world's most trusted technology company, is excited to announce that our trusted Sales Channel Partner (SCP) in Mexico, SMTo Engineering, S.A. de C.V., will be participating in SMTA Guadalajara Expo & Tech Forum. They will be exhibiting in Booth #911 from the 25th  to the 26th of October 2023,  at the Expo Guadalajara in Jalisco, Mexico.
09/18/2023 | Intel
Intel announced one of the industry's first glass substrates for next-generation advanced packaging, planned for the latter part of this decade.
09/18/2023 | Aidan Salvi -- Column: Facing the Future
I have been in and around circuit boards most of my life. I started 20 years ago in my family's PCB shop, leaving after a couple of years to start my own software company. About a year ago, I returned to the family business, and the first thing I noticed was that nothing had really changed. We were doing the same things in the same way as the day I left. After talking to several experts in the industry, I realized it was worse than that: The manufacturing of PCBs had not changed in 70 years.