Books

Featured Books

pcb007 Magazine

Latest Issues

Current Issue

The Registration Sweet Spot

Registration is underrated and underappreciated. The key is to ensure proper registration from layer to layer across the entire printed circuit board. It's a holistic process requiring anticipation, prediction, precise attention at each step, and detailed data tracking and monitoring.

High-reliability Fabrication

In this month's issue, our expert contributors discuss the latest in technologies, trends, complexities and resources regarding high-reliability fabrication.

Finding Ultra

New demands on PCB fabrication, namely advanced packaging, ultra high density interconnect (UHDI), and new specialty materials, are converging, changing the landscape of our business. Is it time to start paying close attention to this convergence?

Columns

Latest Columns

||| MENU
Nano Dimension and Harris Receive Grant for ISS Project
May 31, 2019 | Nano Dimension
Estimated reading time: 2 minutes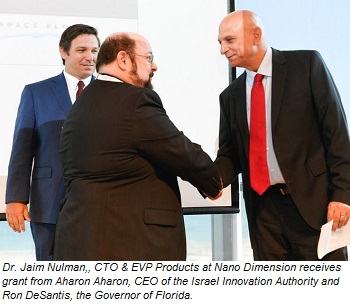 Nano Dimension Ltd. has received a grant approval from the Israel Innovation Authority, for developing hardware, in cooperation with Harris Corporation, that will fly on the International Space Station (ISS) and communicate with Harris' ground based satellite tracking station in Florida. This project will provide a systematic analysis of 3D printed materials for radio frequency (RF) space systems, especially for Nano-satellites.
The total approved budget for the Israeli portion of this project is approximately $416,000 (NIS 1,500,000), of which the Israel Innovation Authority will finance 40%. According to the terms of the grant, Nano Dimension will pay royalties on future sales up to the full grant amount.
This unique project is being conducted in collaboration with Harris Corporation, a leading technology innovator that provides solutions that connect, inform and protect its clients. The Harris portion of the project is sponsored by a grant from Space Florida. During this one-year project, both companies will optimize the designs of the 3D printing process and RF components and prepare a system for the flight studies at the ISS.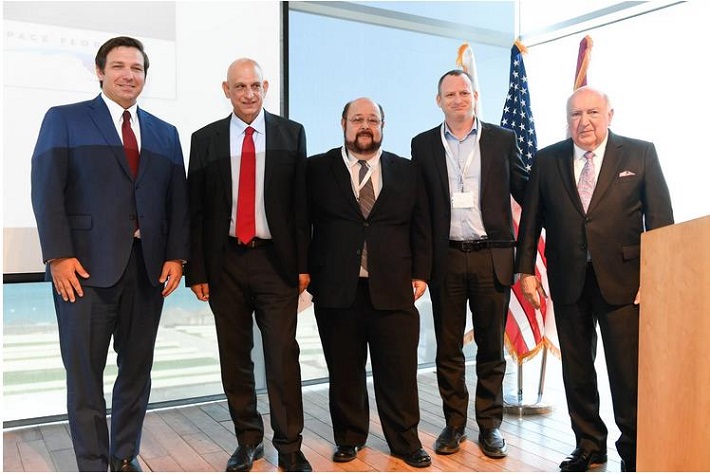 Nano Dimension awarded Space Florida Grant by Governor of Florida Ron DeSantis, and the Israel Innovation Authority

This project has been selected by the Center for the Advancement of Science in Space, the manager of the ISS U.S. National Laboratory, to fly the space flight experiment on the ISS, using the team's 3D printed materials and circuits. In this project, the companies will pioneer the first of a kind space flight experiment, that will fly in space at low earth orbit for one year on the ISS, helping to understanding how 3D printed circuits, systems, and materials will endure in various space environments.
This project will demonstrate innovative methods for manufacturing new RF systems. Until now, manufacturing of RF systems has remained static for the last 30 years with each circuit in its own "gold box/boxes" interconnected with cables and connectors. With 3D printing, the industry can explore a new manufacturing paradigm, that eliminates manual labor and streamlines production. Another benefit to this technology is a reduction/elimination of wasted material, making it a "green" process.
About Harris Corporation
Harris Corporation is a leading technology innovator, solving customers' toughest mission-critical challenges by providing solutions that connect, inform and protect. Harris supports government and commercial customers in more than 100 countries and has approximately $6 billion in annual revenue. The company is organized into three business segments: Communication Systems, Space and Intelligence Systems and Electronic Systems.
About Nano Dimension Ltd
Nano Dimension  is a leading electronics provider that is disrupting, reshaping, and defining the future of how cognitive connected products are made. With its unique 3D printing technologies, Nano Dimension is targeting the growing demand for electronic devices that require increasingly sophisticated features. Demand for circuitry, including PCBs - which are the heart of every electronic device - covers a diverse range of industries, including consumer electronics, medical devices, defense, aerospace, automotive, IoT and telecom. These sectors can all benefit greatly from Nano Dimension's products and services for rapid prototyping and short-run manufacturing.
---
Suggested Items
12/04/2023 | Siemens
Siemens AG, a leading technology company, and Intel Corporation, one of the world's largest semiconductor companies, have signed a memorandum of understanding (MoU) to collaborate on driving digitalization and sustainability of microelectronics manufacturing.
12/01/2023 | Silicon Mountain
Silicon Mountain, a leading electronic manufacturing company, is pleased to announce its participation in the 3rd Annual Idaho Manufacturing Industry Trade Show & Conference, hosted by the Idaho Manufacturing Alliance.
11/30/2023 | BUSINESS WIRE
Ciena, a U.S.-based networking systems, services and software company, is adding domestic manufacturing through an expanded agreement with global diversified manufacturer Flex.
11/30/2023 | Keysight Technologies, Inc.
Keysight Technologies, Inc. announces that Arbe has selected the E8719A Radar Target Solution (RTS) to test the Arbe 4D imaging radar chipset for automotive applications.
11/29/2023 | TT Electronics
TT Electronics, a global provider of custom power solutions and engineered technologies, has announced that its Power and Control business has officially opened its new state-of-the-art research, development and manufacturing facility.