Semiconductor Industry Capex Forecast to Slump in 2019 and 2020
July 1, 2019 | IC Insights
Estimated reading time: 1 minute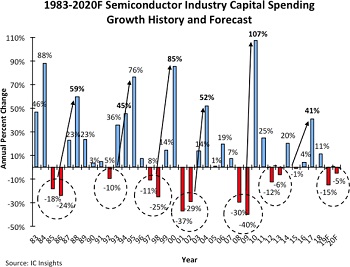 A portion of the Mid-Year Update will examine semiconductor industry capital spending trends with an industry-wide forecast through 2023. In addition, the Update will include IC Insights' capital spending forecast for each of the 32 major spenders for 2019 and 2020.
The figure shows the annual capital spending changes from 1983 through IC Insights' forecast for 2019 and 2020. Over the past 34 years, there have been six periods when semiconductor industry capital spending declined by double-digits rates for one or two years (1985-1986, 1992, 1997-1998, 2001-2002, 2008-2009, and 2012-2013).
In every case between 1983 and 2010 where spending declined, a surge in spending of at least 45% occurred two years later. The second year increases in spending after the cutbacks were typically stronger than the first year after a downturn since most semiconductor producers acted very conservatively coming out of the slowdown and waited until they had logged 4-6 quarters of good operating results before significantly increasing their capital spending again. This is expected to be the case for 2020 with most semiconductor producers likely to be very conservative with their spending budgets for next year given the poor semiconductor market expected in 2019. IC Insights believes that Micron's attitude toward next year's capital spending outlook will be representative of the industry in general. In its most recent conference call, Micron stated that, "For fiscal 2020, we plan for capex to be meaningfully lower than fiscal 2019."
As shown in the figure, the streak of strong ≥45% capital spending growth two years after spending cutbacks ended in 2015, with capital spending registering a 1% decline. Moreover, only a 4% increase occurred 2016. Although capital spending jumped by 41% in 2017 (four years after the 2012-2013 downturn in spending), IC Insights believes that the relatively muted cyclical behavior of the capex growth rates since 2013, as compared to past cycles, is another indication of a maturing semiconductor industry.
---
Suggested Items
09/27/2023 | HyRel
HyRel Technologies, a global provider of quick turn semiconductor modification solutions, is proud to announce that Brian Watson, the company's Founder and President, will be a featured presenter at SMTA International. The event is scheduled to take place on Tuesday, October 10.
09/27/2023 | IFR
The new World Robotics report recorded 553,052 industrial robot installations in factories around the world – a growth rate of 5% in 2022, year-on-year.
09/26/2023 | Miles Moreau, KIC
The U.S. Chips Act Propels Collaboration Between Semiconductor Manufacturers and Equipment Suppliers In today's rapidly evolving world, the semiconductor industry stands as a driving force across economies and industries, propelling progress through technological advancements. The U.S. Chips Act emerges as a game-changing legislation aimed at redefining America's semiconductor manufacturing prowess. The Act sets forth a clear mission: bolster domestic chip production, reinforce national security, and stimulate economic growth.
09/26/2023 | QinetiQ
KBR and QinetiQ signed a teaming agreement to work collaboratively to deliver test and evaluation services for the Australian Defence Force.
09/26/2023 | IPC
Join fellow EMS leaders in the region on Oct 5, 2023 at 4:30 - 8:00 p.m. EDT to share industry pain points and solutions.