Wearable, Washable Textile Devices Are Possible With MXene-Coated Yarns
October 16, 2019 | Drexel University
Estimated reading time: 6 minutes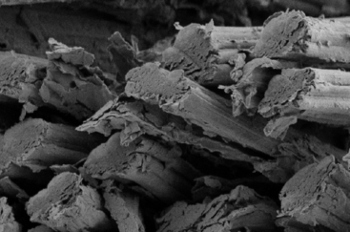 Producing functional fabrics that perform all the functions we want, while retaining the characteristics of fabric we're accustomed to is no easy task.
Two groups of researchers at Drexel University — one is leading the development of industrial functional fabric production techniques, and the other is a pioneer in the study and application of one of the strongest, most electrically conductive super materials in use today — believe they have a solution.
They've improved a basic element of textiles: yarn. By adding technical capabilities to the fibers that give textiles their character, fit and feel, the team has shown that it can knit new functionality into fabrics without limiting their wearability.
In a paper recently published in the journal Advanced Functional Materials, the researchers, led by Yury Gogotsi, PhD, Distinguished University and Bach professor in Drexel's College of Engineering, and Genevieve Dion, a professor in Westphal College of Media Arts & Design and director of Drexel's Center for Functional Fabrics, showed that they can create a highly conductive, durable yarn by coating standard cellulose-based yarns with a type of conductive two-dimensional material called MXene.
Hitting Snags
"Current wearables utilize conventional batteries, which are bulky and uncomfortable, and can impose design limitations to the final product," they write. "Therefore, the development of flexible, electrochemically and electromechanically active yarns, which can be engineered and knitted into full fabrics provide new and practical insights for the scalable production of textile-based devices."
The team reported that its conductive yarn packs more conductive material into the fibers and can be knitted by a standard industrial knitting machine to produce a textile with top-notch electrical performance capabilities. This combination of ability and durability stands apart from the rest of the functional fabric field today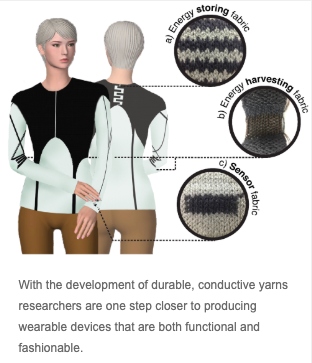 Most attempts to turn textiles into wearable technology use stiff metallic fibers that alter the texture and physical behavior of the fabric. Other attempts to make conductive textiles using silver nanoparticles and graphene and other carbon materials raise environmental concerns and come up short on performance requirements. And the coating methods that are successfully able to apply enough material to a textile substrate to make it highly conductive also tend to make the yarns and fabrics too brittle to withstand normal wear and tear.
"Some of the biggest challenges in our field are developing innovative functional yarns at scale that are robust enough to be integrated into the textile manufacturing process and withstand washing," Dion said. "We believe that demonstrating the manufacturability of any new conductive yarn during experimental stages is crucial. High electrical conductivity and electrochemical performance are important, but so are conductive yarns that can be produced by a simple and scalable process with suitable mechanical properties for textile integration. All must be taken into consideration for the successful development of the next-generation devices that can be worn like everyday garments."
The Winning Combination
Dion has been a pioneer in the field of wearable technology, by drawing on her background on fashion and industrial design to produce new processes for creating fabrics with new technological capabilities. Her work has been recognized by the Department of Defense, which included Drexel, and Dion, in its Advanced Functional Fabrics of America effort to make the country a leader in the field.
She teamed with Gogotsi, who is a leading researcher in the area of two-dimensional conductive materials, to approach the challenge of making a conductive yarn that would hold up to knitting, wearing and washing.
Gogotsi's group was part of the Drexel team that discovered highly conductive two-dimensional materials, called MXenes, in 2011 and have been exploring their exceptional properties and applications for them ever since. His group has shown that it can synthesize MXenes that mix with water to create inks and spray coatings without any additives or surfactants — a revelation that made them a natural candidate for making conductive yarn that could be used in functional fabrics.
Page 1 of 3
---
Suggested Items
11/27/2023 | PRNewswire
Since its isolation in 2004, graphene has received widespread attention as a 'wonder' material, with the reported potential to enable a whole host of next-generation technologies, some of which would not be out of place in the latest sci-fi blockbuster.
11/24/2023 | PRNewswire
Superconductors are materials that offer no resistance to electrical current flowing through them. Combining their study with spintronics, which deals with the intrinsic spin of electrons and their use in electronics, has paved the way for the new field of superconducting spintronics.
11/21/2023 | ACN Newswire
Researchers of RIKEN at Japan's state-of-the-art synchrotron radiation facility, SPring-8, and their collaborators, have developed a faster and simpler way to carry out segmentation analysis, a vital process in materials science.
11/17/2023 | SHENMAO
SHENMAO Technology is proud to commemorate its 50th anniversary. Founded in 1973, SHENMAO has witnessed the evolution of Taiwan's electronics industry, playing a pivotal role in shaping the landscape of solder materials and setting new industry stanards.
11/16/2023 | ACN Newswire
The subtle adhesive forces that allow geckos to seemingly defy gravity, cling to walls and walk across ceilings have inspired a team of researchers in South Korea to build a robotic device that can pick up and release delicate materials without damage.