Global Market for Counter Unmanned Aircraft Systems to Exceed $2B by 2024
October 23, 2019 | Frost & Sullivan
Estimated reading time: 2 minutes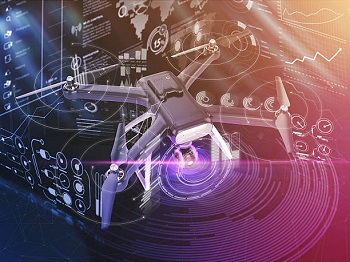 Frost & Sullivan's recent analysis, Global Counter UAS Market, Forecast to 2024, reveals that heightened demand for commercial unmanned aerial systems (C-UAS) by the military for expensive, technologically advanced, multiple-sensor systems is driving innovative C-UAS market growth opportunities. Furthermore, commercial and civil end users are seeking robust, low-cost C-UAS that can locate drone operators and operate on open architecture software that allows for integration into existing security systems. Based on these trends, Frost & Sullivan expects C-UAS market revenues to exceed $2 billion by 2024.
"The rapid proliferation of small drones and their expanding threat is driving significant investment and innovation in C-UAS. However, adoption of these technologies is limited by individual country rules against wiretapping, jamming, and computer hacking—all methods employed by various C-UAS," said Michael Blades, Vice President, Aerospace, Defense, and Security, Frost & Sullivan. "To gain a competitive advantage in an evolving ecosystem, players should look toward developing robust analytics and enabling/optimizing passive detection sensors, which can accurately capture and record data during all phases of the kill chain."
Further disruptive transformations in this market include artificial intelligence (AI) algorithms that automate the detection, identification, locating, and tracking of drones with minimal false detections, and directed energy weapons that can mitigate multiple drones quickly and/or simultaneously.
"OEMs that show their systems can be effective against the majority of current threats and can be adapted to future threats will realize the most market advancement," observed Blades.
From a regional perspective, North America, led by the US Department of Defense (DoD), will spend substantially more than any other region on C-UAS. Europe has additional ability to use systems at airports due to private ownership and better funding, and the Middle East shows a lot of interest in C-UAS but is hesitant to make purchases,  mainly due to uncertainty about the technologies.
To capitalize on future possibilities, vendors should focus on:
Developing as-a-service revenue streams with effective systems that are easily transportable.
Building C-UAS that can detect, locate, and track drones no matter what their configuration or mission.
Integrating advanced artificial intelligence into C-UAS to automate as much of the process as possible.
"Although there are many prospects in this market, a number of global regulatory agencies, especially in the West, are having trouble developing rules of engagement that will allow law enforcement to mitigate small drone threats," said Blades. "Furthermore, being relatively nascent, the industry is still in the process of initiating meaningful tests that can accurately assess C-UAS capabilities."
Frost & Sullivan's research, Global Counter UAS Market, Forecast to 2024, provides a macro view of estimated historical, current, and expected spending in the C-UAS market while taking into account various issues driving and restraining demand. The research also contains an evaluation of market expansion possibilities based on trends and supported by a collection of insights from industry insiders. Finally, three far-reaching predictions are provided concerning how the market might change or be disrupted.
Global Counter UAS Market, Forecast to 2024 is part of Frost & Sullivan's global Unmanned Systems research and analysis available through the Growth Partnership Service program.
About Frost & Sullivan
For over five decades, Frost & Sullivan has become world-renowned for its role in helping investors, corporate leaders and governments navigate economic changes and identify disruptive technologies, Mega Trends, new business models and companies to action, resulting in a continuous flow of growth opportunities to drive future success.
---
Suggested Items
11/27/2023 | HyRel
HyRel Technologies, a global provider of quick turn semiconductor modification solutions, announces the achievement of International Traffic in Arms Regulations (ITAR) registration.
11/20/2023 | MIT
MIT's Department of Aeronautics and Astronautics (AeroAstro) recently hosted the 2023 Future Leaders in Aerospace Symposium, inviting women and underrepresented minorities in aerospace fields to campus for a two-day program.
11/14/2023 | NEO Tech
NEOTech, a leading provider of electronic manufacturing services (EMS), design engineering, and supply chain solutions in the high-tech industrial, medical device, and aerospace/defense markets, is thrilled to welcome James Doyle to the team as Chief Executive Officer of NEOTech's Aerospace & Defense division, effective immediately.
11/06/2023 | PRNewswire
Vuzix Corporation, a leading supplier of smart glasses and Augmented Reality (AR) technology and products, announced it has completed delivery against a follow-on order from a Tier-1 aerospace and defense contractors with which it has been working with.
11/03/2023 | Collins Aerospace
Collins Aerospace recently expanded its services for airport operator AIRPLAN S.A.S. for a host of airport solutions that streamline passenger processing, enable self-service options and manage operations for six airports in Colombia's northern central region.