International Academy of Astronautics Awards Highest Honor to Charles Elachi
November 4, 2019 | Caltech
Estimated reading time: Less than a minute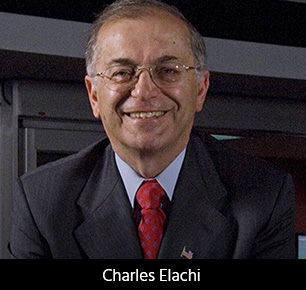 Charles Elachi, professor emeritus of electrical engineering and planetary science at the California Institute of Technology, has received the International Academy of Astronautics' highest honor: the Theodore von Kármán Award, which recognizes outstanding lifetime achievements in any branch of science.
The academy honored Elachi at the organization's annual awards ceremony on October 20 in Washington, D.C., for "a lifetime of scientific and engineering leadership that enabled breathtaking advances in knowledge of the earth, solar system, and universe."
The award citation also noted that as director of JPL, "he led the creation of 24 NASA missions, all with significant international participation. His nurturing of three generations of scientists and engineers has paved the way for decades of continuing advances in the space sciences."
Previous Caltech recipients have included Edward C. Stone, David Morrisroe Professor of Physics and vice provost for special projects, and the late William H. Pickering, Caltech professor of electrical engineering. Both men also previously served as director of JPL.
---
Suggested Items
09/21/2023 | ViTrox
ViTrox, which aims to be the world's most trusted technology company, is pleased to announce the addition of Hayden Dalton to our team as a Field Support Engineer who based in Milwaukee, WI, effective August 21, 2023.
09/20/2023 | Cadence Design Systems, Inc.
Cadence Design Systems, Inc. and CEVA, Inc. announced that they have entered into a definitive agreement for Cadence to acquire Intrinsix Corporation, a wholly owned subsidiary of CEVA and a provider of design engineering solutions focused on the U.S. aerospace and defense industry.
09/19/2023 | SMTA
SMTA is honored to announce Qais Qasaimeh, a graduate student at Auburn University, has been selected as the winner of the 2023 Charles Hutchins Educational Grant.
09/18/2023 | ECD
ECD announced that Seydina Diop has joined the company's growing engineering team as a Software Engineer II.
09/18/2023 | Matrix Electronics
This past year Matrix introduced the Advanced Engineering PMA101-CPB Mylar Peeler to the North American market. The PMA101-CPB Mylar Peeler is one of the most successful products in this category with over 200 units sold globally. This latest version of the mylar peeler was released in mid-2022 with a fully enclosed cabinet and upgraded PLC to support growing Industry 4.0 requirements in the PCB fab market. This machine can operate as a standalone unit or be combined with Advanced Engineering SRV automated load, unload equipment to connect to a customer's DES line.