International Academy of Astronautics Awards Highest Honor to Charles Elachi
November 4, 2019 | Caltech
Estimated reading time: Less than a minute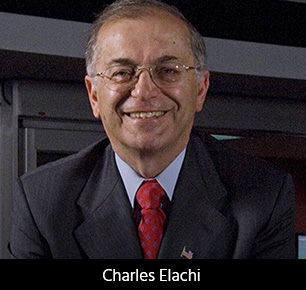 Charles Elachi, professor emeritus of electrical engineering and planetary science at the California Institute of Technology, has received the International Academy of Astronautics' highest honor: the Theodore von Kármán Award, which recognizes outstanding lifetime achievements in any branch of science.
The academy honored Elachi at the organization's annual awards ceremony on October 20 in Washington, D.C., for "a lifetime of scientific and engineering leadership that enabled breathtaking advances in knowledge of the earth, solar system, and universe."
The award citation also noted that as director of JPL, "he led the creation of 24 NASA missions, all with significant international participation. His nurturing of three generations of scientists and engineers has paved the way for decades of continuing advances in the space sciences."
Previous Caltech recipients have included Edward C. Stone, David Morrisroe Professor of Physics and vice provost for special projects, and the late William H. Pickering, Caltech professor of electrical engineering. Both men also previously served as director of JPL.
---
Suggested Items
11/29/2023 | Siemens
Siemens Digital Industries Software set the benchmark for innovation in the field of engineering simulation with the launch of two groundbreaking solutions - HEEDS™ AI Simulation Predictor software and Simcenter™ Reduced Order Modeling software.
11/29/2023 | HyRel
HyRel Technologies, a global provider of quick turn semiconductor modification solutions, is pleased to announce a strategic partnership with EQC Southeast as its manufacturers' representative.
11/15/2023 | ZDI
Zero Defects International [ZDI] has announced their participation as an exhibitor at the SMTA Silicon Valley Expo and Tech Forum. It will be held at Building 3 on the FLEX campus located at 727 Gibralter Drive, Milpitas, CA.  Expo time and date:  8:30 a.m., Thursday, December 7, 2023.
11/14/2023 |
At a recent conference, I met Benjemin Redlin and Joey Stam, student engineers at the Twin Cities Engineering program at Minnesota State. I asked them about their experiences and their perspectives on moving into industry. What struck me was just how practical these two young men were in their thinking, and how practiced they are in their soft skills. 
11/13/2023 | NASA
NASA has named Denton Gibson launch director for the Launch Services Program at NASA's Kennedy Space Center in Florida. Gibson fills a position made available with the recent retirement of former senior Launch Director Omar Baez. Denton will join senior Launch Director Tim Dunn in leading launch activities for NASA's science and robotic missions. This team is responsible for planning, implementing, and directing launch campaigns for NASA-managed launch vehicle services.