Reading time ( words)
In the last 24 hours, we surveyed our readers regarding the coronavirus (COVID-19) outbreak and its effect on our industry. After reviewing the first 100 survey responses primarily from North America and Europe, we see that one-third of the respondents reported that the outbreak was having at least a small effect on their orders. Two-thirds of our readers have yet to see any effect on their orders. One respondent from Italy reports that their business halted by 95% due to "everything being currently stopped and/or delayed."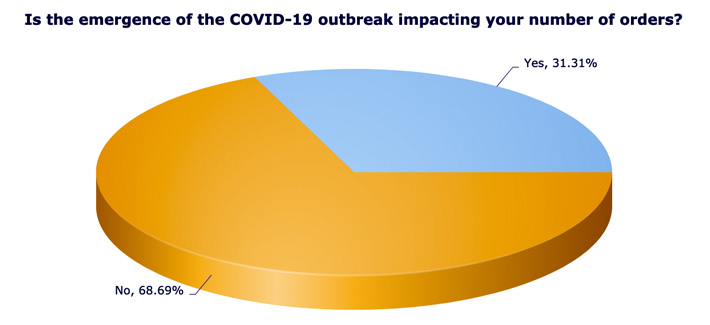 Here is a sample of some of the responses:
So far, we have only been hit with slowdowns of our equipment made in Germany, Singapore, or South Korea. We fully expect there to be more impacts.
Orders already done are waiting for goods to arrive, stopped mostly in China. New orders are not programmed. Expedition to customers slowed down.
Increased orders for certain product lines that have European manufacturing.
Everything is currently stopped and/or delayed.
It seems to be causing pull-ins, though.
A lack of raw materials imported from China.
PCB fabrication orders have shifted away from affected Asia to North American facilities.
Our survey results continue to come in, and we will be following this ongoing situation.
If you'd like to take part in this survey, click here.
Share
Print
Suggested Items
12/08/2020 | Nolan Johnson, I-Connect007
Nolan Johnson recently spoke with the Pacothane Technologies team about the current drivers of circuit board technology and how that has influenced and increased their product development of lamination and lamination assist products.
11/25/2020 | Dan Beaulieu, D.B. Management Group
Founded in 2007, QCMS is one of the more interesting EMS companies on the East Coast. They are actually a sister company to Niche Electronics located in Pennsylvania. Dan Beaulieu interviews QCMS General Manager Rick McAnally.
11/03/2020 | Nolan Johnson, PCB007
Recently, PCB Technologies reached out to us with news about their new All-In-One offering. Intrigued, we followed up and spoke with VP of Marketing and Business Development Arik Einhorn to get more details on the All-In-One services. We've included the short article and the interview here.