Books

Featured Books

smt007 Magazine

Latest Issues

Current Issue

Chips Don't Float

In Europe and the U.S., legislation is under way to revitalize PCB fabrication and packaging. What is the status of this work, and how specifically does this change the industry landscape for EMS companies? What will help keep us afloat?

Flying High With Digital Twin

The opportunity to use manufacturing simulation as a test bed for job planning and process optimization brings continuous improvement into the modern age. This may be an all-or-nothing type of project, but it's worth the investment.

Artificial Intelligence

In this issue, we (and AI) explored how and when artificial intelligence plays a role in manufacturing today. Whether on the factory floor, or in the front office, AI applications are emerging and changing how we approach planning, processes and problem solving.

Columns

Latest Columns

||| MENU
PVA Manufactures COVID-19 Emergency Ventilator
March 24, 2020 | PVA
Estimated reading time: 1 minute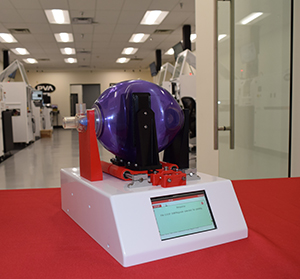 PVA, a global supplier of automation equipment servicing the electronics, medical device, telecommunications, semiconductor, and defense industries, has rapidly manufactured an emergency ventilator to help combat supply shortages during the Coronavirus (COVID-19) pandemic. PVA has more than 25 years of automation experience working with electronic components and currently is supplying solutions being utilized to manufacture COVID-19 test kits, portable respirators, and mechanical ventilators.
The emergency ventilator design uses functionality that has been recently approved by the United Kingdom Department of Health & Science. PVA has an operational prototype running in their Cohoes, NY headquarters and is prepared to move forward with high-volume manufacturing.
Since yesterday, PVA has presented the ventilator to the New York State Governor's Office, Congressman Paul Tonko's Office (NY-20), and the Office of the United States Vice-President. PVA has committed all resources to New York State initially and will allocate capacity to additional institutions as requested.
PVA can produce ventilators for under $8K and has plans to ramp production to a minimum of 100 ventilators per day. Units can be delivered within two weeks if regulatory approval does not delay shipments.
PVA has joined the race to provide critical medical equipment that has seen medical companies teaming with automotive suppliers. "It's sexy to think that Ford, GM, and Tesla are going to make your ventilators," states PVA President and CEO Tony Hynes. "They are moving quickly and doing great work. They have tremendous resources, but you can't just convert that type of operation in days. We have the ability to provide our emergency ventilators much faster."
"Every day when we listen to Governor Cuomo's press briefing his greatest need is for ventilators. The Governor asked New York State businesses to step up and get creative to relieve the critical shortages of medical devices. This is PVA's answer to the call. We are ready to assist in any way possible to help our friends and neighbors in the State of New York and wherever our expertise may be needed."
For more information, please contact Managing Director Frank Hart to assist you in any manner possible. You may reach him via phone at (518) 225-2203 or email at fhart@pva.net.
---
Suggested Items
08/29/2023 | NOTE
NOTE has strengthened its partnership with one of its long-standing customers, an industry leading company that is involved in the development of advanced medical devices.
08/07/2023 | Henry Crandall -- Column: The Doctor's In
In today's fast-paced world, where technology has infiltrated almost every aspect of our lives, it is no surprise that the healthcare industry is undergoing a digital revolution. The convergence of health and technology has given rise to an era of digital health, reimagining how we approach patient care, monitoring, and even medical training. Despite a projected market value of $800 billion by 2030, and an impressive compound annual growth rate of 18%, you may feel that digital healthcare doesn't seem to have reached your local clinic. Stay tuned. This article will walk you through how digital healthcare plans to reform every aspect of the medical landscape.
07/18/2023 | Resonetics
Resonetics, a leader in implantable medical batteries, and Resonant Link, a leader in wireless charging, have announced a strategic partnership to provide integrated power solutions for the implantable medical device industry.
07/07/2023 | Congressman Tom Emmer
On Wednesday, Congressman Tom Emmer (MN-06) toured Pro-Tech Interconnect Solutions. Pro-Tech's Chaska facility has 83 employees and manufactures printed circuit boards for the military, aerospace, medical and commercial industries.
05/18/2023 | Volex
Kepler SignalTek was founded in 2017 by Scott Hayden, a veteran of the medical device and interconnect industries with over 35 years of experience in leadership, design, and manufacturing.