With DIS, Accurate Registration is Everything
March 30, 2020 | Real Time with...IPC
Estimated reading time: Less than a minute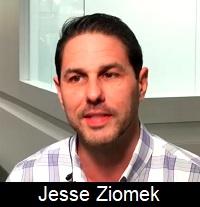 During IPC APEX EXPO 2020 in San Diego, California, the I-Connect007 Editorial Team met with some of the industry's top executives, managers, and engineers.
In this video interview from the show, Technical Editor Pete Starkey and Jesse Ziomek, VP of sales for DIS, discuss how the company achieves ultimate accuracy in layer-to-layer registration, not just in rigid multilayers, but also in flex and rigid-flex builds. Jesse also comments on keeping technology exciting enough to attract young engineers into the industry.
IPC APEX EXPO is the largest PCB industry event in North America. The next IPC APEX EXPO is planned for January 26-28, 2021, at the San Diego Convention Center.
To watch this interview, click here.
---
Suggested Items
10/02/2023 | SEMI
Industry visionaries and experts will gather November 6-8 at the MEMS & Sensors Executive Congress (MSEC 2023) at the WIGWAM Resort in Phoenix, Arizona for insights into the latest trends and innovations in sensorization.
10/02/2023 | Indium Corporation
Indium Corporation Regional Product Manager Wisdom Qu will present at the iNEMI Workshop on Automotive Electronics on October 13, in Shenzhen, China.
10/02/2023 | ACN Newswire
This joint effort is expected to strengthen the supply of NANOWEB® films and accelerate the growth of the transparent conductive film industry, offering new applications for the automotive and consumer electronics sectors, such as transparent film antennas, transparent film heaters, and transparent film electromagnetic shielding.
09/29/2023 | Intel
Intel celebrated the arrival of its Intel 4 technology, which uses extreme ultraviolet (EUV) technology, and the first use of EUV in high-volume manufacturing (HVM) in Europe.
09/28/2023 | Anaya Vardya, American Standard Circuits
There has always been pressure to reduce line and space as we have seen the bleeding edge technology go from 8 mils to 5 mils and then to 3 mils. The difference between "then" and "now" is that the prior advancements, for the most part, used the same processes, chemistry and equipment going from 8 mils to 3 mils. But going from 3 mil to sub 1 mil trace and space is a quantum leap in printed circuit board (PCB) technology that requires a whole new set of processes and materials.