With DIS, Accurate Registration is Everything
March 30, 2020 | Real Time with...IPC
Estimated reading time: Less than a minute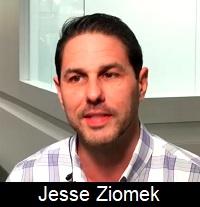 During IPC APEX EXPO 2020 in San Diego, California, the I-Connect007 Editorial Team met with some of the industry's top executives, managers, and engineers.
In this video interview from the show, Technical Editor Pete Starkey and Jesse Ziomek, VP of sales for DIS, discuss how the company achieves ultimate accuracy in layer-to-layer registration, not just in rigid multilayers, but also in flex and rigid-flex builds. Jesse also comments on keeping technology exciting enough to attract young engineers into the industry.
IPC APEX EXPO is the largest PCB industry event in North America. The next IPC APEX EXPO is planned for January 26-28, 2021, at the San Diego Convention Center.
To watch this interview, click here.
---
Suggested Items
12/05/2023 | PRNewswire
Samsung Foundry certified Ansys' RaptorX on-chip electromagnetic (EM) solution for analyzing high-speed products manufactured with Samsung's 8nm (nanometer) LN08LPP Low Power Plus silicon process.
12/04/2023 | USPAE
Seven microelectronics firms received nearly $10 million in combined funding to commercialize technologies of interest to the U.S. military services as winners of the Defense Business Accelerator (DBX) Microelectronics Challenge. This groundbreaking initiative is funded by the Department of Defense (DoD) and led by the U.S. Partnership for Assured Electronics (USPAE).
12/04/2023 | Horizon Sales
Horizon Sales is pleased to announce the newest addition to its team, Mr. Andre Kundert. Joining the company in November 2023, Andre brings with him two years of invaluable experience in surface mount technology (SMT) and a robust background in the electronics manufacturing industry.
11/30/2023 |
The goal of the collaboration is to promote the standardization of post-quantum cryptography.
11/30/2023 | PRNewswire
Hyundai Mobis is poised to secure new orders for premium vehicle displays, characterized by large screens, high definition, and slim design, using a fusion of innovative technologies targeting global automakers.