DOT Autonomous Farming Platform Has Arrived in Ontario
May 21, 2020 | Globe Newswire
Estimated reading time: 2 minutes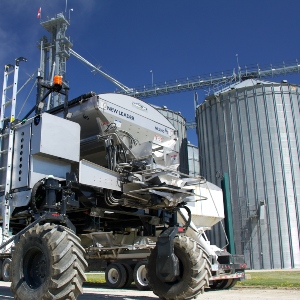 Haggerty Creek is the first DOT unit operator in Ontario. DOT arrived in Bothwell on May 13, 2020, and has already taken to the fields of Chatham-Kent to be used in commercial fertilizer application.
DOT is a built-in-Canada autonomous farming platform that was first showcased at the 2018 Precision Agriculture Conference in London, Ontario. Chuck Baresich, general manager of Haggerty Creek, attended conference and said, "the concept of a single power unit with multiple attachments is such an exciting technology. DOT was so far along in development when I first saw them, and I have been following their progress ever since." Baresich saw them again at the 2019 Canada's Outdoor Farm Show, and visited their research farm in Regina, Saskatchewan in October.
The practical and immediate application for Haggerty Creek is operator efficiency. The operator can be answering calls and providing service to customers while the machine is spreading product in the field. Baresich says, "There are other things our staff can be doing, rather than driving the machine."
DOT Technology Corp. (DOT®), a leader in autonomous platforms, was purchased by Raven Industries in early May 2020.  As an award-winning Raven Industries dealer, Baresich's decision to move ahead with the technology was made, "I knew there was going to be a solid investment behind this technology. Autonomous farming isn't coming. It's here. DOT is the first step, and we wanted to lead the charge."
AGRIS Co-operative general manager Jim Campbell says autonomy is the word this year, "Haggerty and AGRIS are always bringing you what's next. This is what's next."
Baresich is a big Star Wars fan. "When I first saw R2-D2 and C3-PO, I've always loved robotics. I imagined what could that do for agriculture. Plus, it's fun," he said.
Haggerty Creek Ltd. is jointly owned by the Baresich brothers, Chuck and Justin, and AGRIS Co-operative Ltd. Haggerty has been active in precision farming for many years, specializing in controllers and farmer training. Now they are early adopters of autonomous farming equipment with the purchase of the DOT platform and an additional smaller unit for soil sampling and other applications.
AGRIS Co-operative Ltd. is a 100 per cent farmer-owned grain marketing and farm-input supply company that serves more than 1,000 farmer-owners in 14 locations in Essex, Kent, Elgin, Middlesex and Lambton counties. They are a leader in precision farming technology, seed, agronomy and petroleum services. The co-operative is a partner of Great Lakes Grain, a grain merchandising company. AGRIS Co-operative is a member-owner of GROWMARK, Inc. and markets products and services under the FS brand.
---
Suggested Items
09/26/2023 | Kirk Thompson, Isola Group
Despite being a leader in R&D investment in semiconductors and packaging with greater than $50 billion per year, the U.S. has seen its market share decrease to less than 3% in areas like advanced packaging and advanced substrates. The cause for this market share erosion was a laser focus in Asian countries to attract semiconductors and advanced packaging investment through ecosystem development and incentives. If the U.S. is serious about changing the momentum to onshore advanced packaging and advanced substrates, an ecosystem approach to innovation and manufacturing incentives must be employed. It is not enough to have the most innovative technology if the supply chain and manufacturing economics do not deliver competitive commercial opportunities.
09/25/2023 | StenTech
StenTech Inc., the leading multinational SMT Printing Solutions company, is pleased to announce plans to exhibit at the SMTA Guadalajara Expo, scheduled to take place Oct. 25-26, 2023 at the Expo Guadalajara in Guadalajara, Jalisco, Mexico.
09/22/2023 | ACN Newswire
Nanofiber Quantum Technologies Inc. raised $8.5m from leading venture capital investors. Phoenix Venture Partners (PvP) in the US, and Japan's JAFCO Group Co Ltd, SPARX Group Co Ltd, Keio Innovation Initiative, Inc. (KII), and Waseda University Ventures (WUV) financed the round through convertible notes.
09/26/2023 | Joe Fjelstad -- Column: Flexible Thinking
Despite what some seem to believe, rigid-flex circuits are not a new technology. In fact, they are more than a half-century old. At the time of the invention, my friend Thomas Sterns was working at Sanders Associates, the pioneering flex circuit manufacturer. Like many products in the first decades of printed circuit technology, they were working on a military application. The objective was to provide a reliable method for reducing the size, bulk, weight, and questionable reliability of wire harness assemblies while simultaneously reducing cost and assuring that human error might be minimized. These were all vitally important concerns for military and aerospace products.
09/21/2023 | ViTrox
ViTrox, which aims to be the world's most trusted technology company, is pleased to announce the addition of Hayden Dalton to our team as a Field Support Engineer who based in Milwaukee, WI, effective August 21, 2023.