Deep Learning Robotics Granted New Patent for Robotic Learning
June 15, 2020 | PRNewswire
Estimated reading time: Less than a minute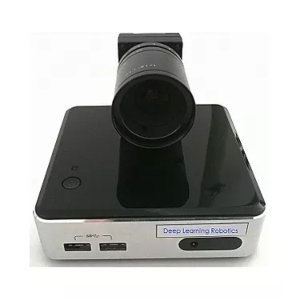 Deep Learning Robotics Ltd., a leading technology company focused on robotics and automation solutions, announced that the United States Patent and Trademark Office has granted the company a new patent, No. US10,571,896.
This robotic learning patent covers methods and components enabling a robot to autonomously improve its own performance by closely analyzing data associated to its previous actions and those of other robots, and is intended to protect Deep Learning Robotics' core technology platform.
"We are very proud to have been granted this new, significant patent," said Deep Learning Robotics CEO, Carlos Benaim. "This achievement underlines the innovation in the work our team is doing, and sets us apart in the field of robotics. Now, our technologies related to robots that learn from humans, and also to robots that learn from themselves, are protected by solid patents. Ultimately, this brings us closer to the reality we envision in which robots learn from humans how to manage certain tasks and constantly improve as they do so, so that humans can do more of the creative, impactful work we do best."
---
Suggested Items
11/28/2023 | Lockheed Martin
Lockheed Martin will soon launch a unique wideband Electronically Steerable Antenna (ESA) payload demonstrator to show the company's investment in advanced technology to perform missions faster once on orbit. The payload demonstrator, which will launch aboard Firefly Aerospace's Alpha rocket, extends Lockheed Martin's significant investment in scalable wideband ESA technology development to showcasing an actual on-orbit capability. This technology is critical to future remote sensing architectures.
11/27/2023 | Cambridge University
The Cambridge Open Zettascale Lab is hosting Dawn, the UK's fastest artificial intelligence (AI) supercomputer, which has been built by the University of Cambridge Research Computing Services, Intel and Dell Technologies.
11/27/2023 | HyRel
HyRel Technologies, a global provider of quick turn semiconductor modification solutions, announces the achievement of International Traffic in Arms Regulations (ITAR) registration.
11/24/2023 | PRNewswire
Every decade, a new telecom generation emerges, with 5G currently being commercialized, offering faster data rates, low latency, and enhanced reliability. 6G is characterized by Tbps data rates, microsecond latency, and extensive network dependability.
11/23/2023 | PRNewswire
MDA Ltd., a leading provider of advanced technology and services to the rapidly expanding global space industry, has revealed plans to more than double its UK workforce and operational footprint over the next 12 months.