U.S. Air Force Awards Virtual Reality Training Contract to Street Smarts VR
July 27, 2020 | Globe Newswire
Estimated reading time: 2 minutes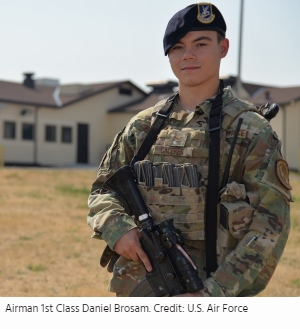 Street Smarts VR, whose virtual reality training platform is used across U.S. military and law enforcement organizations, announced today a contract with U.S. Air Force Global Strike Command (AFGSC) Security Forces that deepens their commitment to maximizing readiness for Airmen through more realistic training.
The contract, secured under the AFWERX Small Business Innovative Research (SBIR) program, supports the adoption of innovative commercial technologies for military use. With the initiative, Street Smarts VR (SSVR) will adapt training scenarios to the requirements of AFGSC Security Forces, to be delivered via a VR training system secured under an existing contract.
AFGSC Security Forces have a mission set that is unique and distinct from other Security Force units – namely the protection and defense of the nation's nuclear missiles and bombers. The Air Force Global Strike Command provides strategic deterrence, global strike, and combat support. It is responsible for the nation's three intercontinental ballistic missile wings, the Air Force's entire bomber force, the Long Range Strike Bomber program, Air Force Nuclear Command, Control and Communications systems, and support to organizations within the nuclear enterprise.
The New Reality in Training
Compared to legacy solutions, Street Smarts VR allows Defenders to maximize readiness with the most realistic training experience available–with scenarios informed by motion capture technology and mission-relevant data, plus real-world replica weapon loadouts. SSVR's ability to tailor training scenarios, coupled with the platform's ease-of-use for instructors, will enable AFGSC Security Forces to train anywhere, efficiently, for both individual and multiple users.

The adoption of VR training aligns with the Security Forces Enterprise Plan 2020, which aims to exploit new and emerging technologies that modernize equipment and make Defenders more proficient, helping ensure that Security Forces can protect the Nation's Air and Space Combat Power and Strategic Nuclear Mission.
"Street Smarts VR is honored to bring all the advantages of tailored content and leading-edge commercial VR to the training requirements of AFGSC Security Forces," said Oliver Noteware, co-founder and CEO.  "As a team of veterans, we understand both the importance of the mission and the demands of the training to support it. We're dedicated to providing accessible, realistic, and affordable training that develops the decision-making and tactical skills required to maintain the absolute highest level of readiness."
The contract work, valued at just under $1 million, will be performed at AFGSC Security Force headquarters at Barksdale Air Force Base, Shreveport, Louisiana. Deployment locations of the training system are yet to be disclosed.   
---
Suggested Items
12/04/2023 | USPAE
Seven microelectronics firms received nearly $10 million in combined funding to commercialize technologies of interest to the U.S. military services as winners of the Defense Business Accelerator (DBX) Microelectronics Challenge. This groundbreaking initiative is funded by the Department of Defense (DoD) and led by the U.S. Partnership for Assured Electronics (USPAE).
11/20/2023 | PRNewswire
Raytheon, an RTX business, has been awarded a four-year, $15 million contract from DARPA to increase the electronic capability of radio frequency sensors with high-power-density Gallium Nitride transistors. Raytheon is the world's leading manufacturer of military-grade Gallium Nitride, a cutting-edge semiconductor technology that, when used in radar systems, improves range and radar resource management handling. This new prototyping work is being performed under DARPA's Technologies for Heat Removal in Electronics at the Device Scale program, known as THREADS.
11/17/2023 | Raytheon Company
Raytheon, an RTX business, has been awarded a four-year, $15 million contract from DARPA to increase the electronic capability of radio frequency sensors with high-power-density Gallium Nitride transistors which will have 16 times higher output than traditional GaN with no increase in operating temperature. Raytheon is partnering with the Naval Research Laboratory, Stanford University and Diamond Foundry to grow diamond, the world's best thermal conductor, for integration with military-grade GaN transistors and circuits. Cornell University, Michigan State University, the University of Maryland and Penn State University are also providing technology and performance analysis.
11/03/2023 | U.S. Circuit
U.S. Circuit, a premier supplier of commercial and mil/aero PCBs, has recently obtained their AS9100 certification. This certification will allow U.S. Circuit to further expand their military and aerospace offerings to further serve sectors requiring stricter regulation including the Department of Defense (DoD), National Aeronautics and Space Administration (NASA), and the Federal Aviation Administration (FAA).
10/17/2023 | BUSINESS WIRE
New research has found that 95% of military and defence industry decision-makers recognise that ongoing digitalisation has led to a more dynamic and complex 'information battlespace' and a further 93% agree defence will require increased integration across domains.