Books

Featured Books

pcb007 Magazine

Latest Issues

Current Issue

The Registration Sweet Spot

Registration is underrated and underappreciated. The key is to ensure proper registration from layer to layer across the entire printed circuit board. It's a holistic process requiring anticipation, prediction, precise attention at each step, and detailed data tracking and monitoring.

High-reliability Fabrication

In this month's issue, our expert contributors discuss the latest in technologies, trends, complexities and resources regarding high-reliability fabrication.

Finding Ultra

New demands on PCB fabrication, namely advanced packaging, ultra high density interconnect (UHDI), and new specialty materials, are converging, changing the landscape of our business. Is it time to start paying close attention to this convergence?

Columns

Latest Columns

||| MENU
Introducing SMTA's 2020 Additive Electronics TechXchange, Part 1
September 10, 2020 | Nolan Johnson, I-Connect007
Estimated reading time: 5 minutes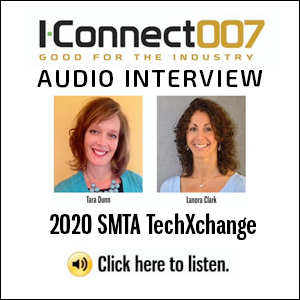 The 2020 Additive Conference, hosted by SMTA as an on-site event, will be held this year as a virtual event on October 15, 2020. Concurrent with the change in format, this year's event has been renamed the Additive Electronics TechXchange.
I-Connect007's Nolan Johnson spoke with the organizers of the Additive Electronics TechXchange—Tara Dunn, president of Omni PCB, and Lenora Clark, director of autonomous driving and safety at ESI Automotive—about this year's version of the event. Look for follow-up conversations with Dunn and Clark as additional information about the Additive Electronics TechXchange becomes available.
I-Connect007 continues to deliver original reporting and coverage of the electronics design, electronics manufacturing, and contract manufacturing industries, including up-to-date information from the companies, associations, and supply chains globally. Find the latest news and information at I-Connect007.com.
Related Content:
Audio Transcript:
Nolan Johnson: Hi, Nolan Johnson here for I-Connect007. Today I'm speaking with Lenora Clark and Tara Dunn. Lenora is the director of autonomous driving and safety for ESI Automotive. Tara is the president of Omni PCB. Our topic today is the upcoming additive conference (Additive Electronics TechXchange). You two have been long time organizers and central figures in this conference, haven't you?
Lenora Clark: That's right. It has been a long time. It has been one whole year that we've done so far.
Johnson: This is the second one; that is correct. Why don't we start off by talking about what the additive conference is, and maybe give a little bit of a recap of how the first year went?
Clark: Last year, Tara and I were approached to host/chair a new conference and try to bring additive to the industry and have a technical discussion on it. She and I were excited about it, but we wanted to be really specific about the topic because there's a lot of discussion right now about additive and additive manufacturing, but not addressing what we've called conductive pathways. If you look up additive, you see things about three-dimensional printing and sometimes metal stamping. But we wanted to address this more from an electronic standpoint and how are people using additive to make conductive pathways—and, more specifically, how this is being used to bridge that gap between the conventional PCB sizes and IC substrates, trying to approach three-mil lines and spaces.
That was our initiative going into last year with the other big priority for the two of us was we wanted this to be a learning environment because it's—I hate to say relatively new to the industry—a newer concept. We wanted just to be free to talk about the subject, not only things that were good about it but also disadvantages associated with it. We're happy this year to bring the conference virtually. We have some things in place, such as specific formats, so that we can keep this open discussion. That's where we hope to be when we kick off this conference, which will now be considered a technology exchange to follow the path of what we're hoping for. It's called the Additive Electronics TechXchange on October 15.
Johnson: Can you define the difference between a conference and a technology exchange?
Tara Dunn: In my opinion, the difference between the two is at a conference, you're there, learning information and getting presented on the topics—in our case, that would be new technologies to meet the additive electronics space. The difference with a tech exchange is it's a much more collaborative discussion between end-users, material suppliers, and all aspects of the supply chain coming together that need to work together in this emerging market of additive electronics.
Johnson: Who are the organizers, and how are you hosting this?
Clark: Again, this year, Tara and I are the organizers. Of course, SMTA is the main host. But this year is very similar to last year. We will start the discussion with what we're calling a simple coffee talk. It will be a relaxed environment where we're going to introduce how the day will progress, how we anticipate the technology exchange going, and a little bit of a schedule. But then we open up the environment or conference for discussion, so feel free to ask questions as we move through everything. It sets the tone for, again, that collaborative environment.
Dunn: We're going to have recorded sessions just in case there are any technological glitches. But we are going to do a live introduction and a live Q&A after each session. Then, we also have several different breaks planned for people to be able to chat with each other, and we have breakout rooms that people will be able to go and chat a little bit more privately as well.
Johnson: What is it that you would like to see accomplished through this technology exchange at the end of the event?
Clark: Last year, we had a really great discussion about the technology, what's available, and what the needs are. This year, we've decided to get the perspective of the end-users. Why do the end-users need it? In their experience, what are the advantages, and where does there need to be more innovation? A big objective is for this technology exchange to educate the entire supply chain, the end-users, the suppliers, and the material suppliers as well with where there are shortcomings and how we can be creative and work together collaboratively to get this thing more ready from what would we consider mass production, or low, medium, and high levels of production.
Dunn: I also hope that after this event, these discussions continue so that they aren't just discussions we have once a year at the Additive Electronics TechXchange, but they continue throughout the year.
Johnson: Thanks for taking the time to talk with me today about this.
Clark: Thank you, Nolan.
Dunn: Thank you.
Clark: For I-Connect007, I'm Nolan Johnson. Thanks for listening.
---
Suggested Items
12/05/2023 | HANZA
HANZA AB has signed an agreement to acquire all shares in Orbit One AB, a Swedish company that offers contract manufacturing of electronics and electromechanics. Orbit One has annual sales of approximately SEK 1.1 billion with an operating profit (EBITA) of approximately SEK 70 million.
12/05/2023 | IPC
Electronics industry sentiment improved during November with demand sentiment also taking a solid step up over the last 30 days per IPC's November 2023 Global Sentiment of the Electronics Supply Chain Report.
12/05/2023 | Robert Erickson and Lorena Villanueva, IPC
About 200 kilometers (125 miles) north of Mexico City lies Queretaro, an area rich in history, with stone streets and public squares, and which twice has been the country's capital. But it's also quickly becoming a global capital of electronics manufacturing, especially aeronautics, and was the location for the first IPC Day Mexico this past June.
12/04/2023 | USPAE
Seven microelectronics firms received nearly $10 million in combined funding to commercialize technologies of interest to the U.S. military services as winners of the Defense Business Accelerator (DBX) Microelectronics Challenge. This groundbreaking initiative is funded by the Department of Defense (DoD) and led by the U.S. Partnership for Assured Electronics (USPAE).
11/30/2023 | BUSINESS WIRE
Nordson Electronics Solutions, a global leader in electronics manufacturing technologies, is pleased to announce the release of the new ASYMTEK Select Coat® SL-1040 conformal coating system.