Books

Featured Books

pcb007 Magazine

Latest Issues

Current Issue

Finding Ultra

New demands on PCB fabrication, namely advanced packaging, ultra high density interconnect (UHDI), and new specialty materials, are converging, changing the landscape of our business. Is it time to start paying close attention to this convergence?

Developing a Strategy

A solid strategy is a critical part of success. This month, we asked some of the top industry leaders and business strategy "gurus" to share their thoughts on developing strategies.

Winning With TQM

In this issue, we explore how TQM has entered the DNA of continuous improvement disciplines, and the role leadership transformation plays in this. If you've ever competed against a TQM company, you understand their winning advantage.

Columns

Latest Columns

||| MENU
I-Connect007 Editor's Choice: Five Must-Reads for the Week
September 25, 2020 | Andy Shaughnessy, Design007 Magazine
Estimated reading time: 2 minutes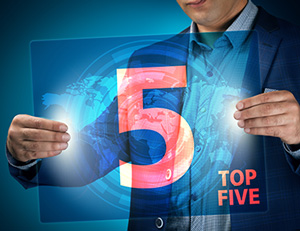 It's show time! Yes, once again, the trade show season is upon us. But it's a little bit different this year, with every industry trade show and conference relegated to virtual formats because of COVID-19 travel restrictions.
Virtual shows are the only game in town, and a lot of companies see them as a great opportunity. After all, with a virtual show, anyone in the world can attend and see your latest products. There are no plane tickets, hotel rooms, restaurants, or rental cars to pay for. Do you think the virtual show is here to stay, even after COVID-19 is a thing of the past, or are people getting tired of logging on to these events?
In this week's picks, we bring you news about the upcoming SMTA International 2020, IPC's plans for the fall, a move for Burkle North America's headquarters, and advice on how to select the correct CAD tool. And we have the first installment of our newest series: "Just Ask John Mitchell."
Next week, Nolan Johnson is back with his top five recommendations.
Visit Real Time with… SMTAI 2020 for Complete Show Coverage
Published September 24
SMTA International gets underway next week, with a virtual exposition scheduled for September 28–30, 2020. We started early, featuring pre-show video interviews with a variety of executives, managers, and engineers in the SMT segment. At I-Connect007, we'll bring you complete coverage of SMTAI, so check back with Real Time with… SMTAI.
The Government Circuit: Green Regulations, the Economy, COVID-19, and 'Decoupling' in Focus for IPC This Fall
Published September 21
Quite a few people read Chris Mitchell's latest column on the IPC's plans for the fall. In this article, Mitchell explains how IPC is dealing with everything from EPA regulations and COVID-19 to Asian markets and communicating with your elected officials. Is North America going to continue to "decouple" from China? Mitchell breaks it down.
Burkle North America Announces Headquarters Move to Greensboro Technology Center
Published September 21
Do I detect a trend? One study found that approximately 1,800 businesses left California during 2016, the most recent year with available data. Now, we can add Burkle North America to that list, and who can blame them? By relocating from Cypress, California, to Greensboro, North Carolina, the company will save millions of dollars over time, allowing them to better serve their customers. And the new digs are only a short drive from Research Triangle Park. Good move.
Just Ask John Mitchell: Are IPC's Positions Dictated by Politics?
Published September 21
After the success of our previous "Just Ask" installments that posed technology and market questions for Happy Holden, Joe Fjelstad, and Eric Camden, we knew it was time to find some "new blood." Fortunately, IPC President and CEO Dr. John Mitchell was ready and willing to answer your questions. The first question that came in for John had to do with whether IPC's programs are driven by politics, and in this election year, a lot of you clicked on this article.
Connect the Dots: How to Know If a CAD Tool Is Right for You
Published September 21
In this column, Sunstone Circuits' Matt Stevenson and Bob Tise discuss some of the lesser-known criteria to consider when selecting a new CAD tool, especially the free and budget-priced tools. This duo digs in and provides tips for selecting and trying out everything from open-source design tools to layout tools provided by PCB fabricators. They also explain why open-source tools are definitely not for everyone.
---
Suggested Items
09/18/2023 | IPC
IPC Day France: Aerospace Electronics is an aerospace-focused networking event featuring key industry experts from NASA and Airbus and will take place on October 2, 2023 . 
09/15/2023 | TRI
Test Research, Inc. (TRI), the leading test and inspection systems provider for the electronics manufacturing industry, will join productronica 2023, which will be held at Messe München Center from November 14 – 17, 2023.
09/13/2023 | I-Connect007 Editorial Team
For this month's issue on rigid-flex design, we spoke with instructor Kris Moyer, who teaches the IPC class "PCB Design for Flex and Rigid-Flex Boards." In this wide-ranging interview, Kris breaks down the hurdles facing rigid-flex designers and offers a variety of solutions for rigid board designers taking on their first rigid-flex circuits. He also provides a few horror stories to illustrate what happens if you don't follow sound design practices, rules, and standards. And, as Kris points out, "Your fabricator is your friend."
09/13/2023 | IPC
In conjunction with NEPCON Vietnam 2023, IPC hosted its popular IPC Hand Soldering and Rework Competition in Hanoi, Vietnam on September 6-8, 2023.
09/13/2023 | Hentec Industries/RPS Automation
Hentec Industries/RPS Automation, a leading manufacturer of selective soldering, lead tinning and solderability test equipment, is pleased to announce that Sinclair Manufacturing has purchased Pulsar solderability testing and Photon steam aging systems for installation in their Chartley, Massachusetts facility.