Use of IMS Thermal Materials in Multilayer Stackups for Power Applications
December 1, 2020 | I-Connect007 Editorial Team
Estimated reading time: Less than a minute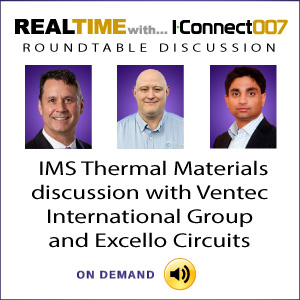 The dissipation of heat from electronic power modules is increasingly critical to maintain their functionality and increase their reliability. Insulated metal substrates (IMS) offer a proven route to thermal management, and this specialist technology is increasingly employed in multilayer stack-ups for power applications.
This Realtime with... I-Connect007 roundtable discussion brings together the expertise of Ventec International Group's Global Head of IMS Technology Chris Hanson and Technical Manager Denis McCarthy. Rax Ribadia of Excello Circuits provides hands-on fabrication experience from a specialist PCB manufacturer, and I-Connect007 editors Andy Shaughnessy and Pete Starkey contribute to a conversation that explores applications, materials, design considerations, and mechanisms of heat transfer. The benefits of technical and engineering support from a one-stop laminate supplier become clearly apparent.
To download the audio of this roundtable discussion (mp3) file to listen on the go, click here.
To download the PDF transcript booklet of this rountable, click here.
Related Content:
---
Suggested Items
09/26/2023 | Kirk Thompson, Isola Group
Despite being a leader in R&D investment in semiconductors and packaging with greater than $50 billion per year, the U.S. has seen its market share decrease to less than 3% in areas like advanced packaging and advanced substrates. The cause for this market share erosion was a laser focus in Asian countries to attract semiconductors and advanced packaging investment through ecosystem development and incentives. If the U.S. is serious about changing the momentum to onshore advanced packaging and advanced substrates, an ecosystem approach to innovation and manufacturing incentives must be employed. It is not enough to have the most innovative technology if the supply chain and manufacturing economics do not deliver competitive commercial opportunities.
09/25/2023 | StenTech
StenTech Inc., the leading multinational SMT Printing Solutions company, is pleased to announce plans to exhibit at the SMTA Guadalajara Expo, scheduled to take place Oct. 25-26, 2023 at the Expo Guadalajara in Guadalajara, Jalisco, Mexico.
09/22/2023 | ACN Newswire
Nanofiber Quantum Technologies Inc. raised $8.5m from leading venture capital investors. Phoenix Venture Partners (PvP) in the US, and Japan's JAFCO Group Co Ltd, SPARX Group Co Ltd, Keio Innovation Initiative, Inc. (KII), and Waseda University Ventures (WUV) financed the round through convertible notes.
09/26/2023 | Joe Fjelstad -- Column: Flexible Thinking
Despite what some seem to believe, rigid-flex circuits are not a new technology. In fact, they are more than a half-century old. At the time of the invention, my friend Thomas Sterns was working at Sanders Associates, the pioneering flex circuit manufacturer. Like many products in the first decades of printed circuit technology, they were working on a military application. The objective was to provide a reliable method for reducing the size, bulk, weight, and questionable reliability of wire harness assemblies while simultaneously reducing cost and assuring that human error might be minimized. These were all vitally important concerns for military and aerospace products.
09/21/2023 | ViTrox
ViTrox, which aims to be the world's most trusted technology company, is pleased to announce the addition of Hayden Dalton to our team as a Field Support Engineer who based in Milwaukee, WI, effective August 21, 2023.