Books

Featured Books

pcb007 Magazine

Latest Issues

Current Issue

Finding Ultra

New demands on PCB fabrication, namely advanced packaging, ultra high density interconnect (UHDI), and new specialty materials, are converging, changing the landscape of our business. Is it time to start paying close attention to this convergence?

Developing a Strategy

A solid strategy is a critical part of success. This month, we asked some of the top industry leaders and business strategy "gurus" to share their thoughts on developing strategies.

Winning With TQM

In this issue, we explore how TQM has entered the DNA of continuous improvement disciplines, and the role leadership transformation plays in this. If you've ever competed against a TQM company, you understand their winning advantage.

Columns

Latest Columns

||| MENU
Dr. John Mitchell on IPC APEX EXPO Going Virtual
December 16, 2020 | Barry Matties, I-Connect007
Estimated reading time: 8 minutes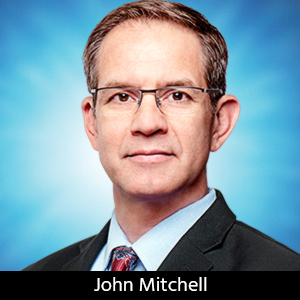 On Monday, December 14, 2020, Barry Matties and Dr. John Mitchell, IPC president and CEO, discussed last week's decision to move IPC APEX EXPO to an all-virtual platform. In this interview, Dr. Mitchell confirms that IPC is committed to delivering a cutting-edge experience, including a strong technical program, exhibitor and visitor support, multiple keynotes and a wide variety of online networking events. Matties and Mitchell also analyze the challenges for IPC in hosting the show, as well as some of the unique opportunities that a virtual show presents for IPC and attendee alike.
To download the audio (mp3) file, click here.
Prefer to read this interview? Here's the audio transcript:
Barry Matties: Well, welcome. Today, we're speaking with John Mitchell, president and CEO of IPC. John, thanks for joining us today.
John Mitchell: My pleasure, Barry.
Matties: Well, I know today all the big news is around the vaccine that's being released. Obviously, this will be a game changer for the future. But as we know, unfortunately, it did not arrive soon enough for our industry, which leads us to the big news here, which is that the IPC APEX EXPO 2021 will now be a virtual event. Why don't you just start and just give us an overview of what your thoughts are here?
Mitchell: Yes, we wish it was still going to be the hybrid event that we had planned; but circumstances being what they are with rising cases and it being held in California, we're unable to have an event at the Convention Center. So, we're going virtual. It's going to be 100% virtual. Although the setting will be unique, we're committed to providing attendees a complete show experience. We want to make sure that cutting-edge content that they've come to expect at IPC APEX EXPO is still experienced there.
The advantage of this is the event's digital platform will really allow participants to easily navigate more than 100 technical conference sessions and application-focused professional development courses, as well as view product demonstrations and schedule one-on-one meetings with exhibitors. Part of what's helping this even be even better is that we'll now be able to offer multiple keynotes and a meet-and-greet with IPC Hall of Famers and  emerging engineers. There's a virtual trivia event. You'll also, as I mentioned before, be able to learn about those cutting-edge products and technologies during daily new product introductions.
Our in-person standards development meetings have been rescheduled and will be happening throughout the time period there, very similar to what we did in SummerCom. I'm sorry, the in-person ones are rescheduled to August, but we'll still be having virtual standards meetings similar to what happened in SummerCom. While we wish we could be both virtual and face-to-face like we planned in a hybrid event, we're excited because we hope that more people will be able to experience some of the best of APEX in this fashion.
Matties: Yes. Well, you're certainly shining a light on all the positives that are going to come out of this, but certainly there's some challenges that go along with this as well. What are the challenges that you're facing, and how are you overcoming those?
Mitchell: One of the reasons people come to APEX EXPO is for that networking experience that they just can't get anywhere else. That's our biggest challenge to this point. How do we provide an opportunity for people to meet someone new who might have a profound impact on either their career or their business? APEX is a large show and can be hard to navigate when you're onsite, and so going virtual gives us an opportunity to provide smaller get-togethers online, where attendees can experience many of those same kinds of network opportunities that we're going to offer. We're going to be providing them direct access, as I mentioned, to Hall of Famers.
New attendees can obtain tribal knowledge of the industry. That's hugely valuable. When I think about starting off in any industry, trying to gain that tribal knowledge is critical to accelerating very quickly. Also, by focusing on the value of the information provided, we're able to offer a unique way to network, giving attendees a taste of what it takes to be at the in-person event; but also recognizing that no matter how you attend APEX EXPO, you're going to be able to obtain new and important knowledge for your career. So that's really the big challenge is the network, but we have a plan to provide it in a different way.
Matties: One of the things that I see with the challenge and the opportunity is that it really creates a great environment to make this a more global event, if you will, because participation isn't limited to travel schedules now.
Mitchell: That's right. It can be a more global event, but it's also a more deep-reaching event into your organization. Frankly, you can actually get more out of it in this way. Let me give just a couple of examples, if I could. In terms of a global event, yeah, travel isn't going to be an issue, and people can really participate from the comfort of their home offices. The technical conference sessions are going to be recorded and available on demand. So even if you were to come to the event, there's only so much you could see. Now, you'll have it available on demand for 90 days after the event. So, you can actually see the things that you couldn't see before. In that regard, I think that it will be very opportunistic, in that people will be able to get more knowledge than they could out of coming in person because they're going to have access for a longer period of time.
Then the third piece is that there is a challenge with the travel aspect of this. So, we're looking forward to hopefully reaching deeper into the organization. Instead of organizations only being able to send three to five people, now potentially, you could have 30 people experiencingd APEX because they're able to do it without the travel restrictions.
Matties: What should people consider when they start planning their event, both exhibitor and visitor?
Mitchell: Registration opens this week on December 17. If you're a participant or planning to be a participant, you need to and you want to take in the technical conference sessions or the professional development courses, you should really explore fully the agenda planner. View the course descriptions and presenters and choose the right sessions and courses that are right for you.
Now, if you're looking to conduct business in terms of research and purchasing new products, you should also be exploring the exhibitor directory. Exhibitors have the ability to upload images, video, and full product descriptions onto the platform. Then with just a mouse click, those visiting the exhibitor portal will be able to schedule one-on-one meetings with exhibitors.
Those exhibiting should take full advantage of what the virtual platform offers them in order to demonstrate their products and services. It just depends on who you are, but there's lots of different ways. Go in, explore the various options, set up those appointments, set up your schedule so you can participate in those things right away.
Matties: We're closing on 2020; and for most, it can't come fast enough. When you look forward to the new year, 2021, what do you feel the industry will be focused on?
Mitchell: Some of the areas that I think the industry will be focused on, and indeed we'll have pieces of this tied to the IPC APEX EXPO as well, is that companies are looking to transform and modernize as we look forward to the future of electronics manufacturing. Some of these themes would include, and our technical conference reflects these themes, factory of the future implementation, complete with cutting-edge papers on cybersecurity, data analytics, digital twinning, and things like that. PCB fabrication and materials are another area that I expect them to be looking next year, and we'll have an area on that as well as quality reliability testing inspection. So, some of the basic stuff. But companies seeking to grow will really need to adopt and integrate new technologies in electronics factories in order to provide better processes, higher quality, better transparency, and opportunities for new skills to be developed by the industry and its workforce.
New technology solutions and business models we expect to see in 2021 would include electronic device ubiquity. Electronics are going to be everywhere and growing. Mass production model is going to shift to a more flexible custom product solution with smaller lot sizes. There's also miniaturization. That's a trend that's going to continue again this coming year. We'll expect things to get smaller, lighter, and faster, and you'll see a lot of these disruptive technologies that were just starting to come out—5G, AI, things like that—starting to become more tightly integrated together in new devices and solutions. I hope I answered your question there.
Matties: Yes. I think so, and 2021 promises to be a great year. We'll get this pandemic behind us. A lot of lessons learned in 2020, and I think some of those are going to apply in the future as well. Do you have any closing thoughts that you want to share with the industry, John, before we wrap this up?
Mitchell: Let me give you just a quick thought. We are actually looking forward to IPC APEX EXPO every year; and in 2021, that's no different. It's really our signature event, and we're thrilled to have the opportunity to do it on a virtual platform for the reasons we just spoke about. We think we can have broad worldwide participation at the event and actually extend it to some attendees that never have had the opportunity to explore it. So, we're excited to welcome those new attendees as well as our old ones and get them integrating together in a new networked fashion.
Matties: Well great, John. Thanks again for taking the time to really help keep our industry well-informed. We greatly appreciate that.
Mitchell: My pleasure, Barry.
Matties: Once again, you've been listening to John Mitchell, president and CEO of IPC. Thanks for listening.
---
Suggested Items
09/18/2023 | IPC
IPC Day France: Aerospace Electronics is an aerospace-focused networking event featuring key industry experts from NASA and Airbus and will take place on October 2, 2023 . 
09/15/2023 | TRI
Test Research, Inc. (TRI), the leading test and inspection systems provider for the electronics manufacturing industry, will join productronica 2023, which will be held at Messe München Center from November 14 – 17, 2023.
09/13/2023 | I-Connect007 Editorial Team
For this month's issue on rigid-flex design, we spoke with instructor Kris Moyer, who teaches the IPC class "PCB Design for Flex and Rigid-Flex Boards." In this wide-ranging interview, Kris breaks down the hurdles facing rigid-flex designers and offers a variety of solutions for rigid board designers taking on their first rigid-flex circuits. He also provides a few horror stories to illustrate what happens if you don't follow sound design practices, rules, and standards. And, as Kris points out, "Your fabricator is your friend."
09/13/2023 | IPC
In conjunction with NEPCON Vietnam 2023, IPC hosted its popular IPC Hand Soldering and Rework Competition in Hanoi, Vietnam on September 6-8, 2023.
09/13/2023 | Hentec Industries/RPS Automation
Hentec Industries/RPS Automation, a leading manufacturer of selective soldering, lead tinning and solderability test equipment, is pleased to announce that Sinclair Manufacturing has purchased Pulsar solderability testing and Photon steam aging systems for installation in their Chartley, Massachusetts facility.