Elbit Systems' UK Subsidiary Awarded $137M Contract to Supply Future Target Acquisition Solution
January 22, 2021 | Elbit Systems
Estimated reading time: 1 minute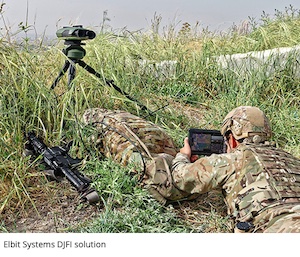 Elbit Systems Ltd. announced that its UK subsidiary, Elbit Systems UK Ltd., was awarded an approximately $137 million (approximately £100 million) contract by the UK Ministry of Defence to provide the British Armed Forces with the future target acquisition solution for Joint Terminal Attack Controllers and Fire Support Teams under the Dismounted Joint Fires Integrators (D-JFI) program. The contract will be performed over a five-year period.
The D-JFI solution to be provided by Elbit Systems UK, is a networked, passive and active target acquisition solution that acquires, generates and communicates target information to effector systems for effective engagement of joint precision and non-precision fires. The solution is empowered by Artificial Intelligence and will interface with the radio communication systems of the British Army, Royal Air Force and Royal Marines. The D-JFI solution draws on the Company's operational experience in providing dismounted network combat solutions. It integrates several of its technologies, including: the TORCH-XTM Battle Management Application; the HattorixTM system for undetectable generation of high-precision targets, the CORAL Multi-Spectral electro-optical payload for enhanced target acquisition in day and night and the RattlerTM XR long range laser designator. The D-JFI solution will enable fast and secured transmission of target information across the British and Allied Armed Forces, allowing swift and accurate utilization of artillery and close air support.
Martin Fausset, CEO of Elbit Systems UK, said: "It is essential for our Armed Forces to be able to operate swiftly and accurately in hostile environments. The systems to be supplied by Elbit Systems UK represent our commitment to continuously provide the most advanced technology to those on the frontline. The D-JFI solution will provide operational advantage to the British Armed Forces in an increasingly complex battlefield."
---
Suggested Items
09/28/2023 | Technica USA
Technica USA announced it has reached a Master Distribution Agreement with SAA to promote and support automation systems & technology offered by SAA.
09/26/2023 | Lockheed Martin
Lockheed Martin Skunk Works, in partnership with the U.S. Air Force, completed the first flight of the U-2 Dragon Lady's Avionics Tech Refresh (ATR) program.
09/26/2023 | PRNewswire
Macronix International Co., Ltd., a leading integrated-device manufacturer in the non-volatile memory (NVM) market, announced its OctaFlash memory line has received ISO 26262 ASIL D (Automotive Safety Integrity Level) certification from SGS TÜV Saar, ensuring makers of automotive electronic systems that OctaFlash meets the highest level of safety in automotive electronics.
09/25/2023 | Alison James
"Electronics systems are at the heart of almost all modern technology. The performance and functionality of these systems have increased at breathtaking speed, chiefly as a result of advancements in semiconductor technology. Semiconductors do not function in isolation," writes Alison James, IPC senior director of government relations, in a 2023 report for the European Commission's Directorate General for Internal Market, Industry, Entrepreneurship. "These electronics systems feature prominently in key sectors like defence, aerospace, space, automotive, medical, and high-performance computing, but electronics are vital to every industry and are central to a variety of EU priorities, including the twin digital and green transitions and Europe's technological sovereignty."
09/28/2023 | Michael Carano -- Column: Trouble in Your Tank
In a previous column, the critical process of desmear and its necessity to ensure a clean copper surface connection was presented. Now, my discussion will focus on obtaining a void-free and tightly adherent copper plating deposit on these surfaces. After the desmear process, the task is to insure a continuous, conductive, and void-free deposit on the via walls and capture pad. Today, there are several processes that can be utilized to render vias conductive.