Happy's Play-by-Play of IPC APEX EXPO
March 29, 2021 | Happy Holden, I-Connect007
Estimated reading time: 1 minute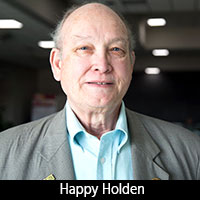 This was the first time IPC had a virtual APEX EXPO. It went well, but I missed seeing everyone. On the other hand, all this material being available for 90 days certainly allows it to fit anyone's schedule. I spent all week intently listening to the presentations.
Unfortunately, a virtual conference does not allow you to chat in the aisles, visit old friends during breaks, or have a Starbucks together. So, a successful virtual conference is difficult to compare to a live in-person conference.
To help you take full advantage of the 90-day on-demand availability, I've included summary information for a portion of the program. This is not an exhaustive list, as I had not yet been able to watch them all by the time this went to press.
Managers Forum: Managing Challenges in Periods of Transition
The show kicked off with a greeting from IPC President and CEO John Mitchell, followed by Gene Weiner, Hall of Fame council program chair. Gene was his usual "cheery" self as he introduced IPC VP of Global Government Relations Chris Mitchell, who spoke on "Seizing the Moment."
To read this entire article, which appeared in the 2021 edition of Show & Tell Magazine, click here.
---
Suggested Items
09/28/2023 | IPC
IPC continues to collaborate with the electronics manufacturing industry to meet their current and future workforce training needs.
09/28/2023 | IPC
Though product demand weakened this month with Orders and Backlog Indexes slipping, overall electronics industry operations remain healthy per IPC's September 2023 Global Sentiment of the Electronics Supply Chain Report.
09/27/2023 | Cherie Litson, CID+, Litson1 Consulting
Rigid-flex circuits are unique structures; part rigid board and part flex, they're increasingly working their way into many of the electronic devices we use every day. There have been many advances in rigid-flex lately as more companies find themselves exploring this technology. So, before I started writing this article about rigid-flex design, I double-checked a few things. Fortunately, there is plenty of rigid-flex information available on a variety of great websites that we all know and trust.
09/18/2023 | IPC
IPC Day France: Aerospace Electronics is an aerospace-focused networking event featuring key industry experts from NASA and Airbus and will take place on October 2, 2023 . 
09/15/2023 | TRI
Test Research, Inc. (TRI), the leading test and inspection systems provider for the electronics manufacturing industry, will join productronica 2023, which will be held at Messe München Center from November 14 – 17, 2023.