Summit Interconnect Anaheim Opens New State-of-the-Art Laboratory
April 22, 2021 | Summit Interconnect Anaheim
Estimated reading time: 1 minute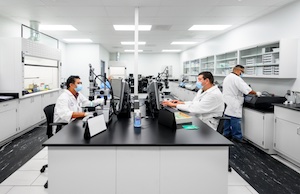 Summit Interconnect recently celebrated the grand opening of its newly renovated, state-of-the-art laboratory in Anaheim, California. After three months of renovation, and nearly $250,000 of capital investment, Summit Anaheim was excited to open the doors to its pristine 900 square foot laboratory.  Some of the new equipment includes:
(2) Keyence VHX-7000 4K digital microscopes
(1) Struers Tegramin-30 automatic micro section grinder/polisher
(3) Allied high tech twin prep 5x micro section grinder/polishers
Conductor Analysis Technologies OM Thermal Stress System/D-coupon tester with reflow simulation & thermal shock capabilities
Vice President & General Manager Jack Evans said, "We're very pleased with the way the new laboratory turned out. The added space and capabilities will allow us to better serve our customers while positioning the Anaheim division for several more years of growth."
This project was one of the first completed in Summit's CAPEX plan for 2021. Summit is committed to a strong reinvestment plan to continuously improve the Company's capabilities, quality, and capacity. Additional improvements will be announced throughout the year. 
About Summit
Summit Interconnect provides a total solution for advanced technology PCBs including rigid, flex, rigid-flex and RF designs. Summit has three manufacturing locations in the U.S. and one in Canada making it one of the largest PCB companies in North America.  Summit also provides value added global sourcing through trusted supply partners.  Visit our website at www.summit-pcb.com. 
---
Suggested Items
11/10/2023 | KIC
KIC, a renowned pioneer in thermal process and temperature measurement solutions for electronics manufacturing, is thrilled to announce an unprecedented leap in reflow process inspection (RPI) technology. General Manager Miles Moreau will be presenting an exclusive lecture at productronica on Wednesday, November 15, 2023, at the productronica Forum, unveiling the remarkable "Real-time production reflow profile inspection, with new sensor technology for heat transfer detection."
11/06/2023 | Altus Group
Altus Group, a leading distributor of electronics assembly equipment in the UK and Ireland, has announced a significant enhancement to its product offerings with the introduction of Solderstar's cutting-edge technology, the Reflow Shuttle O2 measurement module.
11/01/2023 | BTU International, Inc.
BTU International, Inc., a leading supplier of advanced thermal processing equipment for the electronics manufacturing market, is proud to introduce its latest innovation, the Aurora 200N, the longest and most advanced reflow oven ever produced by BTU.
10/25/2023 | Indium Corporation
Indium Corporation has earned a Mexico Technology Award for its new low-voiding, Pb-free solder paste,
10/18/2023 | Miles Moreau, KIC
In the world of electronics manufacturing, inspection, and quality control are paramount. Manufacturing engineers, process engineers, and managers in the electronics industry are constantly seeking innovative ways to improve the reliability and performance of SMT lines, and OEM auditors want assurances of complete process control and traceability of production for their product builds. Real-time, inline inspection steps are necessary to maintain consistent quality and ensure the highest level of process control and traceability. This article sheds light on the critical role of reflow process inspection (RPI) ensuring the quality and reliability of PCBAs during reflow soldering, and briefly touches on exciting new sensing technology developed by KIC, one of the industry leaders.