I-Connect007 Editor's Choice: Five Must-Reads for the Week
July 2, 2021 | Andy Shaughnessy, Design007 Magazine
Estimated reading time: 2 minutes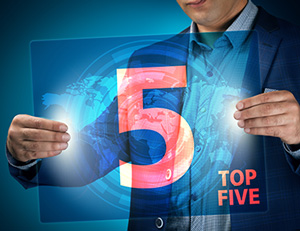 We're halfway through 2021, and I must say that this year is working out to be a heck of a lot better than last year. That's a pretty low bar to clear, of course. But masks are mostly a thing of the past now. We have actual live, in-person trade shows and conferences coming up in the next few months.
Optimism is on the rise. This week, we saw signs of increased confidence in the PCB industry, but this was tempered by the realities of supply chain issues and 50-week lead times for some components. We saw some M&A activity and a bit of really interesting news from Stanford University about flex. Cherie Litson brought us a story of her life in PCB design, against a backdrop of Star Trek. IPC also announced an introductory PCB design class. Isn't it nice to have new designers again?
Have a great Independence Day! 
North American PCB Industry Sales Up 9.1% in May
Published June 25
In this industry, we often move two steps forward and one step backward. North American PCB sales were up 9.1% in May, and bookings were up 24.1% year-over-year. But as IPC's chief economist Shawn DuBravac explains, shipments were flat because of higher raw material costs and long lead times.
My Life in PCB Design
Published June 28
This week, we published a great article by Cherie Litson. She uses Star Trek star dates and quotes from Captain Kirk and Science Officer Spock to chronicle her career in PCB design. It's a comprehensive PCB history lesson, and it's a fun read too. Check it out, at warp speed!
Stanford Researchers Develop New Manufacturing Technique for Flexible Electronics
Published June 30
There was some potentially groundbreaking flex news from Stanford University this week. Researchers have found a way to manufacture thin transistors less than 100 nanometers long. These flexible transistors can operate at a performance level several times higher than any others manufactured with atomically thin semiconductors. The flex segment is always popping.
MKS Instruments to Acquire Atotech
Published July 1
M&A activity continues apace. MKS Instruments is acquiring Atotech, already a billion-dollar supplier of advanced PCB chemicals and equipment. MKS expects to realize $50 million in annualized cost synergies in the first 18–36 months.
IPC to Hold Online Course on Introduction to PCB Design
Published June 30
IPC announced that it will be presenting a six-week online course titled "Introduction to PCB Design I." The class will cover front-end design, including schematic capture, library parts creation, and documentation. There are more and more new PCB designers, and they can use all the education they can get. Classes begin July 6. If you're a new designer, check it out.