Attention Researchers: Space, Suborbital, and Climate-Focused Technologies Wanted
July 8, 2021 | NASA
Estimated reading time: 1 minute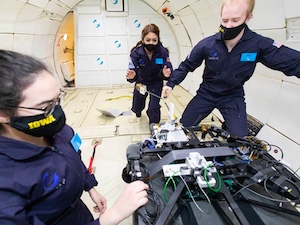 NASA's 2021 Tech Flights solicitation is now open! Tech Flights offers funding opportunities to researchers from U.S.-based industry, academia, and private research institutions to rapidly test technologies on commercial suborbital vehicles with awards up to $650,000 per awardee.
Through NASA's Flight Opportunities program, awardees receive a grant or cooperative agreement allowing them to purchase flights directly from any eligible U.S. commercial flight provider that best suits their technology demonstration. These vehicles include suborbital rockets, rocket-powered vertical takeoff, and vertical landing vehicles, high-altitude balloons, and aircraft flying reduced-gravity (e.g., parabolic) flight profiles.
NASA is seeking proposals to address specific agency goals. The topics for the 2021 solicitation are:
Topic 1:  Supporting National Efforts at the Moon and in Cislunar Space, Inclusive of Human and Robotic Exploration and Scientific Discovery
Topic 2: Earth-Observing Capabilities to Support Breakthrough Science and National Efforts to Address Climate Change 
Topic 3: Technologies that Ensure National Leadership in Space and Help the Commercial Space Industry Grow
Examples of technologies that address these topics and much more information can be found in the full Tech Flights 2021 solicitation.
Preliminary proposals are due July 26, 2021, and full proposals (by invitation only based on preliminary proposal acceptance) are due Oct. 4, 2021. Awardee selections are targeted for December 2021 with awards targeted for February 2022. These dates are subject to change.
A question and answer session is scheduled for July 14, 2021, at 10 a.m. PDT. 
---
Suggested Items
11/13/2023 | NASA
NASA has named Denton Gibson launch director for the Launch Services Program at NASA's Kennedy Space Center in Florida. Gibson fills a position made available with the recent retirement of former senior Launch Director Omar Baez. Denton will join senior Launch Director Tim Dunn in leading launch activities for NASA's science and robotic missions. This team is responsible for planning, implementing, and directing launch campaigns for NASA-managed launch vehicle services.
11/06/2023 | NASA
Technicians at NASA's Michoud Assembly Facility in New Orleans have completed a major portion of a weld confidence article for the advanced upper stage of NASA's SLS (Space Launch System) rocket.
11/03/2023 | U.S. Circuit
U.S. Circuit, a premier supplier of commercial and mil/aero PCBs, has recently obtained their AS9100 certification. This certification will allow U.S. Circuit to further expand their military and aerospace offerings to further serve sectors requiring stricter regulation including the Department of Defense (DoD), National Aeronautics and Space Administration (NASA), and the Federal Aviation Administration (FAA).
10/26/2023 | BUSINESS WIRE
Sierra Space, a leading pureplay commercial space company building the first end-to-end business and technology platform in space, announced today the successful completion of the first mission Flight Operations Review at NASA's Johnson Space Center, a crucial step in preparation for the inaugural Dream Chaser mission to the International Space Station.
10/17/2023 | BUSINESS WIRE
A joint venture between The University of California, Berkeley and San Francisco-based SKS Partners, unveiled Berkeley Space Center at NASA Research Park, a planned 36-acre innovation hub in the heart of Silicon Valley.