I-Connect007 Editor's Choice: Five Must-Reads for the Week
July 16, 2021 | Andy Shaughnessy, Design007 Magazine
Estimated reading time: 3 minutes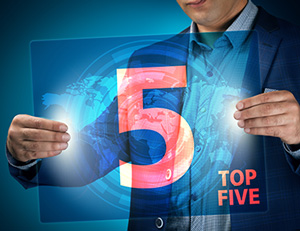 I think we can all agree that this year has been better than 2020 in every way. But while 2020 seemed to exist in slow motion, 2021 is flying by. Good news will do that to our perception, I suppose. It seems like we just celebrated Christmas, and now we're in the second half of 2021. We're planning our fall magazine content.
Trade show season is around the corner, and we're talking about real, in-person trade shows. The virtual shows served their purpose, and we may see more virtual shows in tandem with live events, but I'll be glad to get back on the show floor and see what's "really" going on out there.
There are certainly plenty of live shows and conferences coming up. In a good sign for the industry, this week we published some news about IPC's hand soldering competitions returning to Europe this fall. These events are a lot of fun, and they're a great way to show young technologists what the SMT world is all about.
We also saw double-digit growth YoY in system design revenue in the first quarter of 2021. This news dovetails nicely with I-Connect007's new eBook, The System Designer's Guide to… System Analysis: Electromagnetic Interference and Thermal Analysis of Electronic Systems, written by Brad Griffin of Cadence Design Systems.
Ucamco added Mandarin functionality to its Gerber Job Editor, which could put the format into the hands of millions of new users. And IPC announced plans for a series of online rigid-flex design courses during the fall.
It's a great time to be in the industry.
IPC National Hand Soldering Competitions Return to Europe
Published July 15
It's nice to see the return of IPC's national hand soldering competitions in France, Estonia, and Germany. Are you ready to compete? Oui, jah, and ja! These events help draw young technologists into this industry, and they're a lot of fun too. Put together a team to represent your company or compete on your own. Of course, there will still be social distancing and cleanliness protocols in place, but this is a big step in the right direction.
Electronic System Design Industry Reports 17% Revenue Growth in Q1 2021
Published July 16
More encouraging news, this time from SEMI's Electronic Design Market Data Report. We could all expect the first quarter's numbers to be higher this year than in 2020, but it's great to see the four-quarter moving average up 15%, the highest annual uptick in 10 years.
New I-007eBook Highlights System Analysis
Published July 15
Speaking of system design, we just published a great new I-007eBook titled The System Designer's Guide to… System Analysis: Electromagnetic Interference and Thermal Analysis of Electronic Systems. Written by Brad Griffin of Cadence Design Systems, this free book is highly recommended by Speeding Edge founder Lee Ritchey. If you're getting deeper into system analysis, this is a definite must-read.
Ucamco's New Gerber Job Editor Now Accepts Notes in Chinese
Published July 14
Prognosticators have been prognosticating the demise of Gerber for at least a decade, but the tried-but-true data format is still number one and showing no signs of going anywhere. Ucamco continues to adapt Gerber to meet the needs of the designers of today and tomorrow, and the move to accept Mandarin notes is a smart one.   
IPC Offers Training Course on PCB Design for Rigid-Flex Boards
Published July 14
Rigid-flex is a bit of an oddity: It can be found in many of our handheld devices, but there's not very much rigid-flex design training and education available. IPC is stepping into the breech with a six-week online course on designing rigid-flex circuits. Classes begin August 30 and take place every Monday and Wednesday until October 6, with a mix of interactive webinars and on-demand content.