Ansys, Rockwell Automation Optimize Industrial Operations with Expanded Digital Twin Connectivity
September 20, 2021 | ANSYS
Estimated reading time: 1 minute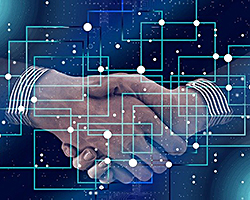 Ansys and Rockwell Automation are expanding digital twin connectivity to industrial control systems, enabling users to optimize the design, deployment, and performance of industrial operations. By implementing simulation-based digital twins, engineering teams can garner new insights that speed innovation and reduce costs from the design phase to the production phase.
Rockwell Automation's latest release of Studio 5000 Simulation Interface now connects with Ansys Twin Builder, allowing automation and process engineers to leverage simulation-based digital twins. Users can create and test designs in a virtual space, saving the time and money associated with costly physical prototypes. The digital domain can also be used to test process changes before being implemented in the field, which can boost throughput and other performance aspects.
Predictive maintenance represents another significant benefit of simulation-based digital twins. Ansys Twin Builder empowers users with multiphysics analysis to understand how forces like flow rates, mechanical stresses and thermal profiles impact in-field assets. Engineers can use these insights to calculate the remaining life of equipment and plan for maintenance, reducing the chance of costly unplanned downtime.
"By connecting a control system to Ansys Twin Builder, users can simulate complex physical processes and give realistic inputs to the control system," said Julie Robinson, business manager, Rockwell Automation. "This can provide tremendous insights throughout the equipment lifecycle. For example, running a simulation model in parallel to a physical system during production can reveal opportunities to optimize performance in real-time."
With the enhanced Studio 5000 Simulation Interface and Ansys Twin Builder, users can connect digital twins to emulated or physical controllers. Connecting to an emulated controller can help users optimize production at the design stage, while connecting to a physical controller allows them to compare optimal equipment performance against actual performance. 
"Connecting the digital and physical worlds with Studio 5000 Simulation Interface creates tremendous value for users," said Shane Emswiler, senior vice president of products, Ansys. "It can help them go from conceptual designs to physical equipment faster and at a lower cost. It can provide useful new insights during production. For instance, users can apply what-if scenarios to understand the impact of changes on a process. They can create virtual sensors to estimate values that are otherwise too expensive or not possible to get today, and they can predict outcomes like failures that hurt the bottom line."
---
Suggested Items
11/20/2023 | ANSYS
Ansys has collaborated with TSMC and Microsoft  to validate a joint solution for analyzing mechanical stresses in multi-die 3D-IC systems manufactured with TSMC's 3DFabric™ advanced packaging technologies.
11/10/2023 | PRNewswire
Ansys collaborated with Sony Semiconductor Solutions (Sony) to enhance high-fidelity image sensor simulation and camera-based features in next-generation automotive applications, including AV and ADAS.
11/02/2023 | ANSYS
ANSYS, Inc. reported third quarter 2023 GAAP and non-GAAP revenue of $458.8 million, a decrease of 3% in reported currency, or 4% in constant currency, when compared to the third quarter of 2022.
11/01/2023 | ANSYS
Ansys is reinforcing its ongoing investment in artificial intelligence (AI) innovation through the upcoming introduction of Ansys SimAI and Ansys AI+ technologies. The upcoming releases build on Ansys' ongoing expansion of AI integration across its simulation portfolio and customer community.
09/28/2023 | Keysight Technologies, Inc.
Keysight Technologies, Inc., Synopsys, Inc., and Ansys announced a new reference flow for the TSMC N4PRF, the world's leading semiconductor foundry's advanced 4 nanometer (nm) radio frequency (RF) FinFET process technology.