Nanoracks, Voyager Space, Lockheed Martin Teaming to Develop Commercial Space Station
October 25, 2021 | Lockheed Martin
Estimated reading time: 2 minutes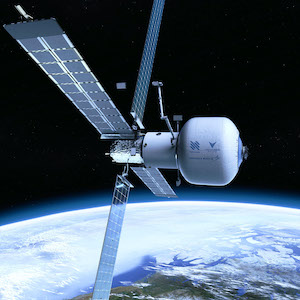 Nanoracks, in collaboration with Voyager Space and Lockheed Martin, has formed a team to develop the first-ever free flying commercial space station. The space station, known as Starlab, will be a continuously crewed commercial platform, dedicated to conducting critical research, fostering industrial activity, and ensuring continued U.S. presence and leadership in low-Earth orbit. Starlab is expected to achieve initial operational capability by 2027.
To meet U.S. government, international space agency, and commercial needs in space, these industry leaders will develop Starlab specifically to enable the growing space economy and meet pent-up customer demand for space services such as materials research, plant growth, and astronaut activity. Together, these companies bring unparalleled experience in commercial space utilization, engineering design and performance, technology innovation, and investment strategy.
"Since the beginning, Nanoracks has sought to own and operate a private space station to fully unlock market demand," says Jeffrey Manber, CEO and Co-Founder of Nanoracks. "Our team has spent the last decade learning the business of space stations, understanding customer needs, charting market growth, and self-investing in private hardware on the ISS like the Bishop Airlock. Nanoracks and our team are excited to work with NASA and our friends across the world as we move forward with Starlab."
NASA recently announced the Commercial Low-Earth Orbit (LEO) Destination (CLD) project to support the development of private space stations. CLD will stimulate a multifaceted LEO economy and provide science and crew capabilities in LEO before the International Space Station (ISS) retires.
Nanoracks will prime the Starlab development effort leveraging over a decade of experience as the pathfinder of and global leader in commercial ISS utilization. Voyager Space, the majority shareholder in Nanoracks, will lead strategy and capital investment and Lockheed Martin, a leader in developing and operating complex spacecraft, will serve as the manufacturer and technical integrator.
The basic elements of the Starlab space station include a large inflatable habitat, designed and built by Lockheed Martin, a metallic docking node, a power and propulsion element, a large robotic arm for servicing cargo and payloads, and a state-of-the-art laboratory system to host a comprehensive research, science, and manufacturing capability.  Starlab will be able to continuously host up to four astronauts for conducting critical science and research.
"We're excited to be part of such an innovative and capable team—one that allows each company to leverage their core strengths," said Lisa Callahan, vice president and general manager, Commercial Civil Space at Lockheed Martin. "Lockheed Martin's extensive experience in building complex spacecraft and systems, coupled with Nanoracks' commercial business innovation and Voyager's financial expertise allows our team to create a customer-focused space station that will fuel our future vision. We have invested significantly in habitat technology which enables us to propose a cost-effective, mission-driven spacecraft design for Starlab."
Nanoracks' Starlab business model is designed to enable science, research, and manufacturing for global customers, and bring added value to long-duration sovereign astronaut missions. Starlab will also serve tourism and other commercial and business activities.
"Voyager Space is highly confident in the Starlab business model and its ability to be commercially sustainable and well capitalized," says Dylan Taylor, Voyager Space Chairman & CEO. "Voyager Space sees numerous synergies leveraging the capabilities across our organization's operating businesses, as well as within the Lockheed Martin ecosystem. We see this partnership as just the beginning of our work together."
---
Suggested Items
11/28/2023 | Lockheed Martin
Lockheed Martin will soon launch a unique wideband Electronically Steerable Antenna (ESA) payload demonstrator to show the company's investment in advanced technology to perform missions faster once on orbit. The payload demonstrator, which will launch aboard Firefly Aerospace's Alpha rocket, extends Lockheed Martin's significant investment in scalable wideband ESA technology development to showcasing an actual on-orbit capability. This technology is critical to future remote sensing architectures.
11/21/2023 | Lockheed Martin
For the first time, Lockheed Martin's Patriot Advanced Capability – 3 (PAC-3) successfully integrated with the Lower Tier Air and Missile Defense Sensor (LTAMDS) radar to defend against an Air Breathing Threat (ABT).
11/14/2023 | Lockheed Martin
Lockheed Martin opened a $16.5M engineering facility at its Huntsville campus, introducing more capabilities for missile defense innovation in North Alabama. This facility is a Lockheed Martin capital project and provides evidence of Lockheed Martin's investment in the Huntsville community, increasing opportunities for growth and advanced capability in North Alabama at the company's Huntsville campus. The new Missile System Integration Lab (MSIL) is where Lockheed Martin plans to conduct development, testing, and system integration for the nation's next long range ballistic missile defense interceptor.
10/26/2023 | Lockheed Martin
The USS CARL M LEVIN (DDG 120) successfully completed Flight Test Aegis Weapon System-48 (FTM-48), also known as Vigilant Wyvern, north of the Pacific Missile Test Range Facility in Kauai, Hawaii.
10/24/2023 | BUSINESS WIRE
Lockheed Martin has awarded Terran Orbital Corporation (NYSE: LLAP) a contract to build 36 satellite buses for Space Development Agency's (SDA) Tranche 2 Transport Layer (T2TL) Beta constellation.