Lockheed Martin, Rafael Partner to Develop SPICE-250 Weapon System For US Military
November 2, 2021 | Lockheed Martin
Estimated reading time: 1 minute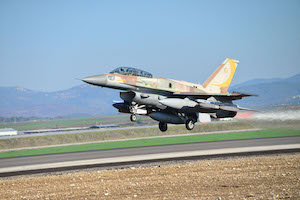 Lockheed Martin and Rafael Advanced Defense Systems Ltd., of Israel, signed an expanded teaming agreement, allowing the team to jointly develop, market, manufacture and support Rafael's Smart, Precise Impact and Cost-Effective (SPICE™) 250 weapon system for sale in the United States and in Poland. This agreement marks the first time SPICE 250 is available for sale to the U.S. military.
The addition of SPICE 250 builds on a 2019 teaming agreement, where Lockheed Martin and Rafael agreed to jointly market SPICE 1000 and SPICE 2000 guidance kits for U.S. sale.
SPICE is a family of stand-off, autonomous, air-to-surface weapon systems that provide affordable precision in a GPS-denied environment. The combat-proven SPICE family of products includes two guidance kits, SPICE 1000 and SPICE 2000, as well as an all-up round, known as SPICE 250.
"Lockheed Martin's deep expertise in weapon system integration will help us adapt SPICE 250 to meet U.S. standards," said Dave Pantano, Lockheed Martin program director. "We're excited to leverage this experience and offer this unique, proven weapon system to aircraft operators for additional mission flexibility where it's needed most."
In use since 2003, SPICE is combat-proven and in service with the Israeli Air Force and several other nations worldwide. It enables maximum loadout on F-16's and F-15's, reduces pilot workload, and provides multiple strike capability against multiple target types.
"GPS is not required to operate any of the products within the SPICE family, allowing for operations in a variety of locations and adverse environments," said Alon Shlomi, Rafael Air to Surface Directorate vice president. "By expanding our teaming agreement with Lockheed Martin, we're able to offer the entire product portfolio to the U.S. military – providing warfighters with the opportunity to enhance mission flexibility."
---
Suggested Items
12/04/2023 | Transition Automation
Transition Automation, Inc. recently received a large order for Advanced Holder and Blade Assemblies compatible with DEK printers from Rotec BV in Belgium.
11/28/2023 | Yamaha Robotics
Yamaha Robotics has revealed the YRM20DL dual-lane mounter for the first time in Europe at Productronica 2023, and also introduced new features of its powerful smart-factory software tools.
11/27/2023 | PRNewswire
Micross Components, a leading provider of high-reliability microelectronic products and services for aerospace, defense, space, medical, energy, and other high-reliability applications, is pleased to announce that it has received an award under the IBAS Cornerstone RESHAPE program with a ceiling value of up to $134.3 million, with $45.6 million obligated at the time of the award.
11/23/2023 | ViTrox
The award was announced during the award ceremony at Productronica in Munich, Germany, on November 14, 2023.
11/22/2023 | IPC
The U.S. Government's announcement of a national strategy for "advanced packaging" under the CHIPS for America Program is a big step toward ensuring the resiliency and security of the U.S. supply chain for advanced electronics.