Taiyo Discusses New Inkjet Technology and Solder Mask for Flex
November 8, 2021 | Nolan Johnson, I-Connect007
Estimated reading time: 3 minutes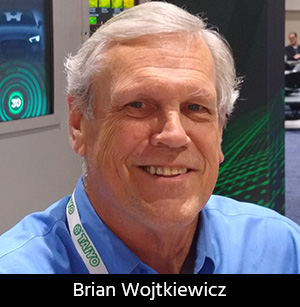 At PCB West, Nolan Johnson spoke with Brian Wojtkiewicz of Taiyo about some of the company's new inkjet technology, which will be manufactured in the U.S. Brian also discusses a new solder mask that has been developed especially for the flexible circuit segment of the industry.
Nolan Johnson: Brian, catch us up on inkjet technology coming out of Taiyo.
Brian Wojtkiewicz: Inkjet at Taiyo is taking off quite well. We've got a lot more customers coming on board, more looking at the equipment side, and then looking at us for the solder mask side. And we expect this year to be great, really taking off on this one.
Johnson: Are you seeing greater adoption in the customer base for that equipment and that technology?
Wojtkiewicz: Yes. People are starting to look at that more. It's all based on registration, resolution, and trying to get the tighter features and smaller webs on their boards.
Johnson: Responding to what their customers are asking for? Is that why they're moving to this technology?
Wojtkiewicz: Yes. It's all based on a gentle push by their customers. Circuit boards keep getting smaller and smaller.
Johnson: When it comes to the inkjet in Taiyo's product line, what are customers asking for?
Wojtkiewicz: They basically want to keep all the same specifications with regular solder mask, so we're trying to keep all of that: the printability of it and how it looks. We're getting a lot more interest on the colors. They just don't want green anymore. They want it to be standard blue, reds, and whites and stuff like that. So, it's been challenging. At Taiyo America, we've installed inkjet technology printing equipment. Our lab is building up to start making Taiyo's version of inkjet solder mask in the states so we'll be able to support customers better.
Johnson: Are you planning to have the manufacturing here in the U.S.?
Wojtkiewicz: That is correct. Yes. Our lab is gearing up for that. We're doing all the qualifications, getting all the UL qualifications done, and getting samples out to customers with our U.S.-made materials.
Johnson: Is it too soon to ask if there's a date that customers can start to expect U.S.-made product?
Wojtkiewicz: We should probably have that in the next eight months. We've got a good portion of the work done. We have the equipment in-house. We have chemists working on it all the time. So it's really just getting the UL stuff down, doing all the testing, electrical testing, and all that is involved with it.
Johnson: I also understand there have been some new developments with regard to other formulations, is that right?
Wojtkiewicz: Yes. We now have a new product from Taiyo Japan, a dry film solder mask called FLEXFINER for the flexible industry. It doesn't have dynamic capabilities, but it's also helping with a lot of the tenting applications that customers are seeing, and so forth. And we're in the process of getting some major qualifications with military aerospace and the medical field on the FLEXFINER.
Johnson: How is the adoption for that going?
Wojtkiewicz: It's coming quite easily. It takes the same processing equipment as normal dry film, vacuum lamination. So, most of the customers have all that. And just getting a little more handling sensitive than standard dry film and the standard other dry film sheet material that's out there. It's coming along. Now COVID didn't help anything. People don't want you in their shops, so you don't get to do all the same stuff.
Johnson: Well, thanks for taking the time to talk with us and update us on what's happening at Taiyo.
Wojtkiewicz: Thank you very much.