Cirexx Adds to Excellon Cobra Laser Fleet
January 31, 2022 | Excellon
Estimated reading time: Less than a minute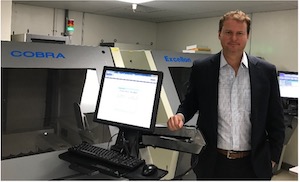 Cirexx International has acquired and installed a fifth Excellon Cobra laser machine.  The hybrid Laser and is equipped with both CO2 and UV laser technology.  It is designed to "drill" holes, "rout" profiles and micro-machine fine features in printed circuit boards and specifically flex circuits.  The machine comes with the upgraded controller, latest software, High Speed Intelligent Scanners and variable power high pulse energy lasers.
Mike Sparidaens of Excellon said, "Cirexx is realizing the benefits from the enhanced technology of this next generation Cobra-II laser.  As our product evolves, we look forward to continue being part of Cirexx's technology roadmap for many years to come." 
Philipp Menges, Cirexx President/CEO commented, "We began using the COBRA lasers to make fine and very accurate features in flex circuits, but we are using them more and more these days to make micro vias in HDI boards.  The quality and reliability of Excellon machines means to me that they will be running like workhorses without downtime.  Add the outstanding Excellon service that we receive from Mike and his team, and we have a true win-win."
---
Suggested Items
11/30/2023 |
The goal of the collaboration is to promote the standardization of post-quantum cryptography.
11/30/2023 | PRNewswire
Hyundai Mobis is poised to secure new orders for premium vehicle displays, characterized by large screens, high definition, and slim design, using a fusion of innovative technologies targeting global automakers.
11/30/2023 | Aoshikang
On November 28, Aoshikang Technology Co., Ltd., a prominent player among the world's top 100 PCB companies, held a grand topping-out ceremony for its Thailand-based production base, SUNDELL Technology Co., Ltd.
11/29/2023 | Intel
Ahead of Enlit Europe, Intel announced that its technology is helping power the Edge for Smart Secondary Substations (E4S) Alliance's new solution to modernize the energy grid.
11/29/2023 | HyRel
HyRel Technologies, a global provider of quick turn semiconductor modification solutions, is pleased to announce a strategic partnership with EQC Southeast as its manufacturers' representative.