Review: Institute of Circuit Technology 2022 Annual Symposium
June 15, 2022 | Pete Starkey, I-Connect007
Estimated reading time: 11 minutes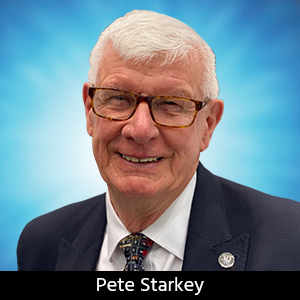 The British Motor Museum in Warwickshire, housing the world's largest collection of historic British cars, was venue for the 2022 Annual Symposium of the Institute of Circuit Technology on June 8, which attracted a substantial gathering of manufacturers and suppliers from the UK printed circuit industry.
ICT chair Emma Hudson reflected upon lessons learned during the pandemic lock-down and how the industry has successfully adapted to circumstances. She commented that the UK's PCB fabricators are extremely busy, as she introduced an outstanding conference programme including a keynote from the incomparable Happy Holden.
Naim Kapadia: Services at the MTC
First to present was Naim Kapadia, technology manager of the ATFE Group at the Manufacturing Technology Centre in Coventry, leader of the project to enable Smart factory operation of electronics manufacturing in a low-volume, high-mix environment using legacy equipment. He described the Manufacturing Technology Centre (MTC) as an independent research and technology organisation whose objective is to bridge the gap between academia and industry—often referred to as "the valley of death—by developing and proving manufacturing processes and technologies in an agile, low risk environment. And whereas the valley of death primarily relates to the technology readiness level (TRI), there is effectively a second valley to bridge at the manufacturing readiness level (MRL).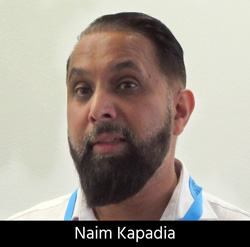 He explained some of the services provided at MTC for consultation with proposed new manufacturing businesses, engineering upskilling, and training of apprentices in their own academy. They also operate an events and conference centre. To date, they have completed around 1,400 industrial-funded projects, where all the IP generated is owned by the individual company. They also participate in government-backed collaborative R&D projects. Originally focused on aerospace, they have progressed into defence and security, and latterly into large robotics in the construction industry.
The aim of the electronics section that Kapadia manages is to develop Smart factory operation of their in-house automated surface-mount electronics manufacturing facility, which includes several items of legacy equipment. This will provide a Smart factory demonstrator to assist electronics manufacturers to advance from traditional procedures to a future state of connecting people and machines, merging product and customer data to achieve total manufacturing integration with a digital thread across supply chains. The project is supported by members of the MTC from a variety of industrial sectors.
Kapadia explained that MTC's Smart Factory demonstrator uses IPC's Connected Factory Exchange (CFX) industry-developed open standard, enabling machines to communicate with other machines and systems across manufacturing facilities and the supply chain, with standardised machine communication message sets. The demonstrator will enable electronics manufacturing businesses to trial digital technologies in a risk-free environment, without disrupting day-to-day production.
Despina Moschou: Improving Biomedical Technology
Despina Moschou, of the Centre for Biosensors, Bioelectronics and Biodevices at the University of Bath, defined the mission of her research group: to develop technology that improves biomedical diagnosis, environmental monitoring, industrial bioprocesses, and scientific understanding of biological functions; to bridge the gap between different disciplines converging into fit-for-purpose devices; and to achieve real-life impact with its research, addressing specific clinical, environmental, and industrial needs.
She reviewed the development of Lab-on-PCB technology. Although the principle was first suggested in the 1990s, it was side-lined by easier microfluidic fabrication processes. But with more recent focus of Lab-on-Chip integration, PCBs have offered the ideal platform because of the long-standing industrial infrastructure which enables low-cost commercial upscaling, adequate microfabrication capabilities, and the opportunity for intuitive integration of electronics.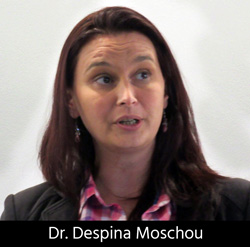 She drew a parallel with the development of the computer: whereas early computers occupied entire buildings, they have shrunk to microscopic dimensions. So it is that biochemical laboratories can be shrunk into micro-total-analysis systems (?TAS), although a significant constituent is the microfluidics components: separators, channels, filters, pumps, valves, and mixers, in addition to the electronics.
She commented that when she first started talking with the PCB industry, what she was proposing sounded like science fiction; she was pleased to report that this is now a reality.
Before COVID-19, it had often been necessary to explain the justification for the concept; this is no longer the case since there are simply not enough laboratories to handle the testing involved. The solution is to miniaturise the laboratory and mass-produce it so that testing can be done locally—either at home or in the GP surgery. Not just in extreme pandemic situations, but in many other aspects of healthcare, for example, testing in diabetes and cancer diagnosis, or testing for pathogens in water and milk.  
She showed several examples of PCB-based microfluidics and biosensors, including a fully integrated ELISA Lab-on-PCB cartridge with reference electrodes, sensing electrodes, and microfluidics. (ELISA means enzyme-linked immunosorbent assay, commonly used to measure antibodies, antigens, proteins, and glycoproteins in biological samples.)
From a manufacturing point of view, as yet there are no standards or design rules. Many academics are doing research, but no one is actually making a commercial product—the same "valley of death" that Naim Kapadia referred to. There are many questions to be answered. However, the PCB industry is accustomed to working to international standards, with standardised processes, materials and practices. There are many PCB factories already established and therefore many opportunities to progress the Lab-on-PCB concept.
Moschou showed an example of a handheld sample-in-answer-out genetic-based COVID-19 diagnostic test device that completes each stage of a COVID test—taking a sample, identifying specific DNA sequences, and displaying results—within 10 minutes. The genetic analysis is superior to protein-based rapid tests currently in use. Prototypes are undergoing clinical trials.
Other projects in her research group include a pre-diabetes diagnostic test for mass screening of children, supplied as a disposable wearable patch; enzyme-assisted electrochemical sensors; non-enzymatic electrochemical sensors; Lab-on-PCB devices for measuring water quality parameters; and Lab-on-PCB microsystems for quantification of water in oil and aviation fuel.Page 1 of 2
---
Suggested Items
10/02/2023 | Gen3
Gen3, Global leader in SIR, CAF, Solderability, Ionic Contamination & process optimisation equipment, is pleased to announce the appointment of John Barraclough as the Head of Business Development.
10/02/2023 | KYZEN'
KYZEN, the global leader in innovative environmentally friendly cleaning chemistries, announced that Debbie Carboni, Global Product Line Manager - Electronics, will present as part of the Electric Vehicle (EV) panel during the IPC High Reliability Forum.
10/02/2023 | Mycronic AB
Mycronic AB has received the first order for upgrades of already installed display mask writers from gas laser to solid state laser from SK Electronics in Japan.
09/29/2023 | Dixon
Dixon wholly owned subsidiary- Padget Electronics Private Limited enters into an Agreement with Xiaomi to carry out manufacturing of smart phones and other related products for Xiaomi.
09/29/2023 | USPAE
In a major initiative to innovate how the Department of Defense (DoD) spurs commercial technology development, the U.S. Partnership for Assured Electronics (USPAE) and DoD launched a Defense Business Accelerator (DBX) to open doors for industrial base growth and stimulate private investment.