Qualcomm, Mahindra Collaborate to Provide Immersive In-Vehicle Experiences in the All-New Scorpio-N
July 26, 2022 | Qualcomm Technologies, Inc.
Estimated reading time: 2 minutes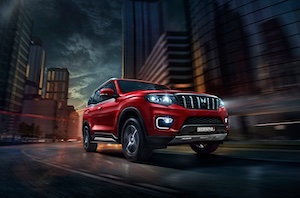 Mahindra & Mahindra Ltd. announced work with Visteon Corporation to bring world-class, transformative in-vehicle experiences to the all-new Scorpio-N, utilizing the 3rd Generation Snapdragon® Cockpit Platforms from Qualcomm Technologies, Inc. The Scorpio-N offers a cutting-edge driving and ownership experience provided by Mahindra's connected artificial intelligence (AI) technology, which utilizes Visteon's SmartCore™ cockpit domain controller technology based on the Snapdragon Cockpit Platforms.
The Scorpio-N features a 17.78 cm colour Driver Information Display and 20.32 cm infotainment system with navigation. Leveraging the scalable AI-based Snapdragon Cockpit Platforms, the Scorpio-N provides a new level of personalization and natural interaction between a vehicle and its driver, as well as virtual assistance, and ultra-HD, and immersive audio and visual experiences among a host of other features for drivers and passengers.
A key component of the Snapdragon® Digital Chassis™ technology suite, the 3rd Generation Snapdragon Cockpit Platforms are designed to support higher levels of computing and intelligence needed for advanced capabilities featured in next generation vehicles, helping to enable contextual safety use cases for drivers and passengers, which includes facilitating driver monitoring and object detection, as well as helping to ensure the security of personal and vehicular data. Additionally, the 3rd Generation Snapdragon Cockpit Platforms feature an advanced suite of wireless technologies to support multi-mode cellular connectivity, Wi-Fi 6, as well as enhanced Bluetooth® technologies.
Uday Dodla, Senior Director, Business Development, Qualcomm India Private Limited, said, "The consumer of today expects and demands that connected, intelligent and smart technologies play a greater role in the automotive experience.  We are applying over two decades of auto expertise to transform the Scorpio-N into a digitally advanced and feature-rich SUV. This underscores each of our companies' commitment to enable premium automotive experiences for next generation vehicles, which originated with the highly successful XUV700."
Commenting on the relationship, R. Velusamy, President, Automotive Technology and Product Development, M&M Ltd., said, "With the tough yet sophisticated Scorpio-N, we have re-engineered our iconic Scorpio brand from the ground-up to meet the aspirations of the young and tech-savvy customers. Qualcomm Technologies was identified as the partner of choice to bring alive our vision of delivering state-of-the-art product through a truly pathbreaking experience to our customers. Using the advanced capabilities of the Snapdragon Automotive technologies integrated in our SUVs, we are reimagining the standard for an intelligently connected vehicle and delivering a safer and engaging driving experience." 
Qualcomm Technologies' extensive product portfolio is at the center of next-gen innovations in the global automotive ecosystem. Qualcomm Technologies is helping automakers across the world develop vehicles with advanced automotive technologies through the Snapdragon Digital Chassis, which is a suite of cloud connected platforms for Telematics, Digital Cockpit solutions, Advanced Driver Assistance Systems (ADAS)/autonomous driving, cellular vehicle-to-everything (C-V2X), and Car-to-Cloud solutions.
---
Suggested Items
09/21/2023 | ViTrox
ViTrox, which aims to be the world's most trusted technology company, is pleased to announce the addition of Hayden Dalton to our team as a Field Support Engineer who based in Milwaukee, WI, effective August 21, 2023.
09/20/2023 | Qualcomm Technologies, Inc.
Qualcomm Technologies, Inc. is ushering in a new era of home connectivity, and new opportunities for service providers, with the introduction of the Qualcomm® 10G Fiber Gateway Platform and its signature feature, Qualcomm® Service Defined Wi-Fi technology.
09/19/2023 | Mirtec
MIRTEC, 'The Global Leader in Inspection Technology', is pleased to announce its participation in the upcoming SMTA Guadalajara Expo on Wednesday, Oct. 25, 2023.
09/19/2023 | Anaya Vardya -- Column: Standard of Excellence
In my last column, I discussed cutting-edge innovations in printed circuit board technology, focusing on innovative trends in ultra HDI, embedded passives and components, green PCBs, and advanced substrate materials. This month, I'm following up with the products these new PCB technologies are destined for. Why do we need all these new technologies?
09/18/2023 | RTX
RTX business Collins Aerospace has been selected by BAE Systems as the provider for Large Area Display technology to be integrated into the cockpits of future Eurofighter Typhoon aircraft.