Mouser's Empowering Innovation Together Explores AI-Based Driver Monitoring
July 28, 2022 | Business Wire
Estimated reading time: 1 minute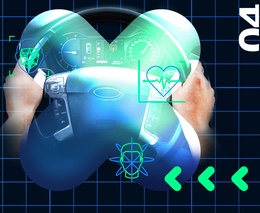 Mouser Electronics Inc., the industry's leading New Product Introduction (NPI) distributor with the widest selection of semiconductors and electronic components™, has released the latest chapter of its award-winning Empowering Innovation Together™ program. The new episode explores the importance of driver monitoring systems for occupant presence and condition — such as fatigue or distraction — to help foster the safety required for Level 3 autonomous driving and beyond. Content for this fourth installment includes two articles, a blog, an infographic, a new episode of the Tech Between Us podcast and a Then, Now and Next video.
The driver monitoring systems topic explains the methods by which detection of both the driver and occupants can mitigate negative conditions using new user interfaces. Interior monitoring systems can detect signs of distracted or fatigued drivers along with occupant presence and condition to alert the driver.
"As the market begins to increase adoption of autonomous vehicles, the safety of vehicles and passengers is imperative," says Glenn Smith, President and CEO of Mouser Electronics. "Through this installment of EIT, we're eager to share expert knowledge from industry leaders, helping our customers and followers understand this technology and its importance."
In the latest episode of the Tech Between Us podcast, Modar Alaoui, Founder and CEO at Eyeris, joins host Raymond Yin, Director of Technical Content at Mouser Electronics, for a discussion about driver monitoring systems in vehicles, legislation around the technology and the hardware and software behind the systems.
"I'm excited to discuss with Raymond and Mouser's listeners the exciting growth of in-vehicle vision AI," says Alaoui. "This pioneering technology has the potential to completely transform the ways we interact with our vehicles and the ways our vehicles keep us safe."
The Driver Monitoring Systems installment is sponsored by Analog Devices, Infineon Technologies, Molex, NXP Semiconductors, onsemi and TE Connectivity.
---
Suggested Items
09/28/2023 | IPC
IPC continues to collaborate with the electronics manufacturing industry to meet their current and future workforce training needs.
09/28/2023 | IPC
Though product demand weakened this month with Orders and Backlog Indexes slipping, overall electronics industry operations remain healthy per IPC's September 2023 Global Sentiment of the Electronics Supply Chain Report.
09/27/2023 | AT&S
AT&S is working on the EECONE (European ECOsystem for greeN Electronics) project to develop new technologies to make electronics production in Europe more sustainable.
09/27/2023 | iNEMI
Join iNEMI and ZESTRON in Shenzhen on October 13 for a full-day workshop on reliability requirements and challenges for automotive electronics and to share the latest information about standards development for this market segment.
09/26/2023 | SMTA
SMTA is pleased to announce Catherine Wong, Foothill College, has been selected as the recipient of the 2023 JoAnn Stromberg Student Leader Scholarship.