New Book from I-Connect007 Examines Evolution of Electronics Industry NPI
August 1, 2022 | I-Connect007
Estimated reading time: Less than a minute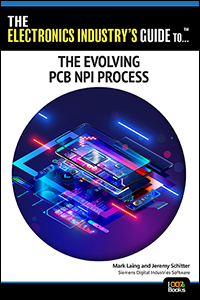 The Electronics Industry's Guide to… The Evolving PCB NPI Process is the first book in I-Connect007's new The Electronics Industry's Guide to… technical series. This valuable resource is for all segments of the electronics interconnect industry.
Siemens topic experts Mark Laing and Jeremy Schitter offer a timely look at how the slowdown of production and delivery of materials and components in recent years has impacted the NPI process in the global marketplace.
SRXGlobal Engineering Manager Nick Niculita says, "This book is a must-read for everybody who wants to improve the overall design-through-manufacturing NPI phase and, ultimately, do more with less, the Holy Grail of any manufacturer."
Download your free copy today! You can also view other titles in our full library.
We hope you enjoy The Electronics Industry's Guide to… The Evolving PCB NPI Process.
For more information, contact:
Barb Hockaday
I-Connect007 eBooks
barb@iconnect007.com
+1-916-365-1727 (GMT-7)
---
Suggested Items
10/02/2023 | Gen3
Gen3, Global leader in SIR, CAF, Solderability, Ionic Contamination & process optimisation equipment, is pleased to announce the appointment of John Barraclough as the Head of Business Development.
10/02/2023 | KYZEN'
KYZEN, the global leader in innovative environmentally friendly cleaning chemistries, announced that Debbie Carboni, Global Product Line Manager - Electronics, will present as part of the Electric Vehicle (EV) panel during the IPC High Reliability Forum.
10/02/2023 | Mycronic AB
Mycronic AB has received the first order for upgrades of already installed display mask writers from gas laser to solid state laser from SK Electronics in Japan.
09/29/2023 | Dixon
Dixon wholly owned subsidiary- Padget Electronics Private Limited enters into an Agreement with Xiaomi to carry out manufacturing of smart phones and other related products for Xiaomi.
09/29/2023 | USPAE
In a major initiative to innovate how the Department of Defense (DoD) spurs commercial technology development, the U.S. Partnership for Assured Electronics (USPAE) and DoD launched a Defense Business Accelerator (DBX) to open doors for industrial base growth and stimulate private investment.