New Book from I-Connect007 Examines Evolution of Electronics Industry NPI
August 1, 2022 | I-Connect007
Estimated reading time: Less than a minute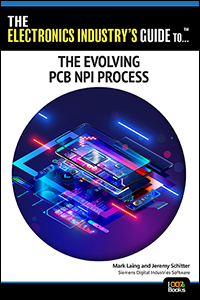 The Electronics Industry's Guide to… The Evolving PCB NPI Process is the first book in I-Connect007's new The Electronics Industry's Guide to… technical series. This valuable resource is for all segments of the electronics interconnect industry.
Siemens topic experts Mark Laing and Jeremy Schitter offer a timely look at how the slowdown of production and delivery of materials and components in recent years has impacted the NPI process in the global marketplace.
SRXGlobal Engineering Manager Nick Niculita says, "This book is a must-read for everybody who wants to improve the overall design-through-manufacturing NPI phase and, ultimately, do more with less, the Holy Grail of any manufacturer."
Download your free copy today! You can also view other titles in our full library.
We hope you enjoy The Electronics Industry's Guide to… The Evolving PCB NPI Process.
For more information, contact:
Barb Hockaday
I-Connect007 eBooks
barb@iconnect007.com
+1-916-365-1727 (GMT-7)
---
Suggested Items
09/28/2023 | KYZEN'
KYZEN, the global leader in innovative environmentally friendly cleaning chemistries, is proud to announce that it is sponsoring the Women's Leadership Program Connection Reception to be held at SMTA International.
09/28/2023 | Nolan Johnson, I-Connect007
The practical question around CHIPS Act development and electronics assembly is, "Will this change how we do business?" Indium Corporation's Dr. Andy Mackie sat down with Nolan Johnson to share what he sees as emerging answers to that question from his perspective as an expert in electronics assembly and packaging, and as a participant in standards development through IPC, JEDEC, and SEMI.
09/28/2023 | ZESTRON
ZESTRON is happy to announce that Senior Application Engineer, Ravi Parthasarathy, will be presenting "Revolutionizing PCB Assembly Cleaning:
09/28/2023 | IPC
IPC continues to collaborate with the electronics manufacturing industry to meet their current and future workforce training needs.
09/28/2023 | IPC
Though product demand weakened this month with Orders and Backlog Indexes slipping, overall electronics industry operations remain healthy per IPC's September 2023 Global Sentiment of the Electronics Supply Chain Report.