New Book from I-Connect007 Examines Evolution of Electronics Industry NPI
August 1, 2022 | I-Connect007
Estimated reading time: Less than a minute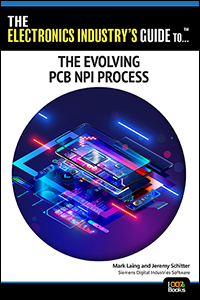 The Electronics Industry's Guide to… The Evolving PCB NPI Process is the first book in I-Connect007's new The Electronics Industry's Guide to… technical series. This valuable resource is for all segments of the electronics interconnect industry.
Siemens topic experts Mark Laing and Jeremy Schitter offer a timely look at how the slowdown of production and delivery of materials and components in recent years has impacted the NPI process in the global marketplace.
SRXGlobal Engineering Manager Nick Niculita says, "This book is a must-read for everybody who wants to improve the overall design-through-manufacturing NPI phase and, ultimately, do more with less, the Holy Grail of any manufacturer."
Download your free copy today! You can also view other titles in our full library.
We hope you enjoy The Electronics Industry's Guide to… The Evolving PCB NPI Process.
For more information, contact:
Barb Hockaday
I-Connect007 eBooks
barb@iconnect007.com
+1-916-365-1727 (GMT-7)
---
Suggested Items
11/30/2023 | BUSINESS WIRE
Nordson Electronics Solutions, a global leader in electronics manufacturing technologies, is pleased to announce the release of the new ASYMTEK Select Coat® SL-1040 conformal coating system.
11/29/2023 | TT Electronics
TT Electronics, a global provider of custom power solutions and engineered technologies, has announced that its Power and Control business has officially opened its new state-of-the-art research, development and manufacturing facility.
11/27/2023 | IPC
IPC welcomes the actions outlined today by the U.S. Government "to strengthen supply chains critical to America's economic and national security."
11/27/2023 | GOEPEL Electronics
The US branch of GÖPEL electronic is proud to announce the addition of David Kalaidjian as the new National Sales Development Manager.
11/27/2023 | Wurth Elektronik
HyPerStripes project partners will create a technology platform including manufacturing techniques for roll-to-roll (R2R) processing as well as the integration of electronic components onto very long ("endless"), flexible and stretchable printed circuit boards.