Lockheed Martin's Sixth And Final SBIRS Missile Warning Satellite Successfully Launched
August 5, 2022 | Lockheed Martin
Estimated reading time: 1 minute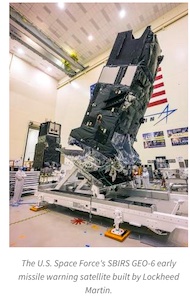 Following a successful launch from Cape Canaveral Space Force Station in Florida today, the U.S. Space Force is now communicating with the sixth Space Based Infrared System Geosynchronous Earth Orbit (SBIRS GEO) -6 satellite, built by Lockheed Martin.
The final satellite in the SBIRS program series, GEO-6 joins the U.S. Space Force's constellation of missile warning satellites equipped with powerful scanning and staring infrared surveillance sensors.
"The need for Overhead Persistent Infrared systems has never been more critical," said Michael Corriea, vice president of Lockheed Martin Space's Overhead Persistent Infrared (OPIR) Mission Area. "At Lockheed Martin, we are making advancements to keep pace with evolving needs based on emerging threats in our military customers' environment, helping pave the way for the future."
The GEO-6 satellite is a stepping stone toward the resilient missile warning to be provided by SBIRS' successor, the Next Generation OPIR GEO System (NGG). Like SBIRS GEO-5 and GEO-6, NGG will be based on Lockheed Martin's modernized LM 2100 Combat Bus™, which provides additional capabilities such as cyber hardening, resiliency features, enhanced spacecraft power, and improved propulsion and electronics.
The SBIRS GEO-6 satellite is responding to the U.S. Space Force's commands as planned. Signal acquisition was confirmed 3 hours and 43 minutes after the satellite's 6:29 a.m. EDT lift off aboard a United Launch Alliance (ULA) Atlas V rocket. The satellite is now orbiting under its own propulsion following separation from the rocket. The onboard sensors collect data that allow the U.S. military to detect missile launches, support ballistic missile defense, expand technical intelligence gathering and bolstering situational awareness on the battlefield.
A Step Toward More Resiliency
The OPIR mission has become more critical as ballistic missile technology has proliferated around the world with over 1,000 missile launches tracked annually. Lockheed Martin recognizes that modernized technology is needed to augment the current missile warning architecture and improve resiliency against attacks.
"SBIRS GEO-6 fortifies the current missile warning architecture, and it also signifies that we are on our way to achieving even greater technological capacity and expanded coverage with NGG," Corriea said.
Lockheed Martin is proud to be part of the SBIRS team led by Space Systems Command's Space Sensing Directorate at Los Angeles Air Force Base. Lockheed Martin Space, Sunnyvale, California, is the SBIRS prime contractor, with Northrop Grumman of Azusa, California, as the payload supplier.
---
Suggested Items
11/20/2023 | PRNewswire
Raytheon, an RTX business, has been awarded a four-year, $15 million contract from DARPA to increase the electronic capability of radio frequency sensors with high-power-density Gallium Nitride transistors. Raytheon is the world's leading manufacturer of military-grade Gallium Nitride, a cutting-edge semiconductor technology that, when used in radar systems, improves range and radar resource management handling. This new prototyping work is being performed under DARPA's Technologies for Heat Removal in Electronics at the Device Scale program, known as THREADS.
11/17/2023 | Raytheon Company
Raytheon, an RTX business, has been awarded a four-year, $15 million contract from DARPA to increase the electronic capability of radio frequency sensors with high-power-density Gallium Nitride transistors which will have 16 times higher output than traditional GaN with no increase in operating temperature. Raytheon is partnering with the Naval Research Laboratory, Stanford University and Diamond Foundry to grow diamond, the world's best thermal conductor, for integration with military-grade GaN transistors and circuits. Cornell University, Michigan State University, the University of Maryland and Penn State University are also providing technology and performance analysis.
11/03/2023 | U.S. Circuit
U.S. Circuit, a premier supplier of commercial and mil/aero PCBs, has recently obtained their AS9100 certification. This certification will allow U.S. Circuit to further expand their military and aerospace offerings to further serve sectors requiring stricter regulation including the Department of Defense (DoD), National Aeronautics and Space Administration (NASA), and the Federal Aviation Administration (FAA).
10/17/2023 | BUSINESS WIRE
New research has found that 95% of military and defence industry decision-makers recognise that ongoing digitalisation has led to a more dynamic and complex 'information battlespace' and a further 93% agree defence will require increased integration across domains.
10/03/2023 | Amitron
Amitron, a leading U.S.-based manufacturer of printed circuit boards (PCB), brings an additional 80,000 square feet of manufacturing space into the overall MIL-SPEC ecosystem with high automation, and the latest equipment technology and processes for military and aerospace applications.