Sypris Reports Q2 Results; Revenue Up 12%
August 16, 2022 | Business Wire
Estimated reading time: 5 minutes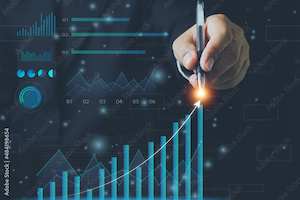 Sypris Solutions, Inc. reported financial results for its second quarter ended July 3, 2022.
Highlights:
Revenue for the quarter increased 11.8% year-over-year, driven by a 25.6% increase for Sypris Electronics and a 4.7% increase for Sypris Technologies.
Orders increased 360% on a year-over-year basis and 169% sequentially driven by a 524% and 240% increase at Sypris Electronics, respectively.
Backlog increased 77% driven by Sypris Electronics, which increased 84.1% year-over-year and 72.7% year-to-date on the strength of multiple contract awards.
Gross margin for the quarter decreased 360 basis points from the prior year primarily reflecting a change in revenue mix for both segments and costs incurred to support capacity improvements.
Sypris Electronics announced several important new contract awards and releases during the quarter, including the following:
A follow-on contract to manufacture advanced integrated electronic warfare and communications avionics system modules for an American family of single-seat, single-engine, all-weather stealth multirole combat aircraft. One of the largest government DOD programs, production is expected to begin in 2022;
A multi-year, follow-on, full-rate production contract to produce and test multiple power supply modules for the upgrade of the electronic warfare suite of an important U.S. fighter aircraft program. The upgrade is intended to replace the functionally obsolete self-protection system of the aircraft. The transition to full-rate production is expected to begin in 2022; and
Releases under a new, multi-year follow-on contract to produce and test power supply modules for a large, mission-critical U.S. Navy electronic warfare improvement program. The upgrade will provide the capability to jam incoming missiles that threaten a warship, cue decoys and adapt quickly to evolving threats. Full-rate production is expected to begin in 2022.
Sypris Technologies announced that it has entered into a multi-year contract extension to provide drivetrain components for use in the production of medium and heavy-duty commercial vehicles with a leading global commercial vehicle original equipment manufacturer.
The Company updated its full-year outlook for 2022, maintaining the expected increase in revenue at 25 to 30% year-over-year while adjusting the gross margin guidance to a 25 to 50 basis point increase with revenue mix and supply chain inefficiencies slowing the margin improvement in the near term. Cash flow from operations is expected to show double digit percentage growth reflecting increased year-over-year profitability and favorable working capital changes during the year.
"We were pleased with our year-over-year revenue growth in both segments and the significant growth in backlog for Sypris Electronics. While the timing of program launches has been impacted by continued supply chain disruptions, we continue to work with our customers and vendors to navigate the market conditions and identify solutions to satisfy our customers and the end users of our products," commented Jeffrey T. Gill, President and Chief Executive Officer.
"Backlog for Sypris Electronics continued to increase on both a year-over-year and sequential basis, resulting in our largest book of business in over a decade. The record backlog is expected to support revenue growth over the balance of this year and in 2023, with a portion of the orders with delivery dates extending into 2024. Customer funding has already been secured for a portion of these key programs, which enables us to procure inventory under multi-year purchase orders to mitigate future supply chain issues.
"Overall demand from customers serving the automotive, commercial vehicle, sport utility and off-highway markets has remained stable, with new product line shipments offsetting headwinds for automotive and commercial vehicle components as our customers adjust inventory levels to align with OEM build schedules. We continue to invest in new equipment, maintain or upgrade existing assets, and drive continuous improvement initiatives to add capacity and support more cost-efficient operations in the future. The recent successful extension of long-term contracts with two of our key customers supports our revenue base and provides opportunities to expand these relationships in the coming years.
"Orders for our energy products during the second quarter increased 13% year-over-year, with open quotes outstanding on several large projects. Additional opportunities for growth may exist with new projects in support of increasing rig counts over pre-pandemic levels. We are also actively pursuing applications for our products in adjacent markets to further diversify our industry and customer portfolios."
Second Quarter Results
The Company reported revenue of $29.0 million for the second quarter of 2022, compared to $26.0 million for the prior-year comparable period. Additionally, the Company reported a net loss of $0.6 million, or $0.03 per share, compared to net income of $3.8 million, or $0.17 per diluted share, for the prior-year period. Net income in the second quarter of 2021 included the recognition of a $3.6 million gain on the forgiveness of the Company's PPP loan.
For the six months ended July 3, 2022, the Company reported revenue of $55.2 million compared with $46.0 million for the first half of 2021. The Company reported a net loss of $0.4 million, or $0.02 per share, compared with net income of $2.2 million, or $0.10 per diluted share, for the prior-year period. Results for the six months ended July 4, 2021, included the gain from the forgiveness of the Company's PPP loan noted above.
Sypris Technologies
Revenue for Sypris Technologies increased to $18.0 million in the second quarter of 2022, compared to $17.1 million for the prior-year period. Increased shipments of components for sport utility vehicles and price adjustments for the pass-through of increased steel prices were partially offset by a decline in energy-related product sales. Gross profit for the second quarter of 2022 was $2.1 million, or 11.9% of revenue, compared to $2.5 million, or 14.6% of revenue, for the same period in 2021. In addition to the change in revenue mix, gross profit for the second quarter of 2022 was impacted by additional costs incurred to support the increase in demand driven by the commercial vehicle market anticipated over the next two years.
Sypris Electronics
Revenue for Sypris Electronics increased to $11.1 million in the second quarter of 2022 compared to $8.8 million for the prior-year period. Shipments under a full-rate production contract began ramping up during the fourth quarter of 2021 and continued through the first half of 2022, driving the increase in revenue. Supply chain constraints partially offset these gains, limiting shipments on certain other programs during the second quarter of 2022. Gross profit for the second quarter of 2022 was $1.6 million, or 14.9% of revenue, compared to $1.8 million, or 20.4% of revenue, for the same period in 2021. Margins were impacted by production on-boarding and engineering costs, which are typically higher on programs that have not yet reached full rate production, and the completion of certain mature programs.
Outlook
Commenting on the future, Mr. Gill added, "Demand from customers serving the automotive, commercial vehicle and sport utility markets has remained at high levels, with Class 8 forecasts showing year-over-year production increases of 17.2% for 2022. Similarly, demand from customers in the defense and communications sector remains robust, while the outlook for the energy market continues to move in the right direction.
"With a strong backlog, new program wins and long-term contract extensions in place, we are confident that the remainder of 2022 has the potential to be very positive for Sypris. We continue to expect a revenue increase of 25 to 30% year-over-year and a significant increase in cash flow from operations supported by strong earnings growth. We are adjusting our gross margin expansion to 25 to 50 basis points over the prior year, as our expected revenue mix has shifted from our prior outlook, and we continue to expect supply chain inefficiencies will impact our production costs as new programs ramp up for Sypris Electronics."
---
Suggested Items
11/30/2023 | BUSINESS WIRE
Nordson Electronics Solutions, a global leader in electronics manufacturing technologies, is pleased to announce the release of the new ASYMTEK Select Coat® SL-1040 conformal coating system.
11/29/2023 | TT Electronics
TT Electronics, a global provider of custom power solutions and engineered technologies, has announced that its Power and Control business has officially opened its new state-of-the-art research, development and manufacturing facility.
11/27/2023 | IPC
IPC welcomes the actions outlined today by the U.S. Government "to strengthen supply chains critical to America's economic and national security."
11/27/2023 | GOEPEL Electronics
The US branch of GÖPEL electronic is proud to announce the addition of David Kalaidjian as the new National Sales Development Manager.
11/27/2023 | Wurth Elektronik
HyPerStripes project partners will create a technology platform including manufacturing techniques for roll-to-roll (R2R) processing as well as the integration of electronic components onto very long ("endless"), flexible and stretchable printed circuit boards.