Dymax Will Exhibit at The Battery Show 2022
August 24, 2022 | Globe Newswire
Estimated reading time: Less than a minute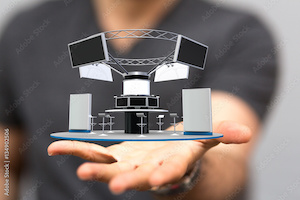 Dymax, leading manufacturer of rapid curing materials and equipment, will exhibit at The Battery Show, booth 1626, Suburban Collection Showplace in Novi, Michigan, September 13-15th. A range of next-generation light-curable material solutions for automotive electronics, battery management system (BMS) coatings, structural battery bonding, FIP/CIP sealing, and EV charging stations will be highlighted.
Dymax light-curable conformal coatings, encapsulants, structural adhesives, and form-in-place sealants will be of particular interest to engineers and manufacturers involved in the design of electric vehicles and advanced electronics. These products improve and extend the life of electric vehicle batteries and increase their responsiveness and reliability, as well as protect critical electronic printed circuit boards from extreme environmental conditions. These LED and broad-spectrum light-curing solutions significantly improve throughput and are a more environmentally friendly solution over traditional products.
A battery clamshell casing featuring 9501-F adhesive for structural bonding and potting as well as printed circuit boards coated with dual-cure 9483 conformal coating for PCB and EV battery protection will be on display. Additional products to be highlighted include GA-140 moisture- and chemical-resistant FIP/CIP gasketing and sealing resin and 9014 encapsulant for wire bonding applications. Technical experts will be on hand to discuss customers' applications in detail.
---
Suggested Items
09/25/2023 | Purdue University
Purdue University continues building momentum as America's leading university in semiconductors, with a broad range of updates this fall semester.
09/25/2023 | Alison James
"Electronics systems are at the heart of almost all modern technology. The performance and functionality of these systems have increased at breathtaking speed, chiefly as a result of advancements in semiconductor technology. Semiconductors do not function in isolation," writes Alison James, IPC senior director of government relations, in a 2023 report for the European Commission's Directorate General for Internal Market, Industry, Entrepreneurship. "These electronics systems feature prominently in key sectors like defence, aerospace, space, automotive, medical, and high-performance computing, but electronics are vital to every industry and are central to a variety of EU priorities, including the twin digital and green transitions and Europe's technological sovereignty."
09/25/2023 | APCT
APCT, a leading name in the PCB and electronics industry, is delighted to announce the appointment of Peter Austin as its President and CEO, effective September 1. Peter takes the reins from former CEO, Steve Robinson, who has retired after years of dedicated service to the company.
09/21/2023 | KIC
KIC, a renowned pioneer in thermal process and temperature measurement solutions for electronics manufacturing, is thrilled to announce its participation in the upcoming SMTA Guadalajara Expo & Tech Forum.
09/21/2023 | Dymax
Dymax, a leading manufacturer of light-curing materials and equipment, will exhibit in booth 1526 at SMTA International 2023 in Minneapolis, MN, from October 10-11.