Michigan Tech's Middlebrook Receives Department of Defense Award
August 26, 2022 | Michigan Technological University
Estimated reading time: 3 minutes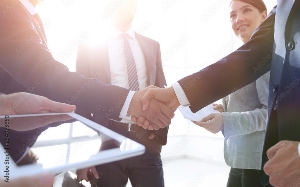 The Department of Defense honored Michigan Technological University professor Dr. Christopher Middlebrook with an award for his innovative efforts to close education gaps and help build tomorrow's electronics manufacturing workforce. Adele Radcliff, Director of the Department of Defense Industrial Base Analysis and Sustainment Program (IBAS), presented the award during the Future Electronics Workforce Summit, held on August 17 on the university's campus. It was the first such award given by IBAS.
"We celebrate your contributions to national security and national defense," said Ratcliff. "It's really hard to be first — to plant your flag on something that you believe to be true and to move forward despite the uncertainties and challenges that you face. Chris saw what an aging workforce could mean for this community and he decided to do something about it."
Earlier this year, Middlebrook, who is a professor of Electrical and Computer Engineering, was recognized by Michigan Tech Dean's Teaching Showcase, for identifying a need for electronic design engineer training and forging collaborations with industry experts to build a program to address that need.
The foundational partnership has been between MTU and Calumet Electronics, with Calumet providing guest lectures, engineering support, materials, and staffing to Middlebrook's growing program. The partnership between Calumet and MTU is a model for other industry/academic collaborations across the country. "Dr. Middlebrook's approach to educating the next generation of electronics workforce is novel in partnering with industry experts from all over the country to deliver upwards of three guest lectures per week. Calumet's own process engineering team attends many of the lectures to learn from the foremost experts in the country. Not only a win for the MTU students, but for our engineers as well," says Dr. Meredith LaBeau, Calumet's CTO.
Middlebrook has also partnered with IPC, the global electronics trade association, to form an IPC student chapter. In addition, he helped establish the university's new Plexus Innovation Lab, an electronics makerspace, in the university's Electrical Energy Resources Center.
Ratcliff said she heard firsthand from young engineers who have taken part in the program, which serves as the prototype for the DoD IBAS-sponsored Electronic Manufacturing Technical Education project, tasked with replicating the MTU/Calumet collaboration, adapted to local needs, across the country.
"They acknowledge what you have done to help bring up this next generation. The quality of the education they get at MTU and your ability to capture and retain that is critical to helping us move this necessary technology forward so we can control our own self-determination across the globe." In announcing plans to scale the MTU program in electronics manufacturing communities nationally, Ratcliff said, "When we are successful, we will point to people like Chris Middlebrook as a reason why."
Middlebrook was quick to acknowledge others who have contributed to the success of the program. "The community has been phenomenal. Everybody has been willing to go above and beyond. I have the dream job. I get to wake up every day and change students' lives, help them find careers, help our industry, and help the state of Michigan. I could not do this without the great support of our community."
Middlebrook is a member of the IEEE, OSA, and SPIE. He was also an electrical engineer with the Electro-optics Division, NAVSEA Crane, where he served as a research test and development engineer. He earned a BS in Electrical Engineering at Michigan Tech, an MS in Optical Engineering at Rose Hulman Institute of Technology, and a Ph.D. in Optics at the University of Central Florida. He joined Michigan Tech as an assistant professor in 2007.
Middlebrook's research interests include visible and infrared imaging systems, quantum technology, integrated photonic devices, optical remote-sensing system design, and optical beam projection through atmospheric turbulence. His facilities on campus include a 700-square-foot optical research and testing lab, as well as a 500-square-foot teaching optical lab. He also serves as the faculty advisor for the Optics and Photonics Society at Michigan Tech.
---
Suggested Items
11/30/2023 | BUSINESS WIRE
Nordson Electronics Solutions, a global leader in electronics manufacturing technologies, is pleased to announce the release of the new ASYMTEK Select Coat® SL-1040 conformal coating system.
11/29/2023 | TT Electronics
TT Electronics, a global provider of custom power solutions and engineered technologies, has announced that its Power and Control business has officially opened its new state-of-the-art research, development and manufacturing facility.
11/27/2023 | IPC
IPC welcomes the actions outlined today by the U.S. Government "to strengthen supply chains critical to America's economic and national security."
11/27/2023 | GOEPEL Electronics
The US branch of GÖPEL electronic is proud to announce the addition of David Kalaidjian as the new National Sales Development Manager.
11/27/2023 | Wurth Elektronik
HyPerStripes project partners will create a technology platform including manufacturing techniques for roll-to-roll (R2R) processing as well as the integration of electronic components onto very long ("endless"), flexible and stretchable printed circuit boards.