I-Connect007 Editor's Choice: Five Must-Reads for the Week
August 26, 2022 | Andy Shaughnessy, Design007 Magazine
Estimated reading time: 2 minutes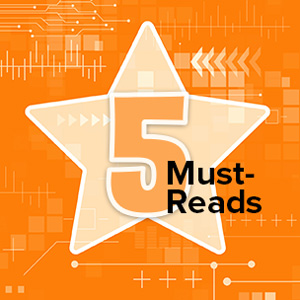 This week we have quite a variety of articles for you. There has been so much electronics industry news coming out of Washington, D.C., that it can be hard to keep track of what's going on. So, Editor Michelle Te compiled a handy-dandy reference guide to recent legislation news, including our exclusive coverage. We need to keep an eye on these senators and representatives. They've been talking about the importance of our industry for the past year, but this is an election year, after all. They've been known to say one thing and do another.   
We have some good news in the EMS segment, but it's tempered with some not-so-good news. Isn't that how it goes lately? We also have a great article by Cherie Litson on design techniques that can cut manufacturing costs, and an IPC call for participation in upcoming eco-design guidelines. We also featured an interview with ACE's James Hofer about board shop pricing—is it time to raise your rates? James shares a few interesting ideas for board shops to consider when yet another supplier announces a price increase. 
North American EMS Industry Up 22.7% in July
Published August 26
There's a bit of good news in the EMS world, with July EMS shipments up 22.7% year-over-year. A high book-to-bill ratio of 1.39 is a good harbinger. But orders were down YOY in the first half of the year. The supply chain is still a big challenge, but we're seeing improvements every month. 
What's Going On in Congress? Your Handy Guide to PCB Legislation Headlines
Published August 22
There's been a lot of action in Washington, D.C. lately, as legislators and bureaucrats begin to understand the importance of our industry. At least they're talking about supporting the domestic electronics manufacturing industry. Editor Michelle Te put together this handy compendium of the recent electronics industry news coming out of the capital of the free world.
IPC Issues Call for Participation: Help Shape the Future of Design for Environment Standards
Published August 22
IPC wants you! The 1-14 DFX Committee is reviewing IPC-2231A and plans to revise it within two years, and the group wants your input. They plan to create an eco-design for electronics guideline, so if you have experience in green PCB design or manufacturing techniques, get in touch with the committee.
Board Pricing Challenges and Opportunities 
Published August 24
As we all know, the price of everything is going up, and if you own a board shop, you're at least considering raising your rates, if you haven't already. We asked Accurate Circuit Engineering General Manager James Hofer to share his thoughts on board pricing—the challenges and the opportunities.
Design Tips for Lowering Costs of Fab and Assembly
Published August 25
Our friend Cherie Litson of Litson1 Consulting has a great article full of design tips for cutting fab and assembly costs. Some of these ideas may seem counterintuitive, such as adding layers and using higher-temp materials, but they may reduce overall costs in the end. Design is a game of trade-offs, isn't it? Check it out.
---
Suggested Items
09/28/2023 | Nolan Johnson, I-Connect007
The practical question around CHIPS Act development and electronics assembly is, "Will this change how we do business?" Indium Corporation's Dr. Andy Mackie sat down with Nolan Johnson to share what he sees as emerging answers to that question from his perspective as an expert in electronics assembly and packaging, and as a participant in standards development through IPC, JEDEC, and SEMI.
09/28/2023 | ZESTRON
ZESTRON is happy to announce that Senior Application Engineer, Ravi Parthasarathy, will be presenting "Revolutionizing PCB Assembly Cleaning:
09/28/2023 | IPC
IPC continues to collaborate with the electronics manufacturing industry to meet their current and future workforce training needs.
09/28/2023 | IPC
Though product demand weakened this month with Orders and Backlog Indexes slipping, overall electronics industry operations remain healthy per IPC's September 2023 Global Sentiment of the Electronics Supply Chain Report.
09/27/2023 | AT&S
AT&S is working on the EECONE (European ECOsystem for greeN Electronics) project to develop new technologies to make electronics production in Europe more sustainable.