Nathan Edwards Joins USPAE as Director of Government Development
August 30, 2022 | USPAE
Estimated reading time: 1 minute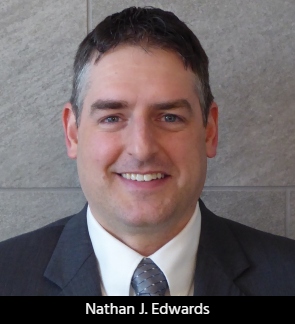 The U.S. Partnership for Assured Electronics (USPAE) has named Nathan J. Edwards to the newly created position of Director of Government Development, in a reflection of its ongoing growth and evolution.  
Launched in 2020, USPAE is a DC-based nonprofit industry association dedicated to ensuring the U.S. government has access to resilient and trusted electronics supply chains. One of the group's signature programs is the $42 million Defense Electronics Consortium (DEC), which provides a vehicle for DoD to work on electronics-related challenges with trusted partners in industry and academia, including small and medium-sized innovators that typically do not do business with DoD.
USPAE is anticipating rapid growth amid rising attention to the need for greater resiliency and security in the government's electronics supply chains.
In this new role, Edwards will identify new and potential opportunities for USPAE members to work with U.S. government agencies, as well as engage with government leaders and other stakeholders to connect them with trusted industry partners.
Edwards comes to USPAE from MITRE Corp., where he was the Colorado Innovation Hub Lead, with responsibility for building regional teams and developing business plans for work on the security of complex systems in sectors including space, microelectronics, industrial systems, and aviation. Prior to MITRE, Edwards was senior technical staff at Sandia National Laboratories (U.S. Dept of Energy). In all, he has more than 15 years of experience in technology and engineering, largely focused on the security of operational technology, embedded computing, microelectronics, and hardware systems.  Over the last three years, he was involved in 17 new technical initiatives to grow work programs in edge computing, critical systems, industrial control, and other systems.
"We are very fortunate to have Nathan as part of the team," said Chris Peters, Executive Director of USPAE. "Nathan knows the U.S. Government customer well, including the Department of Defense, and has substantial technical expertise, including five patents of his own related to the assurance of electronics. His work at USPAE will help us bridge the gap between industry capabilities and the governments' needs for electronics that support our national and economic security."
---
Suggested Items
09/28/2023 | KYZEN'
KYZEN, the global leader in innovative environmentally friendly cleaning chemistries, is proud to announce that it is sponsoring the Women's Leadership Program Connection Reception to be held at SMTA International.
09/28/2023 | Nolan Johnson, I-Connect007
The practical question around CHIPS Act development and electronics assembly is, "Will this change how we do business?" Indium Corporation's Dr. Andy Mackie sat down with Nolan Johnson to share what he sees as emerging answers to that question from his perspective as an expert in electronics assembly and packaging, and as a participant in standards development through IPC, JEDEC, and SEMI.
09/28/2023 | ZESTRON
ZESTRON is happy to announce that Senior Application Engineer, Ravi Parthasarathy, will be presenting "Revolutionizing PCB Assembly Cleaning:
09/28/2023 | IPC
IPC continues to collaborate with the electronics manufacturing industry to meet their current and future workforce training needs.
09/28/2023 | IPC
Though product demand weakened this month with Orders and Backlog Indexes slipping, overall electronics industry operations remain healthy per IPC's September 2023 Global Sentiment of the Electronics Supply Chain Report.