AeroVironment Introduces Next-Generation All-Electric VAPOR 55 MX Helicopter Unmanned Aircraft System
September 14, 2022 | Business Wire
Estimated reading time: 1 minute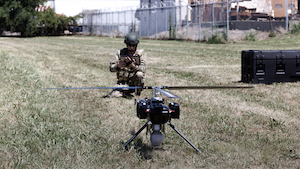 AeroVironment, Inc., a global leader in intelligent, multi-domain robotic systems, announced the launch of the next-generation VAPOR® Helicopter unmanned aircraft system (UAS), VAPOR 55 MX. Delivering new levels of operational performance with a completely redesigned modular autonomy framework, VAPOR 55 MX enables increased endurance and expanded payload capacity to meet current and emerging needs of defense, commercial and industrial customers.
"The new VAPOR 55 MX is an easy-to-maintain system that incorporates a highly versatile modular architecture and tool-free rail system for simple, efficient integration of third-party or custom payloads, allowing users to adapt to multi-sensor, multi-mission requirements including utility inspection, aerial surveying, public safety and defense applications," said Trace Stevenson, AeroVironment vice president and product line general manager for small UAS.
Built on the class-leading endurance and payload weight performance of its predecessor, VAPOR 55 MX features a new sleek and efficient low-profile design that enables the helicopter UAS to stay in the air 25 percent longer and operate in all weather. VAPOR 55 MX is heavy-lift capable and its increased usable payload capacity allows users to choose from single or multiple payload configurations.
This expansive modular payload bay can carry up to 12 pounds of payload with more than 70 minutes of flight endurance while still maintaining the 55-pound gross take-off weight (GTOW) restricted by the Federal Aviation Administration (FAA) for commercial customers. For military customers that require more take-off weight, VAPOR 55 MX is capable of a 65-pound GTOW and can carry up to 22 pounds of usable payloads with a reduced endurance trade-off, nearing the edge of Group 3 weight class.
---
Suggested Items
09/20/2023 | I-Connect007 Editorial Team
Panasonic's Darren Hitchcock spoke with the I-Connect007 Editorial Team on the complexities of moving toward ultra HDI manufacturing. As we learn in this conversation, the number of shifting constraints relative to traditional PCB fabrication is quite large and can sometimes conflict with each other.
09/19/2023 | Anaya Vardya -- Column: Standard of Excellence
In my last column, I discussed cutting-edge innovations in printed circuit board technology, focusing on innovative trends in ultra HDI, embedded passives and components, green PCBs, and advanced substrate materials. This month, I'm following up with the products these new PCB technologies are destined for. Why do we need all these new technologies?
09/18/2023 | ViTrox
ViTrox, which aims to be the world's most trusted technology company, is excited to announce that our trusted Sales Channel Partner (SCP) in Mexico, SMTo Engineering, S.A. de C.V., will be participating in SMTA Guadalajara Expo & Tech Forum. They will be exhibiting in Booth #911 from the 25th  to the 26th of October 2023,  at the Expo Guadalajara in Jalisco, Mexico.
09/18/2023 | Intel
Intel announced one of the industry's first glass substrates for next-generation advanced packaging, planned for the latter part of this decade.
09/18/2023 | Aidan Salvi -- Column: Facing the Future
I have been in and around circuit boards most of my life. I started 20 years ago in my family's PCB shop, leaving after a couple of years to start my own software company. About a year ago, I returned to the family business, and the first thing I noticed was that nothing had really changed. We were doing the same things in the same way as the day I left. After talking to several experts in the industry, I realized it was worse than that: The manufacturing of PCBs had not changed in 70 years.