Hire or Be Hired! The jobConnect007 Help Wanted Pages
September 21, 2022 | I-Connect007 Editorial Team
Estimated reading time: Less than a minute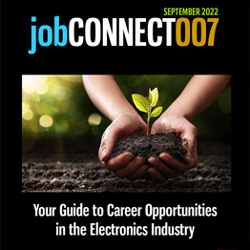 If you're looking for a job in the PCB industry—whether you're a recent grad or a seasoned technologist—the jobConnect007 is the first place you should look.
In the pages of I-Connect007's monthly magazines and newsletters, there are job openings for positions that span the entire circuit board supply chain: senior PCB designer, supplier quality manager, service engineer, field service technician, technical marketing engineer, and sales representative, just to name a few. 
Once you find a position that's a perfect fit, you're in the home stretch. You can submit your resume directly to the hiring manager simply by clicking on the ad. It couldn't be any easier to get your name in front of the companies that are ready to hire right now.
Whenever you need information about any aspect of PCB design, fabrication or assembly, make jobConnect007 your first stop. Download your copy today.
If you're an employer seeking to hire an industry professional, reach out to Barb Hockaday at barb@iconnect007.com or by clicking here.
---
Suggested Items
11/27/2023 | Spirit AeroSystems, Inc.
Skyrora and Spirit AeroSystems have announced a collaboration on orbital launch capability. The companies celebrated the announcement on the conference's opening day in Belfast, home to Spirit's largest UK manufacturing facility.
11/20/2023 | Cadence Design Systems, Inc.
Cadence Design Systems, Inc. announced that Fortune magazine and Great Place To Work® have honored the company as one of the 2023 World's Best Workplaces™ for the eighth time, ranking Cadence #9.
11/20/2023 | Dan Beaulieu -- Column: It's Only Common Sense
No matter how you look at it, everything is about customer service—great customer service. If you think about your own experiences, you'll realize it's about how those you are dealing with or buying from— whether it's a car, your internet service provider, or your landscaper—it's all about how they make you feel. You can have the greatest product in the world, but if you don't deliver a great customer experience, it won't matter.
11/15/2023 | PIT Equipment
PIT – Equipment Services, LLC is pleased to announce Don Dennison, founder and CEO of PIT Equipment Services, has been honored with the prestigious 2023 GLOBAL Technology Award in the category of Best Manufacturers Representative - USA. The award ceremony took place during productronica in Munich on November 14, 2023.
11/13/2023 | Keysight Technologies
Through the project leadership of Keysight Technologies, the Horizon Europe-funded 6G-SANDBOX project signed a memorandum of understanding (MoU) with the Industrial Technology Research Institute (ITRI) to foster collaboration between Europe and Taiwanese companies for 6G research.