I-Connect007 Editor's Choice: Five Must-Reads for the Week
September 23, 2022 | Andy Shaughnessy, Design007 Magazine
Estimated reading time: 2 minutes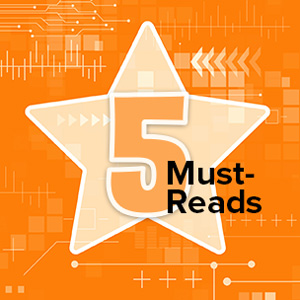 It's officially fall now, and in Atlanta the temperature has plummeted to the mid-80s. We've all bumped our air conditioners up to 74 degrees. That means it's trade show season, and I've been busy looking for my suitcase. How does one lose a suitcase? It's been a while since I've traveled anywhere, and I'm ready to go.
This week, we have an assortment of news about associations, education, and advocacy, as well as another installment of our Printed Electronics Roundtable. And if you're looking for a job, you are in luck; our jobConnect007 section is chock-full of open positions at all levels in this industry.
I'll see some of you at PCB West. Do you know where your suitcase is?
Register Now for Eric Bogatin's Transmission Lines 101 Sept. 29-30
Published September 16
Eric Bogatin is presenting his Transmission Lines 101 class next week. It's an online class, but it's live, so it's the best of both worlds, so to speak. Eric doesn't hold many of these classes, so don't miss out. He won't be able to toss you a Snickers bar for a correct answer like he does in his in-person classes, but you know it will be fun and educational.
The Printed Electronics Roundtable, Part 2
Published September 22
Printed electronics continues to gain ground in our industry, and this week we have Part 2 of a roundtable of printed electronics experts. This is one technology that's been around for years and is now gaining market share with the advent of end-products such as wearables. If you're interested in printed electronics, you don't want to miss this.  
EIPC Technical Snapshot: Novel Laser-based Manufacturing Processes in Automotive Electronics
Published September 22
Pete Starkey brings us another one of his wonderful and informative reviews of an EIPC Technical Snapshot, this time focusing on laser-based automotive manufacturing. As always, Pete makes you feel like you're at the event with him, and he provides all the background information that you need to know. 
Hire or Be Hired! The jobConnect007 Help Wanted Pages
Published September 21
It's an interesting time in the job market right now. If you're looking for a job or a new hire, I-Connect007 has what you need. With jobConnect007, you can find a new position or post a job opening. Check out our help wanted pages; all our magazines feature page after page of open positions throughout our industry.
Electronics Industry Calls for U.S. Presidential Determination on Key Components Under Defense Production Act
Published September 22
When the president of the United States speaks, people pay attention. This week, three industry organizations—IPC, USPAE and PCBAA—sent a letter to President Joe Biden, asking him to address the country's supply chain vulnerabilities under the Defense Production Act. If the president uses his bully pulpit to champion this cause, it could do us a world of good. Let's hold a good thought. 
---
Suggested Items
09/29/2023 | Dixon
Dixon wholly owned subsidiary- Padget Electronics Private Limited enters into an Agreement with Xiaomi to carry out manufacturing of smart phones and other related products for Xiaomi.
09/29/2023 | USPAE
In a major initiative to innovate how the Department of Defense (DoD) spurs commercial technology development, the U.S. Partnership for Assured Electronics (USPAE) and DoD launched a Defense Business Accelerator (DBX) to open doors for industrial base growth and stimulate private investment.
09/28/2023 | KYZEN'
KYZEN, the global leader in innovative environmentally friendly cleaning chemistries, is proud to announce that it is sponsoring the Women's Leadership Program Connection Reception to be held at SMTA International.
09/28/2023 | Nolan Johnson, I-Connect007
The practical question around CHIPS Act development and electronics assembly is, "Will this change how we do business?" Indium Corporation's Dr. Andy Mackie sat down with Nolan Johnson to share what he sees as emerging answers to that question from his perspective as an expert in electronics assembly and packaging, and as a participant in standards development through IPC, JEDEC, and SEMI.
09/28/2023 | ZESTRON
ZESTRON is happy to announce that Senior Application Engineer, Ravi Parthasarathy, will be presenting "Revolutionizing PCB Assembly Cleaning: