Lockheed Martin Delivers Its Highest Powered Laser To Date To U.S. Department Of Defense
September 27, 2022 | Lockheed Martin
Estimated reading time: 1 minute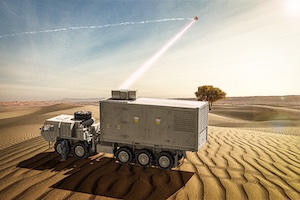 Lockheed Martin delivered to the Office of the Under Secretary of Defense for Research & Engineering OUSD (R&E) a new benchmark: a tactically-relevant electric 300 kW-class laser, the most powerful laser that Lockheed Martin has produced to date. This 300 kW-class laser is ready to integrate with the DOD demonstration efforts including the U.S. Army's Indirect Fires Protection Capability-High Energy Laser (IFPC-HEL) Demonstrator laser weapon system.
The OUSD (R&E) selected Lockheed Martin in 2019 to scale its spectral beam combined high energy laser architecture to the 300 kW-class level as part of the High Energy Laser Scaling Initiative (HELSI), and the team recently achieved that milestone ahead of schedule.
"Lockheed Martin increased the power and efficiency and reduced the weight and volume of continuous-wave high energy lasers which reduces risk for future fielding efforts of high power laser weapon systems," said Rick Cordaro, vice president, Lockheed Martin Advanced Product Solutions.
The HELSI laser will support demonstration efforts with the Army's IFPC-HEL, which is scheduled for laboratory and field testing this year.
This recent HELSI delivery milestone also exemplifies Lockheed Martin's commitment to 21st Century Security, developing advanced technologies that provide speed, agility, and mission solutions that help ensure the U.S. and its allies are always prepared for what's ahead.
Lockheed Martin's 300 kW-class high-energy laser design and build was enabled by significant investments in directed energy technology and the contributions of the company's dedicated team in Washington state and Owego, New York. The team is applying more than 40 years of experience researching, designing, developing, and capturing electromagnetic energy and elevating its power to create innovative 21st century security solutions.
---
Suggested Items
11/29/2023 | Intel
Ahead of Enlit Europe, Intel announced that its technology is helping power the Edge for Smart Secondary Substations (E4S) Alliance's new solution to modernize the energy grid.
11/22/2023 | PRNewswire
Slenergy, a leading innovator in the renewable energy industry, celebrates significant success in Europe with its ground-breaking iShare-Home one-stop residential energy solution.
11/22/2023 | Emirates
In the UAE Year of Sustainability, and at the 3rd ICAO Conference on Aviation and Alternative Fuels (CAAF/3) was held in Dubai, eight founding entities announced the launch of the "Air-CRAFT" initiative - a UAE based research consortium focused on developing, producing, and scaling sustainable aviation fuel (SAF) technologies.
10/23/2023 | Gartner, Inc.
Gartner, Inc. revealed its top strategic predictions for 2024 and beyond. Gartner's top predictions explore how generative AI (GenAI) has changed executive leaders' way of thinking on every subject and how to create a more flexible and adaptable organization that is better prepared for the future.
10/20/2023 | IPC
IPC, in collaboration with other industry organizations and representatives from academia and government celebrate the release of the Semiconductor Research Corporation's (SRC) Microelectronics and Advanced Packaging Technologies (MAPT) Roadmap.