Elbit Systems Awarded a $120 Million Contract to Supply Hermes 900 UAS to the Royal Thai Navy
September 29, 2022 | Elbit Systems
Estimated reading time: 1 minute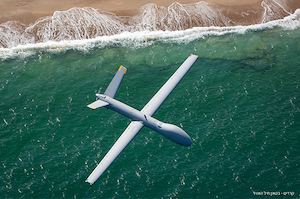 Elbit Systems Ltd. announced that it was awarded a contract valued at $120 million to supply Hermes 900 Maritime Unmanned Aircraft Systems (UAS) and training capabilities to the Royal Thai Navy. The contract will be performed over a three-year period.
Under the contract, Elbit Systems will provide the Rroyal Thai Navy with Hermes 900 Maritime UAS featuring maritime radar, Electro Optic payload, Satellite Communication, droppable inflated life rafts and other capabilities. The Hermes 900 Maritime UAS is intended to enable the Rroyal Thai Navy to perform both blue water and littoral missions, dominate vast swathes of sea and long coastlines, communicate with operational vessels and carry out civilian mission such as maritime Search and Rescue and identification of suspicious activities and potential hazards.
UAS of the Hermes family have been selected to date by more than 20 customers including Israel, the UK, Switzerland, Canada, the United Nations, the European Union, Brazil, Chile, Mexico and others; attesting to their competitive edge combining technological sophistication, reliability, open architecture and a solid growth path.
Yoram Shmuely, General Manager of Elbit Systems Aerospace, commented: "This is yet another vote of confidence in the Hermes family of UAS. We are experiencing a growing demand around the globe for our unmanned solutions that are capable of effective integration with operational activities of manned forces across domains of operation, addressing a wide range of evolving threats."
---
Suggested Items
11/29/2023 | TT Electronics
TT Electronics, a global provider of custom power solutions and engineered technologies, has announced that its Power and Control business has officially opened its new state-of-the-art research, development and manufacturing facility.
11/27/2023 | HyRel
HyRel Technologies, a global provider of quick turn semiconductor modification solutions, announces the achievement of International Traffic in Arms Regulations (ITAR) registration.
11/20/2023 | MIT
MIT's Department of Aeronautics and Astronautics (AeroAstro) recently hosted the 2023 Future Leaders in Aerospace Symposium, inviting women and underrepresented minorities in aerospace fields to campus for a two-day program.
11/14/2023 | NEO Tech
NEOTech, a leading provider of electronic manufacturing services (EMS), design engineering, and supply chain solutions in the high-tech industrial, medical device, and aerospace/defense markets, is thrilled to welcome James Doyle to the team as Chief Executive Officer of NEOTech's Aerospace & Defense division, effective immediately.
11/06/2023 | PRNewswire
Vuzix Corporation, a leading supplier of smart glasses and Augmented Reality (AR) technology and products, announced it has completed delivery against a follow-on order from a Tier-1 aerospace and defense contractors with which it has been working with.