Altair Presents Open, Flexible, and Scalable Total Digital Twin Solution
October 7, 2022 | Altair
Estimated reading time: 2 minutes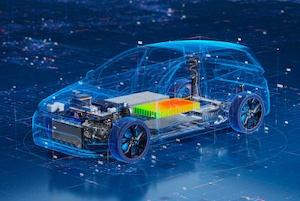 Altair, a global leader in computational science and artificial intelligence (AI), announced the launch of its broad digital twin solution that features the market's most connected, cross-functional capabilities that can be deployed through any and every stage of a product lifecycle. 
"Altair offers the market's premier digital twin solution that can transform the way people and organizations design, develop, implement, and improve products and processes," said Sam Mahalingam, chief technology officer, Altair. "Moving forward, we will continue establishing our digital twin leadership to provide further democratized, more accessible digital twin solutions."
Fostering Evolution at Any Stage of a Product Lifecycle
Combining Altair's leading simulation, high-performance computing (HPC), AI, data analytics, and Internet of Things (IoT) capabilities, companies can apply digital twin technology at any stage of the product lifecycle — from concept through in-service — as part of a cross-functional, enterprise-wide effort that advances collaboration and eliminates departmental silos. Additionally, Altair's open, vendor-agnostic digital twin solution is the premier offering that gives customers the flexibility to run Altair software anywhere – whether on-site, in the cloud, hybrid, or via plug-and-play appliances – and the freedom to choose from a comprehensive toolset through a cost-effective, units-based licensing model called Altair Units. 
Pre-Production
In the pre-production stage, Altair offers toolsets for "as-specified" twins, which cover system requirements, development, validation, real-world performance prediction, streamlined mechatronic product development, and more. This allows teams to design, analyze, and optimize systems and performance without expensive physical prototypes. It also enables teams to converge multiphysics simulation with advanced HPC, AI, and data analytics capabilities in a unified environment.
Featured as-specified twin tools include Altair Activate, Inspire, Drive, HyperWorks, PollEx, Flux, Compose, Feko, PSIM, and XLDyn (via the Altair Partner Alliance).
Post-Production
In the post-production stage, Altair has toolsets for "as-built" and "as-manufactured" twins. As-built twins allow teams to evaluate advanced virtual system dynamics under what-if scenarios, deploy reduced order modeling (ROM), detect design sensitivities, and resolve test failures. As-manufactured twins allow teams to evaluate integrated software, processors and hardware involved with systems such as human driver controls, ergonomics, immersion, virtual reality, and more. These twins help teams simulate realistic and unexpected events, improve workability and operation windows, and produce high-fidelity displays of innovations in interactive and realistic environments.
Featured as-built and as-manufactured twin tools include Altair Embed, MotionSolve, HyperStudy, Panopticon, Design Explorer, and Vortex Studio (via the Altair Partner Alliance).
In-Service Systems
Lastly, Altair's digital twin tools for "as-sustained" twins cover predictive analytics and predictive maintenance of manufactured products that are in service. Teams can leverage real-time data stream analytics and machine learning to determine a system's remaining useful life (RUL), trigger insights based on anomaly detection, refine system performance, deliver optimized maintenance routines, and much more.
Featured tools for as-sustained twins include Altair RapidMiner, SmartWorks, SLC, Monarch, and Knowledge Studio.
Users can take advantage of Altair's end-to-end, holistic solutions and digital twin consulting team to help accelerate digital twin adoption in industries as diverse as aerospace, telecommunications, banking, financial services, manufacturing, energy, and electronics. Altair solutions allow organizations to do things like predict and optimize electric battery performance in buses, improve wind turbine efficiency, analyze and optimize the performance of an airborne radar system, analyze credit risk, monitor and detect financial fraud, design the ideal coffee machine, conduct prescriptive performance optimization and predictive maintenance of consumer products, and more.
---
Suggested Items
09/20/2023 | I-Connect007 Editorial Team
Panasonic's Darren Hitchcock spoke with the I-Connect007 Editorial Team on the complexities of moving toward ultra HDI manufacturing. As we learn in this conversation, the number of shifting constraints relative to traditional PCB fabrication is quite large and can sometimes conflict with each other.
09/19/2023 | Anaya Vardya -- Column: Standard of Excellence
In my last column, I discussed cutting-edge innovations in printed circuit board technology, focusing on innovative trends in ultra HDI, embedded passives and components, green PCBs, and advanced substrate materials. This month, I'm following up with the products these new PCB technologies are destined for. Why do we need all these new technologies?
09/18/2023 | ViTrox
ViTrox, which aims to be the world's most trusted technology company, is excited to announce that our trusted Sales Channel Partner (SCP) in Mexico, SMTo Engineering, S.A. de C.V., will be participating in SMTA Guadalajara Expo & Tech Forum. They will be exhibiting in Booth #911 from the 25th  to the 26th of October 2023,  at the Expo Guadalajara in Jalisco, Mexico.
09/18/2023 | Intel
Intel announced one of the industry's first glass substrates for next-generation advanced packaging, planned for the latter part of this decade.
09/18/2023 | Aidan Salvi -- Column: Facing the Future
I have been in and around circuit boards most of my life. I started 20 years ago in my family's PCB shop, leaving after a couple of years to start my own software company. About a year ago, I returned to the family business, and the first thing I noticed was that nothing had really changed. We were doing the same things in the same way as the day I left. After talking to several experts in the industry, I realized it was worse than that: The manufacturing of PCBs had not changed in 70 years.