Garmin GI 275 Receives STC for Dassault Aviation's Falcon 7X
October 17, 2022 | Business Wire
Estimated reading time: 2 minutes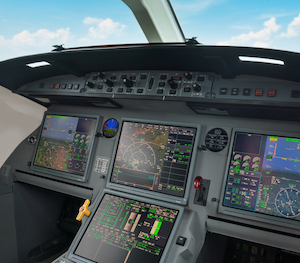 Garmin International, Inc., a unit of Garmin Ltd., announced Supplemental Type Certification (STC) by the Federal Aviation Administration (FAA) for the GI 275 electronic flight instrument in the Dassault Falcon 7X business jet. As a replacement for the original secondary flight display (SFD), the primary GI 275 will integrate with the aircraft's existing systems to be configured as an attitude-direction indicator (ADI) with synthetic vision technology (SVT™). Adding a second GI 275 to the copilot's side will reduce the flight crew's workload by providing multifunction display (MFD) capabilities.
"We are delighted to collaborate with Dassault Aviation and bring the GI 275 to the Falcon cockpit," said Carl Wolf, Garmin vice president of aviation sales and marketing. "The popular GI 275 redefines the capabilities of a standby flight display, and we're excited that almost 300 aircraft in the Falcon line globally will now have the opportunity to be retrofitted with this integrated and intuitive solution."
Standby flight display
Configured as an ADI, the primary GI 275 will display the Falcon's flight path, in addition to attitude, heading, altitude, airspeed and vertical speed. Localizer, ILS and VOR approach cues will also be displayed. SVT overlays a rich, 3D topographic view of terrain, traffic, obstacles, airport signposts and more. The GI 275 flight instruments will integrate with the existing flight control, inertial navigation, air data and flight management systems offering more redundancy and options than the previous SFD. Backup GPS information can still be displayed on the MFD moving map in the event of a sensor failure.
Adding a second display
When configured as an MFD, the copilot's GI 275 will serve multiple roles. Available pages include a dedicated course deviation indicator (CDI), horizontal situation indicator (HSI) and HSI with a moving map. Within the MFD configuration, the moving map can display terrain, obstacles, traffic, airspace information, airways and more. SafeTaxi® airport diagrams display runways, taxiways, fixed based operators (FBOs) and more relative to the aircraft's location on the airport surface. The GI 275 also allows the crew to select airports and other points of interest on the map to see airspaces with ceilings and floors, frequencies, and airport hot spots with ease.
Bluetooth functionality
Transferring flight plan information from the Flight Management System (FMS) to an Electronic Flight Bag (EFB) is easier with the GI 275 thanks to its Bluetooth® functionality. The GI 275 can be easily connected via internal Bluetooth to provide unidirectional flight plan transfer from the FMS to Garmin Pilot™. Garmin Connext® and Database Concierge1 allow the GI 275 navigation databases to be loaded remotely via the internal 2.4Ghz Wi-Fi® from a tablet or smartphone.
The GI 275 in Dassault Falcon 7X is available immediately and can be installed at several of the Dassault MROs around the United States. Downtimes for installation of the GI 275 are approximately one week as the installation is minimally invasive to the instrument panel.
---
Suggested Items
09/20/2023 | I-Connect007 Editorial Team
Panasonic's Darren Hitchcock spoke with the I-Connect007 Editorial Team on the complexities of moving toward ultra HDI manufacturing. As we learn in this conversation, the number of shifting constraints relative to traditional PCB fabrication is quite large and can sometimes conflict with each other.
09/19/2023 | Anaya Vardya -- Column: Standard of Excellence
In my last column, I discussed cutting-edge innovations in printed circuit board technology, focusing on innovative trends in ultra HDI, embedded passives and components, green PCBs, and advanced substrate materials. This month, I'm following up with the products these new PCB technologies are destined for. Why do we need all these new technologies?
09/18/2023 | ViTrox
ViTrox, which aims to be the world's most trusted technology company, is excited to announce that our trusted Sales Channel Partner (SCP) in Mexico, SMTo Engineering, S.A. de C.V., will be participating in SMTA Guadalajara Expo & Tech Forum. They will be exhibiting in Booth #911 from the 25th  to the 26th of October 2023,  at the Expo Guadalajara in Jalisco, Mexico.
09/18/2023 | Intel
Intel announced one of the industry's first glass substrates for next-generation advanced packaging, planned for the latter part of this decade.
09/18/2023 | Aidan Salvi -- Column: Facing the Future
I have been in and around circuit boards most of my life. I started 20 years ago in my family's PCB shop, leaving after a couple of years to start my own software company. About a year ago, I returned to the family business, and the first thing I noticed was that nothing had really changed. We were doing the same things in the same way as the day I left. After talking to several experts in the industry, I realized it was worse than that: The manufacturing of PCBs had not changed in 70 years.