Sunstone and I-007eBooks Launch Book on Designing for Reality
October 24, 2022 | I-Connect007
Estimated reading time: 1 minute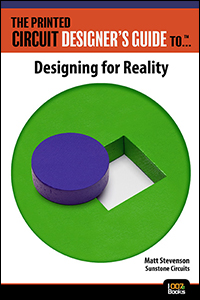 I-007eBooks is excited to announce the release of the latest title in its series for designers, The Printed Circuit Designer's Guide to… Designing for Reality. 
This book covers both written and unwritten rules for how to create a realistic, manufacturable design. 
Written by topic expert Matt Stevenson of Sunstone Circuits, this book covers the complete circuit board manufacturing process, taking readers on a virtual tour of the printed circuit manufacturing process, from choosing the right CAD tool, to additive/subtractive processes, and even touching on the art of PCB design. 
Peer reviewer Duane Benson of Screaming Circuits, says, "I find that having a better understanding of the underlying process helps me create higher quality electronic designs. In this book, Matt Stevenson does a fantastic job of opening the hood and giving the reader that knowledge of the PC board fab process."
Download your free copy today at I-007eBooks.com/dfr. You can also view our full library at I-007eBooks.com.
Dedicated to educating PCB designers, The Printed Circuit Designer's Guide to… series of books is a valuable resource for people seeking the most relevant information available. 
Look for other exciting titles, like:
The Evolving PCB NPI Process
Thermal Management with Insulated Substrates
Stackups: The Design within the Design
High Performance Materials
System Analysis: Electromagnetic Interference and Thermal Analysis of Electronic Systems
…and more coming this fall
We hope you enjoy The Printed Circuit Designer's Guide to… Designing for Reality.
For more information, contact:
Barb Hockaday
I-Connect007 eBooks
barb@iconnect007.com
+1-916-365-1727  
---
Suggested Items
09/26/2023 | Cadence Design Systems, Inc.
Cadence Design Systems, Inc. announced the expansion of its node-to-node design migration flow based on the Cadence® Virtuoso® Studio, which is compatible with all TSMC advanced nodes, including the latest N3E and N2 process technologies.
09/25/2023 | Koh Young
Koh Young Technology, the leader in True3D™ measurement-based inspection solutions, will discuss the increasingly significant role of data collection and analysis to enable Generative Artificial Intelligence (GenAI) functionality to improve productivity in our industry.
09/28/2023 | Michael Carano -- Column: Trouble in Your Tank
In a previous column, the critical process of desmear and its necessity to ensure a clean copper surface connection was presented. Now, my discussion will focus on obtaining a void-free and tightly adherent copper plating deposit on these surfaces. After the desmear process, the task is to insure a continuous, conductive, and void-free deposit on the via walls and capture pad. Today, there are several processes that can be utilized to render vias conductive.
09/25/2023 | Don Ball -- Column: The Chemical Connection
If your HDI or UHDI production process is quality challenged, don't assume your etcher is to blame. Many factors impact the quality of the final product, so assess broadly, and you may find that the "the devil is in the details." Generally, the first place most people can get good product specification measurement is at the end of the etching process, It's natural and easy to blame quality shortcomings on the etcher. By all means, look at your etcher and invest some time trying to improve its performance but don't stop there. Other factors may be affecting the etch uniformity.
09/21/2023 | KIC
KIC, a renowned pioneer in thermal process and temperature measurement solutions for electronics manufacturing, is thrilled to announce its participation in the upcoming SMTA Guadalajara Expo & Tech Forum.