Sunstone and I-007eBooks Launch Book on Designing for Reality
October 24, 2022 | I-Connect007
Estimated reading time: 1 minute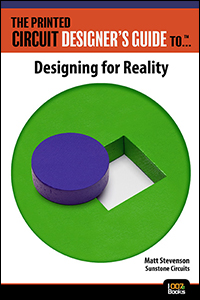 I-007eBooks is excited to announce the release of the latest title in its series for designers, The Printed Circuit Designer's Guide to… Designing for Reality. 
This book covers both written and unwritten rules for how to create a realistic, manufacturable design. 
Written by topic expert Matt Stevenson of Sunstone Circuits, this book covers the complete circuit board manufacturing process, taking readers on a virtual tour of the printed circuit manufacturing process, from choosing the right CAD tool, to additive/subtractive processes, and even touching on the art of PCB design. 
Peer reviewer Duane Benson of Screaming Circuits, says, "I find that having a better understanding of the underlying process helps me create higher quality electronic designs. In this book, Matt Stevenson does a fantastic job of opening the hood and giving the reader that knowledge of the PC board fab process."
Download your free copy today at I-007eBooks.com/dfr. You can also view our full library at I-007eBooks.com.
Dedicated to educating PCB designers, The Printed Circuit Designer's Guide to… series of books is a valuable resource for people seeking the most relevant information available. 
Look for other exciting titles, like:
The Evolving PCB NPI Process
Thermal Management with Insulated Substrates
Stackups: The Design within the Design
High Performance Materials
System Analysis: Electromagnetic Interference and Thermal Analysis of Electronic Systems
…and more coming this fall
We hope you enjoy The Printed Circuit Designer's Guide to… Designing for Reality.
For more information, contact:
Barb Hockaday
I-Connect007 eBooks
barb@iconnect007.com
+1-916-365-1727  
---
Suggested Items
12/07/2023 | Matt Stevenson -- Column: Connect the Dots
It makes sense to optimize your board using design for manufacturability (DFM) techniques. But applying DFM best practices can be confusing without formal training. The results are designs that are often incomplete, poorly designed, or too complex. When these issues arise, your PCB manufacturing partner rejecting the design can be considered a best-case scenario because it means they have your back. If your design is simply dropped into an automated queue without concern for manufacturability, the output can be a batch of unusable boards.
12/07/2023 | Creation Technologies
As an established contract design and manufacturing partner for leading medical & life science, tech industrial, and aerospace & defense OEMs, Creation has developed the LEAP program to enhance New Product Realization.
12/06/2023 | Peters
As part of the Peters Coating Innovation Forum (PCIF), Peters presented the new MYC50 coating machine in the showroom.
12/05/2023 | PRNewswire
Samsung Foundry certified Ansys' RaptorX on-chip electromagnetic (EM) solution for analyzing high-speed products manufactured with Samsung's 8nm (nanometer) LN08LPP Low Power Plus silicon process.
12/04/2023 | PRNewswire
At the annual IBM Quantum Summit in New York, IBM debuted 'IBM Quantum Heron,' the first in a new series of utility-scale quantum processors with an architecture engineered over the past four years to deliver IBM's highest performance metrics and lowest error rates of any IBM Quantum processor to date.