EMA Helps Ease Designers' Supply Chain Woes
October 20, 2022 | Andy Shaughnessy, Design007 Magazine
Estimated reading time: 4 minutes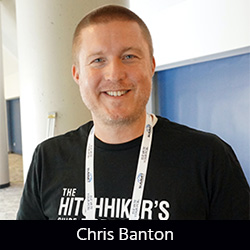 Supply chain issues are continuing to cause disruptions in our industry, though lead times have dropped from astronomical to merely troublesome. In this interview, Chris Banton, EMA Design Automation's director of marketing, explains how Cadence's software has evolved as designers' needs have changed in the past few turbulent years, including providing designers with component availability data early in the process. He also discusses how he works to get customers into the right tools for their requirements.
Andy Shaughnessy: Chris, how are you? Long time, no see.
Chris Banton: Good, Andy. It's great to be here. It has been a while.
Shaughnessy: Why don't you just give us a little update? What's new at EMA?
Banton: It's been an interesting couple years for everybody, but it's great to be at the show. Things are starting to come back to normal, people are getting together again. But we're still seeing a lot of the lingering effects of COVID and, particularly, what it did to the supply chain. That's a topic that's come up multiple times with customers at the show, and pretty much every discussion we have is how do they navigate that? How do they make sure they can get the parts they need?
We've had some of this technology for a while, and it's been used, but we're just seeing that accelerate where people can, as you said, get access to distributor data. We have a partnership with Silicon Expert where they can actually bring that data in, and a lot of the supply chain teams use Silicon Expert. So now the engineering team and the supply chain team are working off the same data set and they can start making decisions that are going to work down the line.
We had a customer tell us a few months ago their design cycle had shortened to four months from eight. Great, right? But the reason their cycle was shortening was that they couldn't find the parts required to make their boards. Instead of waiting eight months to redesign their boards they've cut their design cycle in half, not because they wanted to, but because they couldn't source parts. They were required to update their design to accommodate new parts and qualify those parts so they could keep building the product.
We're seeing customers really changing the way they look at design, and the need to be able to put supply chain first. Is it available in DigiKey? That's their first question. Then, is it functionally useful? It's interesting to see that shift, but I think in the long run it's going to make it better for companies to have this ability to find the best electrical part, and also the best source able part, the best priced part, this kind of holistic design thinking is going to make for a better product overall.

Shaughnessy: Designers are even talking about "supply chain-aware design." I've heard designer call it design for supply chain (DSC), the next "design for."
Banton: Yes, in the past we'd show an engineer, "Here are all the electrical statistics of a part. You can pick between these two. Which one do you pick?" And they'd pick the one that's maybe a little bit better. Now you can show them, "Here's the price and here's availability. This one's a cent more, but this one's got a 52-week lead time. This one is three weeks." It's an easy choice for them to make as long as they have the information in front of them.
Shaughnessy: Part of your job is educating the customer.
Banton: Sure. Some of this is just trying to help people with their flows, how do we help our customers collaborate better, more efficiently? Cadence has a technology called Symphony that allows for real-time co-design of the PCB so people can get in there, and work on different areas of the board collaboratively. They can work together remotely replacing what used to be kind of stand-over-the-back-of-your-cubemate's-desk is now natively in the CAD software. That's one of the things that we're going to cover in an upcoming webinar. Now you can bring a little simulation into the process. You can do placement and routing collaboratively, you can run simulations on your board, you can work with an SI expert or your EE to see what's going on and make design decisions all on the same data set. It's no longer back and forth email; it all happens in real time.
Shaughnessy: Advanced packaging has become a big issue now, with IPC devoting a whole show to this topic. Is this something your consumers or your customers are asking for?

Banton: I think it's more of a pull from the customers trying to figure out, "How do we keep shrinking this?" And it's not always cost-effective or possible for you to keep shrinking the die or roll another SoC where right now you can start having this kind of chiplet idea where you can still reduce the size. There are a lot of security benefits for the military to do this in a package. We're seeing more requests because the demands of shorter, faster, lower power aren't going away. Some of the physics and chip scaling are, at least for now, catching up to us. There are still ways to meet what you need from a product perspective. Definitely an exciting space to watch
Shaughnessy: Well, thanks for talking to me today. Nice talking with you in person.
Banton: Thank you. 
---
Suggested Items
11/30/2023 | Chris Young, Young Engineering Services
There are many ways, dozens to be sure, and most likely many more, to streamline a PCB design. My goal here is to pick a single-digit number of rules to abide by, that can be reasonably adhered to, and provide some bang for the buck. These rules are meant to reduce design scope creep, avoid PCB respins, and improve production yields.
11/30/2023 | Hirose
Hirose has expanded its low-profile DF51K wire-to-board connector series to include a surface mount technology (SMT) version. Compatible with automated assembly processes, including pick-and-place machines, the DF51K SMT Series simplifies the assembly process and saves significant manufacturing time and cost. 
11/29/2023 | Siemens
Siemens Digital Industries Software set the benchmark for innovation in the field of engineering simulation with the launch of two groundbreaking solutions - HEEDS™ AI Simulation Predictor software and Simcenter™ Reduced Order Modeling software.
11/30/2023 | Tim Haag -- Column: Tim's Takeaways
I am, at heart, a die-hard "Star Trek" fan. When I was a kid, I was all about phasers, warp drive, and cool stuff like that. However, these days, I tend to put a higher value on production and storytelling. But like any fan (I'm avoiding "Trekkie" because, frankly, it's kind of embarrassing), I have certain moments from the hundreds (if not thousands) of hours filmed for the various TV shows and movies that are among my favorites. One of those moments is in "Star Trek III, The Search for Spock," when our heroes steal the Starship Enterprise from space dock.
11/29/2023 | Anaya Vardya -- Column: Standard of Excellence
To sustain a standard of excellence, it's equally important to look at both what we're doing today as well as what we'll do in the future. In other words, plan ahead. In that spirit, I thought it would be prudent to peek into the future and talk about what a printed circuit board fabrication facility with a "standard of excellence" will look like five years from now.